TDE cleared for strategic capital offset manoeuvre.
No major damage evident from approval push, despite drawn-out process.
2020 launch still on cards.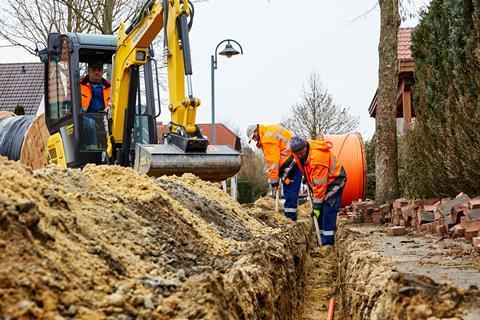 Germany's Bundeskartellamt (Federal Cartel Office) gave the go‑ahead for Telekom Deutschland (TDE) to press on with establishing Glasfaser NordWest, its long-awaited fibre-to-the-premises (FTTP) joint venture (JV) with energy, IT, and telecoms group EWE.
The JV — a spearhead initiative for TDE as it seeks buddies to share FTTP rollout costs, and expand reach — was backed by the Bundeskartellamt as a means to bring "significant improvements" to infrastructure in the area where it will concentrate (EWE's footprint in Lower Saxony, plus the neighbouring states of Bremen and North Rhine Westphalia).
With the move, TDE gained the "final merger control clearance" it needed for the establishment of Glasfaser NordWest, which will run out of Oldenburg, Lower Saxony. The business announced it was operational shortly after the Bundeskartellamt's announcement, in January 2020.
Glasfaser NordWest has gone for a joint leadership team comprising two co-Chief Executives. From DT comes Oliver Prostak, previously Head of Market Development at TDE. He will lead the business alongside Christoph Meurer, formerly Director of Strategic Partnerships at EWE Tel, EWE's communications services arm. The JV has begun life with "about 35" employees.
The move ends a long wait for the somewhat controversial JV's creation. Plans for the new business were first flagged back in late‑2017 — initially as a central initiative within Deutsche Telekom (DT), before being re-assumed by TDE. It only progressed an application for Bundeskartellamt clearance in March 2019 (Deutsche Telekomwatch, #69 and #82).
Despite the long lead time, TDE is sticking to a previously laid out target of releasing services on Glasfaser NordWest lines sometime in 2020.
Major shackles avoided
In approving the JV, the Bundeskartellamt does not appear to have added significantly to obligations binding how it does business.
Nonetheless, the regulator said EWE and TDE have "agreed to observe certain competitive guidelines". It did not go into fine detail on these requirements, but was evidently keen to bed down commitments to progress rollout quickly and protect competition.
Overall, Glasfaser NordWest has said it will deploy FTTP connections to 1.5 million households and business locations over the ten‑year span of EWE and TDE's deal. Within this, it has made a concrete commitment to deliver 300,000 of these connections within four years. An unspecified portion of these lines are tabled for rural areas.
EWE and TDE have committed to continue participating independently in states' rural broadband rollout tenders.
The two partners have undertaken not to adopt certain strategic defensive measures vis‑à‑vis other fibre infrastructure providers.
In urban areas, Glasfaser Nordwest has agreed not to solely focus on districts where cable networks are present, and thus skew its strategy towards disrupting TDE's main rival Vodafone Germany.
Retail providers are to be granted "non-discriminatory access" to the new network. An unnamed "specific proportion" of connections will be reserved for retail players, after a "certain period of time" from Glasfaser NordWest's debut. The indications have been that the JV will provide Layer 2 and Layer 3 bitstream access to its network, and has committed to do so at "usual" commercial terms. TDE appears to have been more than prepared to agree to this concession, having been focused primarily on making sure Glasfaser NordWest did not become subject to the same, tighter pricing obligations the NatCo operates under in its normal wholesale business. This concession was secured from Germany's Bundesnetzagentur in 2018 (Deutsche Telekomwatch, #75) — boosting TDE and the new JV, but playing into broader criticism of FTTP partnerships as a way for incumbent telcos to gain a "regulatory holiday" on fibre rollout.
Now, to get rolling on rollout
Practically, Glasfaser NordWest is expected to act as "general contractor" on line deployment — initially employing EWE and TDE to carry out upgrades in a tightly planned geographical two-year expansion programme, before opening up to bids for involvement by third parties. Those cleared to participate will gain a discount across Glasfaser NordWest's wholesale service in return.
The investment involved in the rollout — pegged at "up to €2bn" — will be split evenly between the two parents and spread over a ten‑year period. This implies a €100m‑per-year spend load on TDE (considerable, but not huge, given its current, ex‑spectrum annual capital expenditure level sits at around €4.2bn).
The inferred 150,000 premises-per-year rollout is also a helpful boost to TDE as it ramps towards a targeted annual FTTP expansion rate of two million household connections by 2021, but remains under a variety of spend pressures from shareholders, politicians, regulators, suppliers, and citizens (Deutsche Telekomwatch, #74 and passim).