TVision Home switched on in eight cities, with mobile app in pipeline.
Preparations underway for FWA assault on home broadband market.
NatCo's ultimate aim is to become fully converged player in "5G era".
TMUS aspirations highly dependent on Sprint merger, however.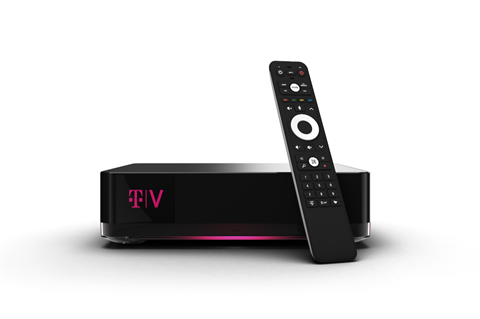 T‑Mobile US (TMUS) finally entered the pay‑TV market with the launch of TVision Home. The service is pitched as an "upgrade" to previous offerings from Layer3 TV, the IPTV cable provider that TMUS acquired in 2017 (Deutsche Telekomwatch, #69–#71).
After evidently ironing out some technical wrinkles, with the service originally slated for launch in 2018 (Deutsche Telekomwatch, #79), TMUS positioned TVision Home as its opening gambit to disrupt the pay‑TV market. Parallel plans are afoot to shake up the home broadband market with 4G‑ and 5G‑based fixed wireless access (FWA), which will provide another channel for TVision Home.
Un‑Carrier tactics that proved successful in upending the wireless industry, such as ditching long-term contracts and flushing out 'hidden fees', will be unleashed against what John Legere, Chief Executive (CEO) of TMUS, calls "Big Cable" — primarily large US cable operators such as Charter Communications and Comcast, but also seemingly stretching to satellite TV players including AT&T (via the DirecTV business it acquired in 2015) and Dish Network.
TMUS's ultimate aim is to become a fully-fledged converged player in the "5G era", and crank up competitive pressure on cable, satellite, fibre, and wireless rivals. A quad‑play portfolio, comprising TV, broadband, mobile, and telephony, should also help dampen the impact of incursions made by cable and satellite operators into TMUS' core mobile territory.
Un‑Carrier pay-TV
TVision Home, launched on 14 April 2019, does not appear to live up to TMUS' promise of a big‑bang release, disrupting the pay‑TV market from the off.
It has been made available in only eight cities: Chicago; Dallas–Fort Worth; Longmont, Colorado; Los Angeles; New York City; Philadelphia; San Francisco; and Washington DC. The timeframe for expanding coverage beyond these markets was not made clear.
Further, TVision Home seems to offer a fairly standard cable content line‑up, at least to begin with. The suite of channels includes the usual fare of local broadcasting and regional sports, plus some premium add‑ons. YouTube and Netflix will be added later, said TMUS.
Where TMUS hopes to differentiate is through artificial intelligence (AI) and how it treats customers. The AI bit involves content recommendations based not only on what customers watch, but when and where they watch it. Location will become a consideration when TMUS launches a TVision app for Android and iOS, expected sometime in 2019. "Core to our strategy is that TVision will be mobile-based and work with apps, hardware, and services that people already use", said Legere.
One possible explanation why the mobile app was not launched simultaneously with TVision Home is greater-than-expected difficulty in acquiring mobile distribution rights for content (Deutsche Telekomwatch, #79).
On the home front, every user gets an individual profile with their own 'personalised' recommendations and digital video recorder (DVR). There is a total of 1TB of storage available per household, which can be divvied up among different DVRs.
In a ploy taken from the Un‑Carrier playbook, TMUS unveiled Satellite Freedom as a way to grab market share from rivals. The NatCo said it will pay off early contract termination fees for DirecTV and Dish customers, via a 'prepaid card' worth up to $500 (€442) if they switch to the NatCo's TV service. TMUS did not dangle any financial carrot to attract cable TV subscribers.
The price is right?
TMUS executives brushed aside suggestions that TVision Home might be too pricey to make it truly disruptive. It initially costs $90 per month for TMUS mobile customers, and $100 per month for anyone else.
Neville Ray, Chief Technology Officer at TMUS, stoutly defended a pricing strategy that eschews wooing customers with attractive promotional offers, only to "slam them later" with much higher monthly fees when the promotional period runs out. Speaking on the NatCo's latest earnings conference call — and freely stepping on ground traditionally occupied by Mike Sievert,
TMUS's Chief Operating Officer — Ray argued that "we come in with fair, rational pricing from day one". "It saves money… versus year two and beyond in those crazy contracts [from cable and satellite TV operators]".
TMUS claimed that the typical cable or satellite customer pays an average of $107.30 per month. But when the temporary $90 deal expires, TVision Home will cost $100 per month for everyone, which means the savings are not quite so dramatic as Ray suggested. Eagle-eyed journalists further noted that TVision Home does not include taxes in the advertised rate — which, in the small print, can apparently be anywhere between 4% and 20% of the total bill. The claim to scrap all 'hidden fees' does not entirely bare scrutiny.
A strain on costs is content rights. Days prior to the official launch of TVision Home, TMUS struck a content distribution agreement with media conglomerate Viacom. Financial details were not disclosed, but TMUS gets its hands on what it calls "leading brands", including BET, Comedy Central, MTV, Nickelodeon, and Paramount. TMUS also announced a deal to make available Amazon Prime Video, which will join the TVision Home content roster "later in 2019".
Fuzzy picture without New T-Mobile tuning
Some analysts expressed disquiet that, in its present form, TVision Home does not have enough muscle to make a significant dent in what is an already highly competitive pay‑TV market.
Perhaps showing recognition of this within TMUS, Sievert suggested there was a lot more to come from TVision Home to make it more competitive, but implied that progress heavily depended on the Sprint merger going ahead, and "New T‑Mobile" becoming a reality (Deutsche Telekomwatch, #73 and passim). There are no guarantees that regulators will green-light the tie-up, however (see separate report).
"TVision Home is about so much more than home TV… it's TV built for the 5G era. With New T‑Mobile, we'll bring real choice, competition, better service, lower prices, and faster speeds… right into your living room. And speaking of speed, while the cableopoly innovates at the pace of the cable companies, we'll innovate at the pace of the internet to give customers more value and more freedom more quickly. "

— Sievert.
Broadband broadside
Home broadband, using FWA technologies based on 4G and 5G, is an area TMUS is increasingly keen on. In March 2019, the NatCo started an 'invitation-only' pilot for an in‑home internet service based on LTE. The immediate goal is to connect 50,000 homes in rural and underserved areas of the country during 2019. TMUS said this will "lay the foundation" for the New T‑Mobile plan to disrupt the home broadband market, revealing again an assumption that the merger will safely sail through choppy regulatory waters.
The initial aim is to deliver FWA speeds of "up-to-50Mbps", which will apparently "pave the way" for a 5G experience (downlink speeds of "up-to-1Gbps"). If the merger is cleared, New T‑Mobile aims to cover 9.4 million households with FWA by 2024.
Legere took a pot shot at what he thought were overly complacent and customer-unfriendly broadband providers. He appeared to relish the prospect of giving them the Un‑Carrier treatment. "If ever there was a business that could use a good Un‑Carriering, it's this one", he declared.