NatCo sets up 5G Open Innovation Lab with Intel, NASA.
Sprint Accelerator programme relaunched.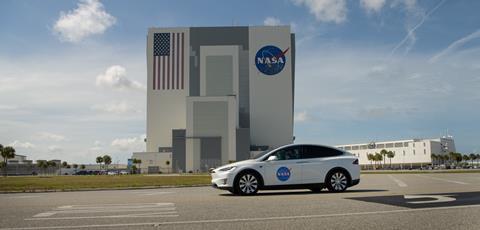 T‑Mobile US (TMUS) joined Intel and NASA as founding partners of the 5G Open Innovation Lab (5G OI Lab), based in Seattle, Washington.
In a set‑up not dissimilar to Telecom Infra Project's TIP Ecosystem Acceleration Centres (TEAC), one of which is led by Deutsche Telekom (DT), the tie‑up — first mooted in 2019 (Deutsche Telekomwatch, #87) — gives startups access to a working environment that can help them develop, test, and bring to market new use‑cases.
TMUS, Intel, and NASA said they had pooled their engineering, technology, and industry resources to kit out what is essentially a virtual lab. In deference to COVID‑19, it provides startups with virtual access to mentors, as well as tools to collaborate directly with "technology and business leaders" and help develop 5G applications. The 5G OI Lab offers AWS Activate and Google Cloud for Startups to enable participants to host 5G services and run and test code.
Avanade, an Accenture–Microsoft joint venture, has also joined the initiative as a business ecosystem partner, and will help support founders as they develop their 5G development and integration strategies. More than 20 additional business, technical, and community partners have also been signed up to serve as mentors and advisors.
Another TEAC similarity is that 5G OI Lab startups will be introduced to venture capital providers. It was indicated that the lab will not take an equity position in the startup companies.
Neville Ray, President of Technology at TMUS, gave the new lab his approval in a prepared statement. "Through efforts like the 5G Open Innovation Lab, we're providing developers and startups with the tools to unleash transformative services for people across the country, benefiting everything from entertainment and gaming to education and public safety", he noted.
First cohort selected
The founders of the 5G OI Lab selected 17 companies to participate in a first, twelve‑week "virtual programme", which ends on 17 July 2020.
Aside from three companies that are "currently in stealth mode", these comprise: Aarna Networks, Evolute, Expeto Wireless, Gybe, iUNU, Mutable, Nonlinear Materials Corporation (NLM), Numurus, Omnivor Technologies, OptiPulse, Pluto VR, SciVista, Taqtile, and Transparent Path.
The lab said the selected companies, which are at various stages of development and have initiated fund raising including Series‑A rounds of at least $15m (£11.8m/€13.3m), are applying 5G in diverse markets including: agriculture, entertainment, healthcare, and manufacturing.
T‑Mobile Accelerator picks up where Sprint left off
On the same day 5G OI Lab was officially announced, TMUS unveiled six startups that will participate in the 2020 T‑Mobile Accelerator programme. TMUS has co‑opted the accelerator format from merger partner Sprint, which had been running an annual Sprint Accelerator since 2014.
This year's programme, operating until 30 July 2020, provides mentoring and technical resources for companies developing "disruptive emerging products, applications, and solutions" that can be used over 5G networks. Like the 5G OI Lab programme, it is being operated on a virtual basis.
The Sprint Accelerator has worked with 52 startups since it was launched during 2014. The scheme has positive statistics, claiming that 77% of alumni remain in business, with $45m aggregate funds raised. Though in the past, the programme has operated from an innovation hub in Kansas City, where Sprint is headquartered, TMUS confirmed that all aspects of 2020's edition would be conducted virtually, "in support of participants' health and wellbeing". While most aspects of the programming should not be affected by this, it is difficult to imagine quite the same value being retained from participants' access to "community co‑working spaces", for example. Other elements of past programmes have included mentor engagement, science, technology, engineering, and mathematics (STEM) programmes, and collaboration across entrepreneurial communities. The value these six will be getting, Ray claimed, is access to a "broad and deep nationwide 5G network to accelerate innovation". Undoubtedly, there will also be some benefit to the exposure earned from being associated with the US telco giant.
Initial six startups include existing DT partner Unmanned Life
The six startups that will participate in 2020's programme comprise: two 'home‑grown' Kansas City players, Aware Vehicles and Homebase; two Californian video tech startups, ORBI Prime and Seerslab; and two European imports, London‑born Unmanned Life and Dutch Zoi Meet. Though all focused on bringing 5G‑enabled solutions to market, there is substantial variation in the use‑cases being looked at.
The startups are well established and largely commercialised already. They have existing 5G solutions and many have ongoing relationships with telco and technology players (see below).
T‑Mobile Accelerator participants, 2020
Startup (location)
Notable partners and investors
Focus
Sources: Companies; TMUS.

Aware Vehicles (Missouri, USA)

US Department of Transportation; University of Missouri Kansas City; Nvidia.

Autonomous vehicle platform developer Aware Vehicles uses 5G for advanced imaging, cognitive remote sensing, and situational awareness for agriculture, emergency response, and communications.

Homebase (Missouri, USA)

Arista; LG.

Homebase develops smart-housing solutions to enable remote management of properties.

ORBI Prime (California, USA)

–

The ORBI Prime Helmet, which appears to be the ORBI solution of interest to the Accelerator, is a camera‑equipped National Football League regulation helmet that enables real‑time virtual reality video streaming from the player's perspective.

Seerslab (California, USA)

Facebook; KT; Samsung; SK Telecom.

Seerslab's ARGear platform enables real‑time augmented reality (AR) video, and was selected as Samsung's main content provider for its AR camera, as well as by Facebook and Instagram as a Spark AR Partner.

Unmanned Life (London, UK)

BT; DT; Ericsson; Nokia; Telecom Infra Project; Verizon Communications.

Unmanned Life describes itself as an "autonomy‑as-a‑service" specialist. In particular, it deploys artificial intelligence-powered drones and robots. It has continued to build on a relationship with Deutsche Telekom, most recently partnering with Austrian NatCo Magenta Telekom to win the 5G Vienna Use‑Case Challenge. The autonomous application developer has also worked with BT since spring 2017, and was selected to join the telco's TEAC later that year (Deutsche Telekomwatch, #91; BTwatch, #289 and #295).

Zoi Meet (Rotterdam, Netherlands)

Microsoft for Startups; Nvidia Inception Program.

Zoi Meet provides real‑time multi‑lingual transcription using machine learning and speech‑to‑text tech.