Group keeps on course for performance targets.
Q1: another TMUS-powered quarter, but European segments growing contribution.
Sprint and German 5G auction outcomes cloud outlook.
Hints of churn worries amid European turbulence.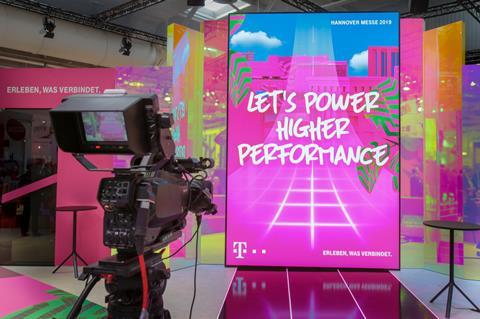 Deutsche Telekom's (DT) businesses kept a steady ship on choppy Trans‑Atlantic waters with their results in the quarter to 31 March 2019 (Q1 FY19), and thus succeeded in lancing some of the concern surrounding regulatory and economic hazards in key markets.
At face value, the figures presented a 'business as usual' picture at DT, with T‑Mobile US (TMUS) keeping its foot firmly pressed down on the throttle, and other segments providing varied sources of positivity.
"Alles gut" declared Chief Executive (CEO) Timotheus Höttges, when opening the Group's presentation, and the CEO again accentuated that all DT's operating segments were contributing to performance, progressing further towards the increased consistency and synergy the operator has been searching for over recent years.
The effusive Höttges was even more jovial than usual, but whether he felt fully in command of events was open to question. He was quick to acknowledge the "elephant in the room" of Germany's 5G auction, and the massive outlay facing the Group once the sell‑off completes (see separate report). With a 28GHz licence sale also continuing in the USA, and net debt now well over €50bn (€54.9bn), balance sheet pressures were loudly bubbling away in the background throughout the results review.
US regulators' looming decision on the TMUS–Sprint merger, due in June 2019, added to the 'undercard' feel of the session. Likening the rocky push for approval to Kneipp therapy, alternating hot and cold water, Höttges said he had undergone the longest spell of such treatment that "ever took place in history". Nonetheless, he added that he was "sitting in the bathtub and enjoying it".
Headline data: a team effort but TMUS still talismanic
DT's Q1 results emphasised the solid operational ramparts that DT has built to fend off current and coming challenges, especially compared with European peers that are lacking (or have unwisely jettisoned) North American strongholds or other safe harbours.
Significant growth was again recorded in both Group revenue (+8.7%, to €19.5bn) and core earnings (+24.4%, to €6.9bn) during the three months.
If DT still stoops to measure itself against European rivals, rather than seeing itself in the global Big League, leadership will likely have noted ongoing top‑line struggles at competitors such as Telefónica (which posted a 1.7%‑reported drop in revenue during Q1) and Vodafone (‑4.4% for its equivalent quarter) with another silent 'thank you' to lady luck for previous failures to sell TMUS and exit the USA.
Segments getting on the same page
DT continued to build more harmony into the largely one‑track, USA‑reliant tune it has been playing over recent years. Revenue growth was achieved in both Germany and Europe, in alignment with the slight forward movement guided for both segments at the start of the FY (Deutsche Telekomwatch, #81). Similarly, Q1 saw all major divisions post rises in earnings before interest, taxation, depreciation, and amortisation (EBITDA), delivering on the universal forward movement DT is targeting for the twelve months. This helped the Group post an 18.1%‑increase in underlying free cash flow, to €1.6bn.
Nonetheless, TMUS continues to be the star of the show, and other segments still largely confined to providing backing vocals.
Benefiting from continued strong commercial performance and renewed strengthening of the dollar, seen since FY18, the US NatCo put other divisions in the shade with double‑digit increases in revenue and EBITDA (15.9% and 14.9%, respectively).
DT's "Trans‑Atlantic" nature remained a key feature of its results. If TMUS had produced just €82m more in sales during Q1, it would have outweighed the combined revenue of Telekom Deutschland (TDE), T‑Systems (T‑Sys), and the Europe division on its own. This milestone has long been in the pipeline — and it will be interesting to see whether TMUS can achieve it in Q2 (possibly its last chance as a standalone entity if it secures regulators' clearance to add Sprint's revenue to its top‑line).
Q1 FY18
Q1 FY19
Deutsche Telekom, financial summary, Q1 FY19
Notes: * Defined as "payouts for property, plant, and equipment and intangible assets excluding goodwill".
** Before dividend payments and spectrum investment.
Sources: DT and Deutsche Telekomwatch.
Net revenue

€17,924m

€19,488m

Germany

€4,987m

€5,036m

US

€8,455m

€9,796m

Europe

€2,727m

€2,808m

Systems Solutions

€1,332m

€1,278m

Group Development

€376m

€522m

GHSS

€48m

€48m

EBITDA (adjusted)

€4,388m

€5,341m

EBITDA margin

24.5%

27.4%

Cash capex *

€3,139m

€3,827m

Free cash flow **

€1,382m

€2,370m
User retention call-to-action
While detailed strategic discussion was minimal, the Q1 session did see a brief signal from Höttges that DT is set to place particular onus on customer retention over the coming months — which could be read as a signal that Group leadership has identified some competitive threats coming over the horizon.
No context was offered, but Germany appears a key focus. In recent quarters, TDE has been successfully reducing mobile churn (to 1.1% in Q1 from 1.6% a year earlier), but in the fixed‑line market, line losses have been accelerating and broadband user growth decelerating. Höttges raised customer experience and service quality as areas where TDE still has "a lot of things to do".
"I want to see a little bit more that we appreciate the base — our customer base — in an even stronger way. So, the loyalty, the focus on the base, the churn is something which is very relevant for me for this year. "

— Höttges.
Q1 FY18
Q1 FY19
Deutsche Telekom, customer summary, Q1 FY19 ('000)
Notes: * On 31 July 2018, the takeover of UPC Austria by T‑Mobile Austria was completed. Prior numbers have not been restated. ** Defined by DT as "fixed network lines in operation, excluding lines for internal use and public telecoms". *** Defined by DT as "broadband lines in operation, excluding lines for internal use and public telecoms", but including IP-based access lines.
Sources: DT and Deutsche Telekomwatch.
Mobile subscribers

169,929

179,140

Germany

42,730

44,657

US

74,040

81,301

Europe *

49,254

47,800

Group Development (TMNL)

3,905

5,382

Fixed network lines ('000) **

27,756

27,948

Germany

19,149

18,414

Europe *

8,409

8,977

Group Development (TMNL)

198

557

Broadband retail lines ('000) ***

19,135

20,643

Germany

13,357

13,608

Europe *

5,598

6,478

Group Development (TMNL)

198

557
US powers on; flux in Germany; T‑Sys yet to prove execution
Segment-level trends were largely the same as other recent quarters, with TMUS leading the way and other divisions in the slipstream.
Performance trends in Germany provided welcome solidity — taking some heat out of tensions raised by the 5G auction, and ongoing attention on DT's huge spend and cash commitments in its home market. TDE regained forward movement in revenue (+0.6%) and revived acceleration in EBITDA growth (+2.4%). Bright spots highlighted by executives included an uptick in mobile service revenue growth, to 2.8%, despite apparent increased competitive aggression from main rival Vodafone Germany; and a slight acceleration in uptake of TDE's recently-revamped MagentaTV offering (Deutsche Telekomwatch, #77). It added 66,000 MagentaTV users within Q1, to hit 3.42 million subscribers — a pat on the back for the NatCo's upselling‑focused commercial approach. Outside of auction-related events, Höttges expressed comfort with developments in Germany, saying that he was "very happy with what's happening there".
TMUS began life in FY19 as it left FY18, driving sales and earnings growth with aggressive go-to-market initiatives under its Un‑Carrier strategy. The NatCo beat analyst estimates (and competitors) by gaining 656,000 net subscribers during Q1, and continued to reproduce its signature trick of adding more than one million branded postpaid customers to its base (+1.02 million) — the 24th quarter in a row it has done so. In dollar terms, TMUS increased revenue by 6% and adjusted EBITDA by 11%, with "records" generated in both lines. "I really admire what our US team is doing", gushed Höttges. "They're sitting on an operational business [with a] big size and outperforming the environment. And [in] parallel, they are driving this very complex approval process, and that's all in a great positive spirit", he added.
DT's reviving Europe segment continued to deliver on instructions to cement its recently-regained EBITDA and revenue growth, with convergence and cost-cutting at their heart. Q1 saw the division report a 2.8%‑revenue increase and 5.2%-jump in earnings, albeit aided by 2018's consolidation of UPC Austria. Decent performances were reported by Cosmote Greece (EBITDA: +1.1%) and Magyar Telekom (+0.8%) — the segment's two largest businesses — but standout under-performer Telekom Romania remained in the competitive doldrums (‑21.2%), adding to recent months' hints of a coming offload by DT, to follow up its pending exit from Albania (Deutsche Telekomwatch, #80). Illek said Europe was "well on track" to meet FY and mid‑term targets.
Regarding problem-division T‑Sys, DT's leadership indicated it is prepared to be patient for turnaround efforts to work through into a long-hoped-for performance revival. A drop in revenue (‑2.1%) during Q1 did not appear to illicit too much concern, especially as EBITDA — which is T‑Sys' main focus for the current FY — jumped by 53.3% (albeit set against a particularly weak Q1 FY18 — Deutsche Telekomwatch, #71). Höttges accentuated the "very radical reorganisation" taking place at the enterprise services division, and Illek suggested the restructuring programme was "not in full swing yet", despite now being in its second FY. Coming quarters will reveal whether this slightly downbeat tone represents a softening‑up of stakeholders, to buy T‑Sys more time to deliver, operationally and/or financially — or whether the division remains on course to hit key targets (EBITDA growth across FY19 and positive cash contribution in FY20)