NatCo aims to cover more than half the German population by end‑2020.
Counts on antenna upgrades and dynamic spectrum sharing to achieve goal.
Huawei question still hangs in air.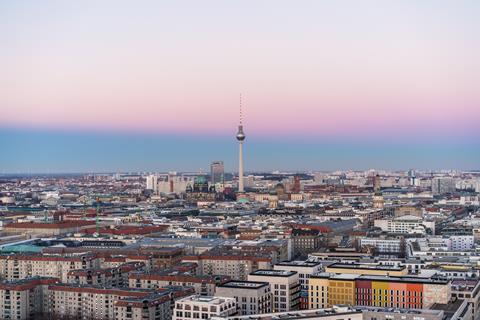 Dirk Wössner, the outgoing Chief Executive at Telekom Deutschland (TDE), set what seemed like an extraordinarily ambitious target of extending 5G signals to more than half of the German population — roughly 40 million people — by the end of 2020.
Wössner is not dumping the coverage responsibility on his successor (he is not due to leave TDE until the end of 2020), but there seems an added urgency to emphasise rural reach in the NatCo's rollout plans for the next‑gen tech.
The Bundesnetzagentur (Federal Network Agency/BNetzA) has been quick to criticise Germany's operators for failing to meet LTE coverage obligations (see separate report), so TDE's subsequent chest‑beating on its 5G footprint aspirations may well be intended, at least in part, to try and keep the regulator onside (Deutsche Telekomwatch, #91).
The NatCo has a long way to go before it can lay claim to the extensive 5G coverage it has in mind for the end of 2020. Commercial services are currently limited to eight cities, although these include Berlin, Bonn, and Frankfurt. By 2025, TDE aims to cover 99% of the population with 5G. The operator launched 5G in July 2019 after a long‑running and expensive auction of 5G‑friendly frequencies (Deutsche Telekomwatch, #84, #85, and #91).
Souped-up antennas and DSS
Wössner, somewhat vaguely, said "rapid [5G] rollout [was] made possible by a technical upgrade for existing antennas in the network". The "upgrade" may well be down to 3.6GHz frequencies, secured in 2019's rights auction, which are now available for use in Germany (Vodafonewatch, #177).
Alternatively, research and development work conducted with SK Telecom (SKT), Deutsche Telekom's (DT) longstanding technology partner, might also be a contributory factor in ramping up antenna power. DT and SKT recently announced a collaboration on radio signal amplification technology, as part of their joint venture focused on developing 5G transport systems (Deutsche Telekomwatch, #85 and #92).
More explicitly, to account for the extended 5G coverage plan, Wössner referenced dynamic spectrum sharing (DSS). By using DSS, the aim is to apportion 5MHz from TDE's existing 3G spectrum in the 2.1GHz band for both LTE and 5G, as needed. When TDE might commercially deploy DSS was not made clear.
What's Vodafone Germany up to?
In April 2020, rival Vodafone Germany claimed a world‑first in deploying DSS to shoot back and forth 700MHz frequencies between 4G and 5G. The DSS debut took place in the town of Meschede with Ericsson as technology partner. By the end of its current financial year (31 March 2021), Vodafone aims to have 8,000 antennae at 2,800 locations capable of dynamically allocating 700MHz spectrum to 5G as and when it is required. If all goes to plan, the 700MHz 5G footprint will cover more than 60,000 square kilometres, which is bigger than Denmark or the Netherlands. The operator aims to reach 500,000 people with 5G in Germany by the end of March 2020, rising to ten million by the end of 2020 and 20 million by the end of 2021. This is well short of TDE's 5G coverage aspirations, although the upside for Vodafone is that it is much less a hostage to fortune when it comes to signal reach targets.
Huawei factor
Wössner, in interviews with local media, indicated that 5G coverage targets will unlikely be met without antennae from Huawei Technologies. He pointed out that technologies of various 5G suppliers are not compatible. "If Huawei antennas are installed in an area, Ericsson equipment cannot be used here, and vice versa", he added.
The German government, although under intense pressure to ban Huawei as a 5G supplier on the grounds that it is a risk (allegedly) to national security, has given mixed signals as to what role the Chinese supplier might play in the next‑gen tech.