New Next Generation IP Multimedia Subsystem (NIMS) platform up and running.
Marks another step in DT's journey to software telco.
NIMS suppliers include Hewlett Packard Enterprise, Juniper Networks, Lenovo, Mavenir, Metaswitch, and Red Hat.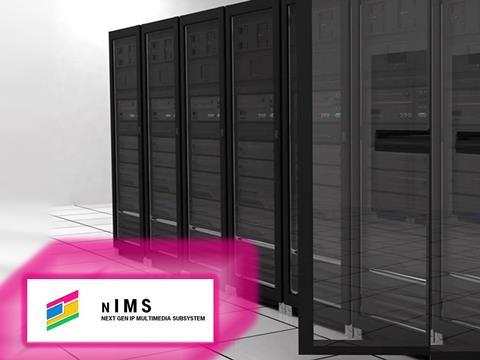 Telekom Deutschland (TDE) launched what it called "cloudification of voice telephony" via a new Next Generation IP Multimedia Subsystem (NIMS) platform. NIMS supports IP-based voice over a fixed network.
It is not clear what the initial NIMS capacity is, although TDE claimed the test phase saw the platform successfully handle 100 million voice calls, and work across network boundaries ('interconnections').
The NatCo's aim is to eventually control of up to 18 million connections, managed centrally from data centres in Germany.
One more piece in the software telco jigsaw
NIMS, and shifting voice-over-IP to the cloud, ticks all the boxes in realising the broader Group aim of becoming a software telco: disaggregation of software from general purpose hardware using open APIs; virtualisation of network functions; the promise of swiftly allocating voice capacity when and where it is needed in the network; and the prospect of easily updating or adding new network functions.
The aspiration of moving from monolithic systems to best-in-class modular functional components, which avoids vendor lock-ins, is hardly new.
Even so, it did not stop Walter Goldenits, Chief Technology Officer (CTO) at TDE, from describing the approach of being able to mix and match suppliers as "almost revolutionary". He enthused about combining infrastructure and applications from "completely different manufacturers", and exchanging "individual blocks" more easily.
According to Goldenits, TDE managed to create the new system, and put it into operation, "within a few months". The CTO maintained that TDE had "taken a decisive step into the future of automated and software-based telecommunications".
Supply and demand
The central NIMS supplier appears to be Juniper Networks, which provides cloud infrastructure and plays the role of "prime integrator". Others in the initial supplier mix are Hewlett Packard Enterprise, Lenovo, Mavenir, Metaswitch, and Red Hat. As an open platform, TDE expected to expand the list of NIMS technology partners as service demand grows.
The long autobahn to All-IP
Goldenits' emphasis on getting NIMS up and running within a few months might be to pacify Timotheus Höttges, Chief Executive of Deutsche Telekom, who has seen TDE struggle to shut down the PSTN and go All-IP (while at the same preserving service continuity).
TDE embarked upon All-IP migration as far back as 2014 (Deutsche Telekomwatch, #33), and Höttges — resorting to humour in an attempt to take the sting out of his obvious frustration — previously said he was "going to kill somebody in the German organisation" if TDE missed its revised December 2019 deadline for PSTN shutdown (Deutsche Telekomwatch, #89).
As it turned out, TDE managed to achieve 99% migration to IP by March 2020, equivalent to 25 million private customers. It was enough for Höttges to say that All-IP migration had been "formally accomplished". True All-IP migration, 100%, is slated for the end of 2020.

Ken has been writing about developments in the fixed and mobile markets for over twenty years. He has been a contributor to TelcoTitans since 2015.