Vodafone launches 5G after TDE, with more aggression on coverage.
Huawei still under review.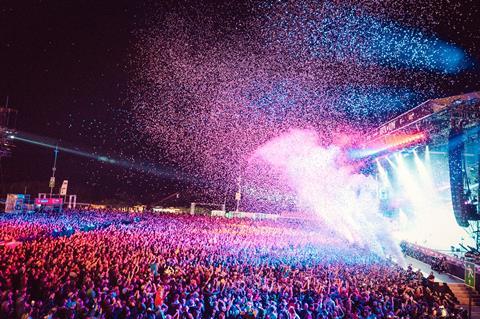 Telekom Deutschland (TDE) outlined 5G rollout plans that will see around 300 antennas equipped with non-standalone (NSA) 5G New Radio (5G NR) technology and brought online by the end of 2019. The initial rollouts have started in Berlin and Bonn and will be followed by Darmstadt, Hamburg, Leipzig, and Munich. TDE has already conducted 5G antenna trials in Berlin and Darmstadt, along with the Port of Hamburg (Deutsche Telekomwatch, #66, #78, and #81). By mid-2020, TDE projected 5G services will be available in Germany's 20 largest cities.
Dirk Wössner, Chief Executive of TDE — despite protesting that the recent auction of 5G‑friendly airwaves had left a "bitter aftertaste", given the higher-than-expected outlay (Deutsche Telekomwatch, #84) — cut an upbeat figure on the announcement of 5G rollout plans and tariffs for the next-generation technology.
"We punched our ticket for a 5G future with the spectrum auction. Our goal now is to get 5G to the streets, to our customers, as quickly as possible. Nearly three-quarters of our antenna locations in Germany are connected with optical fibre — we're now building on that. Our teams are working hard in every area. Whether we're talking about the network, rate plans, or devices and applications, we're speeding up to get 5G started this year."

— Wössner.
No data limits, but smartphone choice restricted
TDE is initially offering only one high-end, "unlimited" data offer for smartphones, at €84.95-per-month, covering LTE and 5G (when signals are available). Tariff plans may well develop as competition heats up, perhaps with cheaper rates for consumers willing to accept lower speeds. Vodafone UK has gone down this granular route to try and grab market share (Vodafonewatch, #177), and counterpart Vodafone Germany looks to be doing something similar (see below).
TDE smartphone choice is restricted to Samsung's Galaxy S10 5G, although other models may be in the pipeline. LG's V50 ThinQ 5G and the Xiaomi Mi MIX3 5G are among 5G devices currently available elsewhere.
There is still no sign of the 5G-enabled and foldable Huawei Technologies Mate X, however. Following a US executive order issued by President Donald Trump, designed to restrict US suppliers from working with Huawei, Google has suspended business with the Chinese supplier. This could stop Google from providing future versions of its Android system and popular applications to Huawei, so casting doubt on why operators should stock its devices. Trump subsequently showed signs of backtracking in his attempts to squeeze Huawei in this way, no doubt conscious of financial damage inflicted on US businesses, but the outlook for the Chinese supplier's handset business remains unclear.
TDE also offers the HTC 5G Hub, which works as a portable hotspot and can connect up to 20 devices. Typical peak speeds per user, asserted the NatCo, can reach "up‑to‑1Gbps" (although this seems to assume no competition for capacity from other devices). With an Android operating system on board, the 5G Hub also offers a variety of mobile apps. Compatible with 5G, TDE is offering unlimited data at €74.95-per-month. Given the potential of 5G Hub to consume much more data than 5G smartphones, Deutsche Telekomwatch wonders how sustainable this pricing might be.
Vodafone bolder on coverage and go-to-market
In mid-July 2019, TDE main rival Vodafone Germany flicked the 5G switch in 20 cities, making it a much more dramatic debut (at least ostensibly) than TDE could muster. Rather than restricting tariff options to high-end users — TDE's favoured approach — Vodafone is offering a variety of 5G plans that it thinks will suit different budgets. "We are democratising 5G", claimed Hannes Ametsreiter, Chief Executive at Vodafone.
Not that Vodafone is averse to wooing the upper end of the market. Its "unlimited" 5G data plan, priced at €80-per-month, undercuts TDE's. A wider choice of 5G smartphones is also available from Vodafone. Aside from the Galaxy S10 5G, the operator had no qualms about putting Huawei's Mate 20 X 5G on the device roster.
Coverage? Much obliged
Although the NatCo is targeting major cities and conurbations first with 5G, it cannot afford to take its eye off less densely populated areas if coverage obligations are to be met. One of the conditions attached to TDE's recently acquired 3.6GHz licences is a 98% population-reach mandate, with at least 100Mbps and 10ms latency, by 31 December 2022 (Deutsche Telekomwatch, #84)
5G coverage obligations are a running sore for Germany's mobile network operators (MNO), aggravated by what they see as an unfair advantage handed by Bundesnetzagentur (BNetzA), Germany's telecoms regulator, to Drillisch, which is poised to become Germany's fourth MNO on the back of 2.1GHz and 3.6GHz frequencies won in the auction. Drillisch only needs to reach 50% of German households by 2025.
Works Council Directors at TDE, Telefónica Deutschland, and Vodafone have each expressed concern about job losses, since the auction. They fear that Drillisch will have considerable scope to undercut rivals on pricing.
Josef Bednarski, Works Council Director at TDE, drew attention to fuzzy rules surrounding local and national roaming, and the prospect of Drillisch being able to piggyback on other operators' network investments. "We advocate that companies volunteer to help build the networks by, for example, sharing radio masts, but a compulsion to share the grids would border on expropriation", said a brusque Bednarski.
BNetzA appears unsympathetic. A recent Handelsblatt report suggested the regulator was considering significantly increasing fines for mobile operators that miss coverage targets mandated in their licences. The move reportedly comes at the behest of the government, which is preparing to introduce legislation enabling harsher penalties to be handed out to operators.
Coverage battleground
Keen to keep the pressure on operators to invest in network expansion, BNetzA announced that 700MHz frequencies had been made available for mobile use from July 2019. TDE secured licences in the 700MHz frequency band in 2015 (Deutsche Telekomwatch, #42), but it was well understood at the time that it would take some time to migrate broadcasters onto a more spectrum-efficient DVB‑T2 standard to free up the airwaves. Jochen Homann, President of BNetzA, held out the hope that 700MHz will help MNOs expand signal coverage, particularly in rural areas.
Operators, for their part, continue to complain about bureaucratical hurdles to mobile network rollout, including lengthy site-acquisition processes for towers. Wössner recommended that building guidelines for antenna locations should be a national task — rather than relying on permits handed out at a municipal level. "We need a clear regulatory framework and pragmatism from the authorities — particularly when it comes to questions regarding regional spectrum, local roaming, allocation of the auction proceeds, and the approval procedures — which takes far too long in Germany", he said.
Bonn on-boarded for 5G testing; end of Monarch's reign in Hamburg
Alongside the German 5G debut, Deutsche Telekom (DT) and TDE flagged progress with various other initiatives focused on building demand for the new network.
DT announced a new 5G test bed in Bonn, involving five locations. Bonn joins Berlin and Darmstadt as places where the Group is carrying out in‑depth testing of 5G technology and use‑cases. Teams at the facility are said to be working in close collaboration with TDE's 5G Lab in Dresden to study interaction between network and devices. In a live test with commercially available devices, TDE reported that the Bonn 5G network had clocked transmission speeds in excess of 1Gbps. The NatCo intends to free up all current test networks for commercial 5G services before the end of 2019.
It was again stressed that working with startups is a key Group focus for 5G innovation. "We intentionally opened up our 5G and edge infrastructure for startups and their ideas at a very early stage", said Claudia Nemat, Head of Technology & Innovation at DT. "Thanks to our collaboration with the startups, we've learned a great deal about how 5G can be experienced. The feedback from the 5G pioneers showed us how future applications can benefit from the combination of 5G and edge computing", she added. TDE reported that 18 startups from nine countries were participating in its 5G Prototyping Programme, working on 15 different projects at the Berlin testbed. The programme was developed by hub:raum, DT's tech incubator. Virtual reality (VR) and augmented reality (AR) are strong elements of 5G testing, and hub:raum was said to be considering setting up a programme to help speed up commercialisation of 5G use‑cases built on VR and AR.
In the Port of Hamburg, the Hamburg Port Authority (HPA), TDE and Nokia completed testing of different 5G applications, carried out between January 2018 and June 2019, on the approximately 8,000‑hectare site. The project formed part of the 5G Monarch project, funded by the European Union (Deutsche Telekomwatch, #66 and #68). The aim of 5G Monarch is to develop "conceptually novel" 5G applications, and in Hamburg that meant a close look at network slicing. Three 5G use-cases with different network requirements were tested in the port: sensors were installed on three ships from the HPA subsidiary Flotte Hamburg, which enabled real-time monitoring and analysis of motion and environmental data from large parts of the port area; the Port Road Management Centre of the HPA was able to remotely control traffic flows in the port via a traffic light connected to the mobile network; and 3D glasses allowed maintenance teams on site to call up additional information using AR applications.
DT gave equal attention to its much-vaunted 5G campus network play when the six-city rollout plans were announced (Deutsche Telekomwatch, #74 and passim). "We're already working on the 5G network with Osram and automotive supplier ZF", reminded Nemat. TDE has a close working relationship lighting technology specialist Osram (Deutsche Telekomwatch, #76, #77, and #81). The NatCo has trialled autonomous transport robots carrying material on the shop floor at the Osram plant in Schwabmünchen, Germany. Controlled by a dedicated LTE network supplied by Ericsson, a 5G upgrade is in the pipeline. Now, ZF Friedrichshafen, a German car-parts maker, is testing a similar system in cooperation with TDE. Despite the 5G campus vision projected by TDE and rival MNOs, there are some lurking question marks over enterprises' interest in 'operator-managed' rather than standalone networks (Deutsche Telekomwatch, #74). BNetzA's decision to reserve some 3.7GHz and 3.8GHz frequency blocks for localised deployments by industrial players, prospectively blocking operators from campus network action, had fuelled these doubts (Deutsche Telekomwatch, #80).
Huawei still under review
In a press briefing on the back of the 5G rollout announcement, Nemat refused to be drawn to pass judgment on the security threats that some claim Huawei's involvement in 5G network rollout might pose. She said DT was simply "continuing" its review of procurement, and the Group was in close contact with regulators and government. "The most important criterion is network security, and the most important statement to make here is that we should not depend on one vendor", she said.
DT launched the supplier review in December 2018, possibly as an attempt to try and take the heat out of the often febrile Huawei debate (Deutsche Telekomwatch, #79 and passim). There are no obvious signs that the Group would be willing to take the drastic (and expensive) step of extracting Huawei's kit from its network, or block the vendor from supplying new equipment. Huawei is heavily involved in TDE's Berlin 5G trials, while Nokia is prominent in Hamburg. Ericsson provides kit for the 5G-antenna field tests in Darmstadt.