Supplier anticipates revenue dip after 'European tier-one' customer tightens purse strings.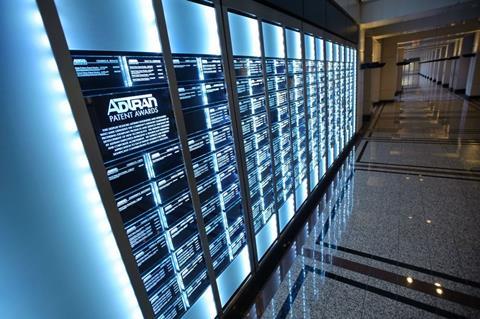 US equipment vendor Adtran, which has a close relationship with Telekom Deutschland (TDE) through the supply of enterprise communications systems and broadband kit (Deutsche Telekomwatch, #46 and #66), flagged a "temporary downturn" in capital spending on access equipment at a "tier‑one European carrier customer".
Although Adtran did not name-check either TDE or Deutsche Telekom (DT), there was strong analyst consensus that Germany was the source of the problem. Speaking on an earnings conference call for the quarter to 30 June 2019 (Q2 FY19), senior executives from Adtran fielded questions from analysts about its European revenue squeeze in the context of high operator spending on spectrum — another clue perhaps that TDE is the tier‑one carrier in question.
A few weeks before Adtran announced its Q2 FY19 financial results, DT was faced with a final bill in exce ss of €2bn for licences in the 2GHz and 3.6GHz frequency bands in Germany (Deutsche Telekomwatch, #84). Dirk Wössner, Chief Executive (CEO) of TDE, ruefully noted at the time that total auction proceeds, which weighed in at a hefty €6.55bn, "could have built approximately 50,000 new mobile sites and close[d] many white spots". He added that the result was a "dampener" on network build‑out.
Business as usual next year?
Michael Foliano, Chief Financial Officer at Adtran, was at pains to convince analysts and investors that any difficulties with the tier‑one customer were not long term. "We have been informed that normal spending will resume at the beginning of 2020", he said. "As the full effect of this slowdown has not yet been determined, we have widened the range of our current revenue expectations to accommodate this variability. We expect that our third quarter 2019 revenue will be in the range of $130m [€117m] to $150m", he added.
Adtran's revenue for Q3 FY18 stood at $140.3m, in the middle of this range, so this suggests that top‑line damage could hurt growth aspirations.
Thomas Stanton, CEO of Adtran, had noted an "uptick" in Europe during Adtran's previous earnings call, for Q1 FY19, inferring that there has been some recent fizzling out of regional capital expenditure momentum.
US-China battle on super-vectoring
On super-vectoring, something which TDE is deploying after numerous tests (Deutsche Telekomwatch, #41 and passim), Stanton said roll out of Adtran's equipment was "a little delayed". He was hopeful the US supplier's super-vectoring technology will see a pick-up in 2020, but Huawei Technologies looks a formidable opponent in this space.
Super‑vectoring is a proprietary solution developed by the Chinese supplier, which can purportedly reach speeds of up‑to‑400Mbps over copper loop lengths less than 300 metres, and up‑to‑100Mbps within 800 metres. With projected speeds of up‑to‑250Mbps, TDE is eyeing up intermediary copper loop lengths that are typically found in Nahbereich, or near-shore, areas.
In early-July 2019, TDE claimed to have nearly 22.5 million access lines capable of delivering speeds of up‑to‑250Mbps. The NatCo did not give a technology breakdown, however. According to recent in‑house blog, TDE has 1.1 million fibre‑to-the‑home connections.
Another consideration for Adtran is the strategic shift at BT Group in the UK, where DT is a strategic investor and which is also considered a laggard in upgrading to ultrafast broadband. Pummelled by politicians and competitors (again, echoing Germany), BT's arms-length access services business Openreach has downgraded its ambitions for copper broadband connectivity (it had been a G.fast fanatic) and upgraded its support for full-fibre (BTwatch, #305 and passim). Adtran does not have the same hold on BT as it does on DT, and is unlikely to be so heavily exposed there (Huawei is BT's dominant final access infrastructure vendor, and previously Adtran failed to 'sell' a more ambitious vectoring upgrade to BT). There are also signs in the UK that BT and mobile network rivals have a growing and increasingly tangible interest in fixed-wireless access (including 5G and point-to-point) as a substitute for copper and even fibre for ultrafast final connections for rural and hard-to-reach locations. Despite now being de-prioritised long-term, and having been seen to park itself in a technical cul-de-sac by committing so heavily to G.fast, BT remains committed to copper for the medium-term at least as a pragmatic stopgap where full-fibre will not be imminently available. However, facing sustained pressure to raise performance ever closer to 1Gbps, BT may have renewed interest in more-capable alternative vectoring solutions, as well as well as in next-generation PON options (where ADTRAN also specialises) for enhanced fibre connectivity and transport (including to support 5G).