Crypto-assets secured, housed, and traded by T‑Sys MMS via tie‑up with Berlin‑based Finoa.
Another string to DT's blockchain bow.
Dittrich: partnership an answer to "structural challenges".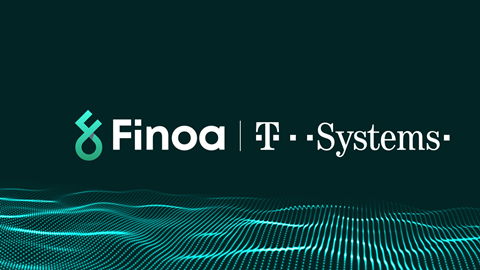 T‑Systems Multimedia Solutions (T‑Sys MMS) again upped its presence in the blockchain for banking space, through a tie‑up with digital asset banking specialist Finoa.
The partnership focuses on the provision of cooperative repository, settlement, and security infrastructure services to Finoa and T‑Sys customers for blockchain assets such as cryptocurrencies and tokens.
Berlin‑based crypto‑asset financial services player Finoa, founded by a pair of former McKinsey & Company consultants, provides digital asset managers, enterprises, and investors with tokenisation, staking-as-a-service, and wealth management products. It closed a "multi‑million‑dollar" seed funding round in January 2020, led by Venture Stars and coparion, with blockchain‑specialist Signature Ventures also participating. Though this is the first named partnership with T‑Sys, Finoa claimed it would begin an "intensification" of its collaborative relationship: "the aspiration is to engage in long term collaboration and explore different synergies along the way".
Dr. Andreas Dittrich, Head of the Blockchain Solutions Centre at T‑Sys MMS, gave a run‑down of the roles played by each partner in the tie‑up:
Finoa acts as a regulated crypto‑asset custodian.
T‑Sys MMS will "bridge the fiat and the digital asset universe", or — in layperson's terms — act as middleman by storing and trading digital assets in a fashion compliant with regulations and industry best practices.
Crypto‑security specialist Bankhaus Scheich acts as broker.
Dittrich noted that the combination was an answer to "structural challenges" faced by T‑Sys as it attempts to establish itself in the blockchain world. These stem from T‑Sys being a "corporate", although he didn't elaborate. In essence, it appears that T‑Sys requires specialist partners.
A Group effort
As T‑Sys MMS builds its foundations in the blockchain network ecosystem, decentralised finance has emerged as a key use‑case of interest. In July 2020, Dittrich flagged the growing need for T‑Sys to authenticate, cooperate with, and verify digital assets as the economy becomes increasingly "globalised and digitalised". As such, T‑Sys MMS became a Chainlink node operator, providing decentralised data feeds that are rewarded in cryptocurrency. Chainlink was the first public blockchain network to which T‑Sys provided its infrastructure and staking services (Deutsche Telekomwatch, #96).
The collaborations build on several other initiatives embarked upon across Deutsche Telekom entities in recent months:
Deutsche Telekom Global Carrier has partnered Orange, Telefónica, Vodafone and other peers on blockchain‑based wholesale settlement (Deutsche Telekomwatch, #89, #91, #92, and #95).
The Group has joined the IBM-led, blockchain‑focused Trust Your Supplier ecosystem (Deutsche Telekomwatch, #95).
Strategic investment fund Telekom Innovation Pool has invested in vendor Clear Blockchain Technologies — a partner on the distributed wholesale settlement initiative — as well as backing Telekom Innovation Labs (T‑Labs) blockchain infrastructure spin‑off trust2core (Deutsche Telekomwatch, #94).
T‑Labs was one of the founding members of eIDAS ökosysteM Identity self-sovereign, a blockchain‑based ecosystem for digital identities (Deutsche Telekomwatch, #89, #91, #92, and #95).

Joseph Purnell is a Staff Reporter for TelcoTitans, contributing telecoms news analysis since 2019 as part of the TelcoTitans Editorial team.