Restructuring change-up yet to be fully outlined, but could reduce T-Sys to a shadow of former self.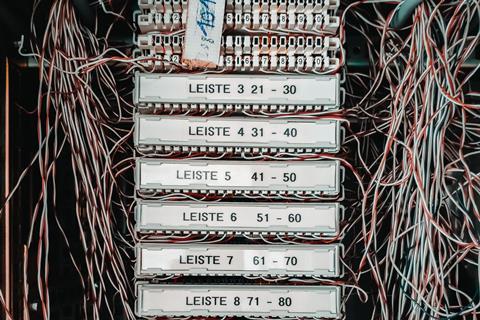 Deutsche Telekom (DT) confirmed recent hints that T-Systems' (T-Sys) wide-scale overhaul was itself in need of a major refresh as the division reported its results for the quarter to 30 June 2019 (Q2 FY19).
T-Sys – normally ushered into the background during Group financial presentations – received more attention than usual within the Q2 discussion, after Group Chief Executive (CEO) Timotheus Höttges indicated four of the division's new 'portfolio units'' are set to be siphoned off to other parts of DT, in a bid to improve performance.
Full details on the latest restructuring moves are yet to be revealed, as union negotiations are ongoing and the plan has yet to be cleared by DT's Supervisory Board. It is scheduled to discuss them at a meeting in September 2019.
The four units in line for extraction are:
The Telecommunications Services and Classified ICT operations. If firmed up, DT's plan is to fold the businesses into Telekom Deutschland (TDE), evidently with the aim to round out the German NatCo's own enterprise and government ICT offerings. Höttges appeared to suggest the move could help smooth out overlap between TDE and T-Sys in product development and customer relationships, the scene of historical "battles" over ownership of enterprise networking and mobile contracts between the two divisions, and the cause of "artificial borders… in the company". By bringing the TDE and T-Sys operations together, DT aims for them "to be more efficient, to be more [customer]-oriented, to make it out of one hand with one leadership and with an even stronger attempt to grow the business", he added.
Growth units Telekom Security and IoT, which are evidently being partitioned from T-Sys to free them for expansion, having in the past flagged aggressive objectives but been rather quiet on subsequent progression. It is not yet clear where they are headed, but the suspicion would be that they will follow Deutsche Funkturm, T-Mobile Netherlands, and various other NatCo assets into the growing central stable of USA & Corporate Development Director Thorsten Langheim, where DT will seek to give them more flexibility and agility outside of T-Sys. This move could also give these businesses a more American flavour, in line with DT's "Trans-Atlantic" ambitions and increased scepticism towards Europe as a telecoms market. The IoT function recently hinted at plans beyond Europe in its announcement of a refreshed partnership with Software AG (Deutsche Telekomwatch, #85).
Groundwork previously done
Recent comments by Group leadership had inferred major changes were coming within the T-Sys transformation effort. Höttges sought to stress the overhaul as "very radical" during the Group's last financial update in May 2019, while DT Chief Financial Officer Christian Illek termed it as "not in full swing yet" – a striking comment, considering it is by no means a new programme (Deutsche Telekomwatch, #83).
T‑Sys's "re‑defined" portfolio structure

Area of focus

Unit

Change
(if applicable)

Revenue (FY17)

Target


(FY17–FY21)
Note: * "DT view".
Source: Deutsche Telekom.

"Telecommunications Core"

TC Services (fixed-line and mobile services)

–

€2.2bn

Stability

"Growth Portfolios"

Classified ICT

New

€0.4bn

Growth

IoT

–

€0.3bn *

Growth

Security

–

€0.3bn *

Growth

Road Charging

–

€0.1bn

Growth

Digital Solutions

New

€0.4bn

Growth

Public Cloud Managed Services

"Enhanced"

€0.1bn

Growth

SAP

"Reshaped"

€0.5bn

Growth

Health

"Emerging"

Undisclosed

Growth

"Classic IT"

Managed Infrastructure Services & Private Cloud

"Reshaped"

€2.5bn

Decline

Dedicated Systems Integration Solutions
T-Sys – has DT's patience finally run out?
It is worth stressing that full details of the T-Sys unit switch-around are not yet available. However, it is clear that the move represents a major departure from the reorganisation's original itinerary, and the dramatic and sudden nature of the change raises questions around how DT sees T-Sys developing as a business in the future, if at all.
Together, the quartet of divisions being offloaded represent nearly half (46%) of T-Sys' total revenue, based on FY17 figures broken out by DT at its last Capital Markets Day. Further, it is not clear that the remaining seven units (see table) represent a coherent portfolio, or are not also subject to crossover with other NatCos' own ICT activities.
With the apparent loss of a Telecommunications presence, T-Sys will be heavily weighted towards IT – an area where DT has long flagged eagerness to pare down its involvement, particularly in lower-margin base services, through asset sales, outsourcing, and downsizing (Deutsche Telekomwatch, passim). It is sunsetting its End User Services business, for example, and is seeking an alternative solution for its Mainframe Services business after regulators' rejection of a deal with IBM in June 2019 (Deutsche Telekomwatch, #74, #75, #83, and #84).
The biggest part of this residual rump – T-Sys' Classic IT business – represents around a further 36% of T-Sys turnover, so if it was fully exited too, this would leave the division at less than a fifth of its former size. In this scenario, it would essentially become a growth-oriented digital solutions and services player, centred around SAP applications.
While the asset transfer could be interpreted as an evolution of the T-Sys management's reorganisation programme, and perhaps a 'plan b'' enacted in response to difficulties around M&A and/or partner negotiations – it also has clear signs of intervention from Group leadership. The units' switch to DT's centre comes straight from the Höttges playbook, and the CEO has indicated he – and predecessors – had long had worries over duplication of T-Sys and TDE's (commercial and product development) efforts in the enterprise communications market, but had other priorities to tackle first.
Further, the units' extraction was not in the original reorganisation plan gradually revealed by T-Sys throughout 2018, which built its new structure around both "classical", "core", and "growth" portfolio units and a refreshed sales function – all reporting into newly-empowered Commercial Director François Fleutiaux (Deutsche Telekomwatch, #79 and passim). It would be slightly odd if T-Sys' top team had itself decided the assets being partitioned would be better managed by someone else within DT. However, it is noticeable that T-Sys is jettisoning businesses outside of Fleutiaux's former remit, as Director of the IT Division.
Adding to the feel of greater urgency from DT's leadership is the sense that outside events could now be weighing heavily on their thinking, and the need to expedite T-Sys' overhaul has stepped up a notch. With its perennial profitability challenges, the division has long been a major headache for DT's top team and has essentially been in restructuring mode for the best part of this decade, or more. However, with macro challenges building further in Germany and Europe, and the Sprint-T-Mobile US mega-merger appearing to move closer, DT may well be seeking to light a fire under the programme, and step up associated cash preservation. Another external influence could be accelerated retrenchment at BT Group's equivalent BT Global Services division, which Höttges will have been party to through his seat on the UK telco's Board of Directors.
Financial dials going right way, though
There was no evidence of Group leadership jitters over T-Sys' current financial performance. With its Q2 results, the division appeared to remain on track towards its flagship target of achieving positive earnings before interest, taxation, depreciation, and amortisation (EBITDA) in the current fiscal year. Revenue was flat (-0.1%, to €1.67bn) but adjusted for special factors, EBITDA increased 2.4%, to €127m – giving T-Sys a 19% rise across H1 FY19.
Speculatively, this might suggest the more drastic turnaround measures are being prepared with a longer-term view, towards and beyond a FY20 positive cash contribution target. Again hypothetically, DT could be thinking that the growth businesses being partitioned from T-Sys – Telekom Security and the IoT arm – might be in need of a capital expenditure boost that would impact T-Sys' cash flow status if kept within the division.
Deutsche Telekom, Systems Solutions financial summary (adjusted), Q2 FY19

Q2 FY18

Q2 FY19

Change

Sources: DT and Deutsche Telekomwatch.

Total revenue

€1,674m

€1,673m

-0.1%

EBITDA

€124m

€127m

2.4%

EBITDA margin

7.4%

7.6%

0.2pp

Depreciation, amortisation, impairment

-€99m

-€127m

28.3%

Operating profit

€23m

€31m

34.8%

Cash capex (reported)

€182m

€73m

-59.9%