Separate entity created to take solutions-based approach to road tolling.
Plans to expand into city and private car tolling as well as to the US.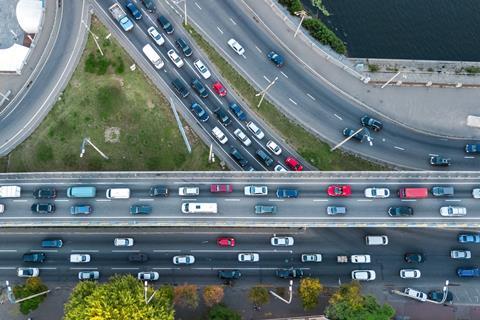 T-Systems transferred its road charging portfolio unit into a separate business as part of its ongoing reorganisation, with the aim of grouping together and ultimately expanding its existing activities as a road toll service provider.
T-Systems Road User Services GmbH was officially registered this month. A spokesperson told TelcoTitans that it is a "logical step" for the portfolio unit to become an independent entity, allowing it to become more agile and giving it "more entrepreneurial freedom to grow".
New wrapper for 'tolling as a service'
The aim is to become a more proactive player, providing solutions on a 'tolling-as-a-service' basis. On its LinkedIn page, the new entity indicates it will build on T-Systems' 15 years of experience in the tolling business, providing "smart tolling services to customers such as toll chargers, toll service providers as well as sales and business partners".
"Our business today is predominantly [heavy goods vehicle] tolling. But our technology can also be used for city tolling (we expect a boost in the future) and for private car tolling based on [a] 'pay-as-you-use' principle", the spokesperson said.
The spokesperson also indicated that while the business is currently "heavily focused on the European market", it intends to expand to the United States in future.
The business will be led by Thomas Pferr as Chief Executive and Igor Soczynski as Chief Financial Officer. In July 2018, Pferr was appointed Chairman of the majority-T-Systems-owned Satellic toll collection business in Belgium after previously serving as its CEO (Deutsche Telekomwatch, #77). Soczynski appears to have previously served as a member of the board at Deutsche Telekom International Finance, and was described on the new entity's registration page as an authorised representative of Deutsche Telekom.
Four into one
The new business will have about 300 staff in total, of which 200 are based in Germany. The spokesperson indicated that T-Systems Road User Services GmbH will have 180 employees, with 70 people employed at Satellic (which is 76%-owned by T-Systems Road User Services and 24% by Strabag); 30 at T-Systems Road Charging Belgium NV (100% owned by T-Systems Road User Services); and 20 at Toll4Europe GmbH (55%-owned by T-Systems Road User Services).
Toll4Europe was established in early-2017 as a European service provider for toll collection in Germany (Deutsche Telekomwatch, #62, #79, and #84). Other shareholders in the joint venture are Daimler, DKV Europe Service, and euroShell Cards, a subsidiary of Shell.
The formation of the separate business represents part of a wide-scale (and ongoing) reorganisation of T-Systems, devised by Chief Executive Adel Al-Saleh following his appointment in January 2018. Several portfolio units were set up as part of the revamp, alongside rejigged sales and delivery functions, with the aim of making T-Systems more focused and adept as serving key markets. The set-up remains something of a moveable feast, although there have been signals that Deutsche Telekom could see 2022 as an end-point for the refresh (Deutsche Telekomwatch, #92).
Indeed, the creation of T-Systems Road User Services GmbH means that four, largely digital services-focused portfolio units remain, and are focused on: public cloud; managed infrastructure services/private cloud; SAP; and Digital Solutions — which was launched in September 2020 (Deutsche Telekomwatch, #98). Other distinct businesses also include Detecon and T-Systems Multimedia Solutions, as well as the growth-led Telekom Security and Deutsche Telekom IoT outfits (which, like the road charging unit, were refashioned as semi-detached GmbH entities in 2020). Deutsche Telekom IoT is set to be moved from T-Systems in 2021 and managed by German NatCo Telekom Deutschland (Deutsche Telekomwatch, #99 and #103).
T-Systems' telecoms-focused businesses were transferred to Telekom Deutschland at the same point, melding other teams to become the German NatCo's new Deutsche Telekom Business Solutions arm, and leaving T-Systems to become largely IT-focused.
T-Sys' "redefined" portfolio structure
"Cluster"
Unit
Operational change (if applicable)

Note: Based on an evolving situation.

Sources: Deutsche Telekom; Deutsche Telekomwatch.

Distinct businesses

Detecon

Set up as distinct entity.

IoT

Set up as distinct entity.

T-Sys MMS

Set up as distinct entity.

Security

Set up as distinct entity.

T-Sys Road User Services

Set up as distinct entity

Portfolio units

Digital Solutions

Newly created in restructure, incorporating Health and Dedicated Systems Integration Solutions businesses, plus others.

Managed Infrastructure Services & Private Cloud

"Reshaped" in restructure.

Public Cloud Managed Services

"Enhanced" in restructure.

SAP

"Reshaped" in restructure.

Anne Morris is a freelance journalist, editor and translator. She has been working as a reporter and news analyst for TelcoTitans since 2016.