DT enterprise arm forms collaboration with ServiceNow, ENIO, and Comfortcharge.
Solution named after a ServiceNow consultant.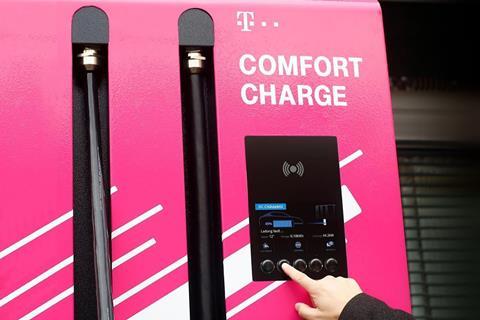 T-Systems tied with longstanding partner ServiceNow, Deutsche Telekom's electric vehicle (EV) charging subsidiary Comfortcharge, and Austrian charging infrastructure enabler ENIO on a new service called AMBIKA that aims to "improve the structuring of service processes between all parties involved in the planning, installation, and operation of electric charging stations".
On LinkedIn, Sarah Wiese, Senior Solution Consultant at ServiceNow, indicated that the AMBIKA Charging Station Management System (CSMS) was developed to solve the problem of how to support the around 65 million charging stations that are estimated to be needed in Europe by 2035 if sustainability objectives are to be achieved.
According to a DT spokesperson, the service was presented at ServiceNow's Knowledge 2022 event in May. T-Systems is acting as systems integrator, and the service is based on cloud platforms from ENIO, a DT investment (Deutsche Telekomwatch, #82), and ServiceNow. Comfortcharge is providing expertise in the installation and operation of charging stations, while ENIO also brings know-how in the operation and billing of charging stations.
The CSMS is in fact named after Ambika Chopra Bhandari, Solution Consultant at ServiceNow. On LinkedIn, Chopra noted that the name Ambika means "mother" or "warrior goddess" and said she was asked to present the new solution at Knowledge 2022.
The DT spokesperson added that a "smart, well-developed charging infrastructure is still very much a work in progress. This is primarily due to the fact that the supplier market is extremely fragmented, with non-standardised software, incompatible hardware, many individual players and many different roles. All this significantly hinders a successful rollout of millions of charging stations in Europe".
The AMBIKA collaboration aims to turn this situation around by providing what the partners describe as a "powerful, adaptable and flexible" CSMS. The overall objective is to digitise processes and connect all parties in the supply chain, from charging station operators through to energy providers, fleet operators, retailers, airports, hotels, and the public sector, to "ensure consistent charging stations for different providers".
Comfortcharge, a DT startup focused on fitting vehicle-charging facilities within the operator's street cabinets, sits within the Group's Deutsche Funkturm infrastructure business. According to its website, it has now rolled out 160 direct current (DC) stations as part of an ongoing deployment programme announced in early-2018 (Deutsche Telekomwatch, #71 and passim). Deutsche Funkturm is also the largest shareholder in ENIO, which was established in 2013. The Vienna-based company offers software and services to help charging station owners and operators run their sites.