Parent VMware makes gains in unit's ongoing partner and portfolio refit.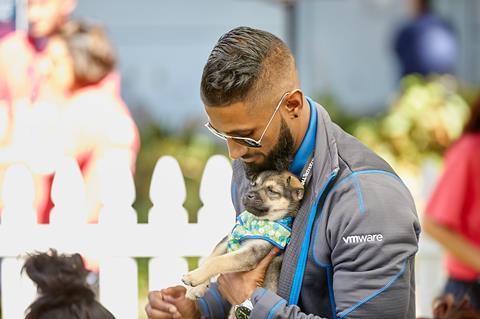 T‑Systems (T‑Sys) firmed up a relationship with software-defined wide area network (SD‑WAN) technology specialist VeloCloud, progressing an area of Deutsche Telekom's (DT) enterprise services ecosystem that otherwise appears in flux.
The VMware-owned vendor's technology is to be marketed by T‑Sys within its new Smart SD‑WAN portfolio, pitched as a more flexible and responsive alternative to traditional enterprise networks.
T‑Sys used the deal to emphasise VMware — part of the Dell Technologies group of businesses — as a "central partner" of DT on software-controlled networks. The vendor also has a long-running partnership with T‑Sys on enterprise cloud platforms and services (Deutsche Telekomwatch, #11 and #13). Shortly after the VeloCloud announcement, T‑Sys highlighted that it had added VMware's disaster-recovery-as-a-service proposition to its Dynamic Services for Infrastructure private cloud offering, hinting at a possible broader refresh of the DT–VMware relationship.
DT had previously flagged research work with VeloCloud on use of SD‑WAN infrastructure for cloud‑based 3D‑printing and robotics use‑cases (Deutsche Telekomwatch, #54).
SD-WAN reset: T-Sys playing the field
The move adds to signs that T‑Sys has started to bed down its SD‑WAN portfolio and partnerships, seemingly influenced by senior Telco Cloud figure Axel Clauberg's recent takeover of the product agenda at the division's Telecommunications Services business. He was appointed Chief Technology Officer and Vice‑President of Strategic Portfolio Management at the unit earlier in 2019 (Deutsche Telekomwatch, #81).
T‑Sys has long been flagging work on a "new generation" of corporate network services to succeed (and refresh) its legacy IntraSelect platform, but had offered little further information on progress until recently (Deutsche Telekomwatch, #71 and passim).
As in cloud computing, T‑Sys appears to have opted for a mixed, direct and aggregation play in SD‑WAN. A Cisco Systems (Viptela)-enabled IntraSelect SD‑WAN offering looks to form the heavy-duty centrepiece of T‑Sys' portfolio, operated via the division's Open Telekom Cloud platform. It appears this will sit alongside both traditional IntraSelect connectivity services and Smart SD‑WAN-branded "overlay" offerings from "certified" third-parties, including VMware (marketed as VMware SD-WAN by VeloCloud) and further players Riverbed and Silver Peak Systems. These do not appear exclusive — VeloCloud, for instance, boasts more than 50 service provider partnerships, including with Group rivals A1 Telekom Austria, AT&T, and Sprint.
T‑Sys has not flagged a commercial relationship with further SD‑WAN player Aryaka, despite DT's stake in the business — held via investment arm Deutsche Telekom Capital Partners (Deutsche Telekomwatch, #60). A further engagement that appears to have fallen by the wayside is DT‑backed shared connectivity grouping ngena — which also uses Cisco technology. It formed a Smart SD‑WAN relationship with T‑Sys in 2017, but this was dropped earlier in 2019 (Deutsche Telekomwatch, #82). ngena now appears to be flying solo with its SD‑WAN play, and recently refreshed management to up its commercial game (Deutsche Telekomwatch, #86).
Instability not over
While partner relationships look to have been firmed up, T‑Sys' internal SD‑WAN and broader enterprise telecoms functions are entering their own period of flux. In July 2019, DT flagged it was transferring T‑Sys' Telecommunications Services and Classified ICT business units to management by Telekom Deutschland, with the evident aim of de‑duplicating the Group's various product development efforts, commercial and technology relationships, and go‑to-market activities (Deutsche Telekomwatch, #86).
Disclosing the move, Group Chief Executive Timotheus Höttges clearly inferred that SD‑WAN was one area DT was seeking to tidy up, noting that "we have product houses who are developing the latest products, like the MPLS substitution products, the SD‑WAN services, when it comes to connectivity services in [cross-operator enterprise services alliance] FreeMove, and other areas. So we do that twice".