Joint venture formed on cross-network messaging; app coming in 2020.
Breakaway from Google mooted.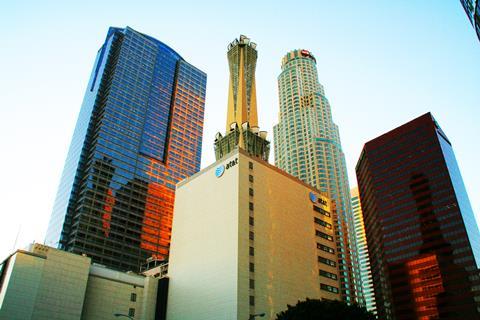 T‑Mobile US (TMUS) partnered with rivals AT&T and Verizon Communications, as well as takeover target Sprint, in what looks to be a concerted effort to accelerate the roll out of Rich Communication Services (RCS) in the USA, and beyond.
To address issues such as interoperability, the four operators have created a joint venture called the Cross Carrier Messaging Initiative (CCMI), with the aim of delivering the "next generation of messaging to consumers and businesses". Details of the venture are thin on the ground, although a joint press release indicated that future services will be based on the GSM Association's (GSMA) RCS "industry standard" — referring here to the GSMA's Universal Profile specification. There was a suggestion that while the CCMI intends to follow the standard to ensure interoperability, it may tweak it to address "implementation issues".
According to The Verge, which spoke to Doug Garland, General Manager for the CCMI, the first objective is to ship an Android application in 2020 that looks set to become the default messaging application for Android smartphones sold by the four operators. Garland indicated that another aim is to ensure interoperability with other services such as Android Messages, and said Google — a strong proponent of RCS — will remain an "ecosystem partner".
TMUS and partners also signalled that there would be a strong focus on the business messaging market, along with cross‑carrier support for individual and group chats including imaging and video content, and the ability for subscribers to chat with consumer brands. The over‑arching aim, it seems, is to "create a single seamless, interoperable RCS experience across carriers, both in the US and globally".
Synchronoss and WIT on the team
US software vendor Synchronoss subsequently announced that it had been selected to supply to support CCMI. It is to provide the venture with an advanced messaging platform developed with technology partner WIT Software.
Synchronoss claimed the offering will have the "potential to create a messaging ecosystem that allows consumer brands to create a new level of engagement and meet growing preferences for content rich, personalised interactions via messaging communications".
Standardisation without interoperability
TMUS launched its first RCS‑based offering, branded Advanced Messaging, in 2015 (Deutsche Telekomwatch, #44), but uptake and development has been sluggish. A quick look at Reddit forums and Twitter highlights frustrations among US consumers over the lack of cross‑carrier support for RCS‑based services, as well as other issues such as the limited number of compatible Android smartphones and the patchy adoption of international standards.
TMUS rolled out version 1.0 of the Universal Profile in late‑2018 (Deutsche Telekomwatch, #75). The standard offers a single, industry‑agreed set of features and technical enablers aimed at simplifying RCS product development and deployment internationally. The NatCo was criticised at the time for stocking a limited number of Android smartphones featuring the new RCS functionality, as well as for not updating it with Universal Profile 2.2, and not fully integrating Google's Chat platform. According to a Google Document that catalogues a wide range of information on operator support for RCS and Universal Profile, TMUS is still working on connecting its RCS profile to the Google Jibe hub, which is designed to provide mobile operators with a "simple connection to the global RCS network". The NatCo's offering supports person‑to-person but not business messaging, and only on Samsung smartphones, but TMUS has said an upgrade to Universal Profile 2.0 is "still in the works". It uses back‑end support from Mavenir, which has previously been named as a key partner on Group RCS deployments (Deutsche Telekomwatch, #49 and passim). In March 2018, TMUS said that more than 30 million customers sent in excess of 250 million RCS messages across its network on a daily basis.
Top-down efforts continue…
It is more than fair to say that RCS has been slow to get off the ground, at least partially because of the fragmentation of specifications designed to boost the technology's ability to gain reach and traction. However, the GSMA is persevering with efforts to drive momentum, such as through a series of collaborative GSMA RCS Business Messaging Awareness Lab events around the world, and ongoing updates of the Universal Profile. The 28th edition of the GSMA RCS Business Messaging Awareness Lab was scheduled to take place on 11 November 2019 in Cape Town, South Africa, sponsored by Out There Media. The GSMA now estimates RCS services have been launched by 81 operators worldwide — including Deutsche Telekom NatCos in Germany, Greece, Hungary, Romania, Slovakia, and the USA. The GSMA expects to see an additional 27 operator launches by 31 March 2020.
Where's Google?
Many reports commented on the fact that Google was not mentioned at all in the CCMI release. The search giant has been a leading proponent of the carrier‑led RCS platform following its 2015 acquisition of RCS enabler Jibe Mobile, and is also supporting RCS interconnectivity.
Both DT and TMUS have backed the Google‑led RCS refit, which is based on the Universal Profile based on the Crane RCS specification (Deutsche Telekomwatch, #51 and #54). Although it has supported the 'Google as enabler' route, DT has also tended to take a mix‑and-match approach to technology underpinning its roll out of RCS.
Google offers a hosted Android‑based RCS platform for operators, using Jibe technology — including the Jibe Hub for RCS interconnectivity. In February 2018, América Móvil, Rogers Communications, and Sprint interconnected their networks to support RCS services across the Americas, while DT, Telenor Group, Telia Company, and Vodafone Group interconnected in Europe. Initial interconnection across the operators' 22 networks in 17 countries was achieved using the Jibe Hub, as well as a direct interconnect between DT and Vodafone in Germany. It was also reported at the time that DT and TMUS were working on a joint initiative with Bell Canada and China Mobile, together with Samsung and Syniverse, to accelerate the open ecosystem of RCS interconnection hubs, along with support from AT&T and Swisscom.
In response to the CCMI launch, Sanaz Ahari, Senior Director of Product Management at Google, told The Verge that "it's great to see US carriers getting behind RCS in a meaningful way, and we look forward to continuing to work with them to bring modern messaging to everyone on Android". At the same time, there have been signs that Google is losing patience with operators when it comes to deploying RCS services. In July 2019, it rolled out RCS Chat on Android in France and the UK, without the need for operator support — and more countries are set to follow.