Adtech-focused Marketing Solutions division makes acquisition to expand marketers toolkit.
Octopus Interactive to transition to T-Mobile network for device connectivity.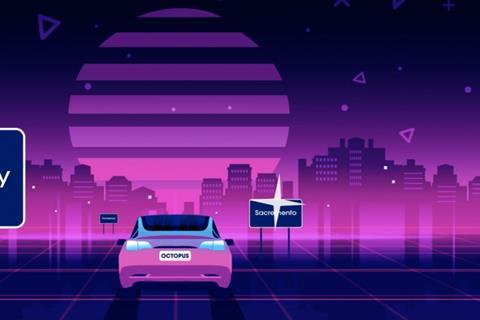 T-Mobile US acquired rideshare advertising platform provider Octopus Interactive.
Octopus, which operates a network of interactive screens inside Lyft and Uber vehicles, is being brought under T-Mobile's advertising technology-focused Marketing Solutions unit. Following the purchase, it will transition to using T-Mobile's network for device connectivity.
"This adds new arrows to our quiver", said Marketing Solutions General Manager Mike Peralta to AdExchanger. "We have an ambition to be a multi-billion-dollar player in the ad tech business", he added.
Financial details of the deal have not been made public.
A captive audience in a growing market
Octopus works with rideshare drivers and marketers to reach the "captive audience" that is Lyft and Uber's user base. It provides geo-targeted campaigns for clients including Audible and Fox Entertainment.
At the end of 2021, Octopus claimed to reach five million unique riders per month.
Octopus targets a rideshare market in expansion mode, with Uber recording 39% year-on-year growth to 1.6 billion trips per month for the quarter to 30 September 2021, and claims to be recovering from driver shortages. Lyft reported similar growth for the same period.
" The beauty of Octopus is it allows us to create more distribution. Everybody has a handset and everybody is taking Ubers, so that provides a lot of connectivity. "

Peralta, speaking to Adweek.
Peralta added that the acquisition marks a move to advertising "beyond linear and traditional channels", pointing to the fact that 72% of Octopus users are "cord-cutters" — consumers that have opted for streaming platform subscriptions as a replacement to 'traditional' cable or pay-TV contracts.
Marketing Solutions making moves
T-Mobile's Marketing Solutions unit was launched in 2020 out of the purchase of mobile advertising tool provider Pushspring the year before. It sits under the operator's growth-oriented Emerging Business group, which has an interest in new service categories such as advertising, Internet of Things, and residential broadband and TV (Deutsche Telekomwatch, #86, #100, and #106).
The department started off with a relatively low profile (the Pushspring acquisition was worth just $32m) but Peralta's appointment in mid-2021 appears to have brought with it heightened ambitions.
Speaking to AdExchanger when he joined, Peralta made it clear that the plan was not to be "everything to everyone", but to focus on "what we're good at". Following the Octopus acquisition, he said the division's core competence is "first-party data" — supported by recent changes to T-Mobile's privacy terms, which mean subscribers must opt out of having their web and device usage data shared with advertisers.
The sector also faces privacy challenges, which has led to T-Mobile only collecting data from Android devices. AdExchanger noted that the Octopus acquisition will go some small way to bridging the OS gap, as 80% of rideshare users who interact with Octopus devices are iOS customers.
The question of how and when to target iOS users was sidestepped by Peralta in an interview with AdExchanger. "We're waiting and watching how things develop", he said.

Joseph Purnell is a Staff Reporter for TelcoTitans, contributing telecoms news analysis since 2019 as part of the TelcoTitans Editorial team.