Spectrum-hungry TMUS still facing major resistance in mid-band liberalisation drive.
FCC final order on issue may happen in November 2019.
5G Plus Plan seems TMUS' best bet for C‑Band win.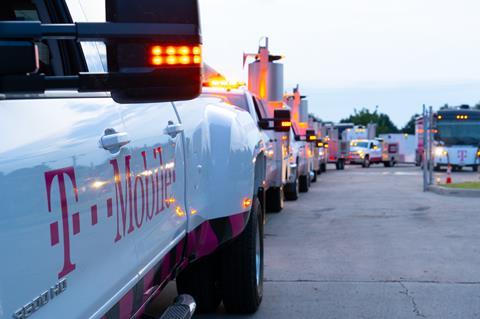 Senior T‑Mobile US (TMUS) executives showed signs of growing frustration in the heated debate about how best to allocate spectrum in the C‑Band (3.7GHz–4.2GHz), currently used for satellite TV broadcasting, for terrestrial 5G.
Adding to the anxiety are indications from the Federal Communications Commission (FCC) that it will decide on timeframes and methodologies for an upcoming auction of the highly prized C‑Band airwaves in November 2019. The time for lobbying is running short.
John Hunter, Director of Spectrum Policy at TMUS, recently described proposals put forward by the C‑Band Alliance (CBA), a consortium of satellite operators, as a "sham".
While the CBA appears only willing to give up 200MHz of C‑Band resource, at least initially (see below), TMUS thinks satellite operators should vacate most, if not all, of the 500MHz chunk of C‑Band frequencies available. The TMUS angle is that this will give a boost to US ambitions of becoming a 5G leader.
Steve Sharkey, Vice-President of Government Affairs at TMUS, was equally cold about the CBA's proposals when speaking at a C‑Band conference in early-October 2019.
At the event — hosted by Capitol Forum, which describes itself as an "investigative news and legal analysis company" — Sharkey said the Alliance was being too vague about its proposed processes to release spectrum. He was also not keen on the CBA's plan to conduct a private C‑Band auction, despite the Alliance's insistence that this would allow a much quicker release of extra 5G‑friendly airwaves compared with a public auction run by the FCC.
Sharkey has been critical about the CBA in the past, accusing its members of "trying to sell something that they don't own [and] that doesn't exist right now" — namely mobile broadband rights to C‑Band spectrum. He has also complained that satellite operators are under-utilising the C‑Band, which would provide a valuable mid-band platform for 5G.
FCC fence-sitting could store up problems
Speaking at the same Capitol Forum event, FCC Commissioner Michael O'Rielly repeated the agency's view that 300MHz of C‑Band spectrum would be an "ideal amount" of resource to clear for 5G. This sits pretty much in the middle of proposals from TMUS and the CBA.
O'Rielly also appeared relaxed about the CBA's proposal for a private auction, indicating that the FCC already had a lot on its plate spectrum‑wise. Its Auction 103, which puts concessions in the 37GHz, 39GHz, and 47GHz frequency bands under the hammer, is one of the most pressing items on the agency's to‑do list. The auction is slated to start on 10 December 2019 and is billed by the FCC as the largest in American history. It will release 3.4GHz of spectrum into the commercial marketplace. Another imminent FCC task is reassignment of terrestrial 2.5GHz frequencies (200MHz) for mobile broadband use.
If an over-stretched FCC appears willing to let a private auction go ahead, litigation from those opposed to the CBA's proposals seems likely.
Further, some Congress members have signalled disquiet about what they think will be an inordinate windfall landing in the laps of "foreign satellite companies" should a private auction go ahead. A public auction, on the other hand, would make sure that auction proceeds go to the US Treasury. The CBA's members comprise Intelsat and SES, which are incorporated in Luxembourg, and Canadian player Telesat. Eutelsat was one of the original four CBA members, but left the Alliance in September 2019. The France-based satellite operator said at the time that it wanted to make its own case for freeing up C‑Band spectrum and was reportedly willing to clear more than the 200MHz proposed by the CBA.
Counterplan meets counter measures
The CBA is not the only game in town. Cable and wireless operators clubbed together and made an alternate C‑Band proposal to the FCC in July 2019. Called the 5G Plus Plan, it envisages repurposing at least 370MHz of C‑band spectrum for the next‑gen tech, with 20MHz of this to be set aside for a guard band to prevent signal interference. The plan is backed by the Competitive Carriers Association (CCA), of which TMUS is a member. It is also supported by cableco Charter Communications and America's Communications Association (ACA), more commonly known as ACA Connects — a trade organisation representing more than 700 independent small- and medium‑size businesses that provide broadband, phone, and video services.
The coalition of partners backing the 5G Plus Plan reckons it is possible to shift the vast majority of satellite-enabled C‑Band TV broadcasts over to fibre. It calls for the FCC to lead a public auction and use a portion of the proceeds to pay for this transition. The transition costs incurred by video programmers and TV channel distributors are estimated at between $6bn (€5.4bn) and $7bn.
Ross Lieberman, Senior Vice President of Government Affairs at ACA Connects, was confident that the FCC would look favourably on the 5G Plus Plan. Addressing a CCA conference in September 2019, he claimed the plan was well received. "It has been understood that it does more than the CBA plan in terms of [freeing] more spectrum… and returns money to the Treasury", said Lieberman. He further ventured that because the 5G Plus Plan was now on the table, the CBA will look "aggressively" at ways to make more than 200MHz available for 5G over a three‑year timespan.
For its part, the CBA appeared underwhelmed by the counterplan and called it unrealistic. "Fibre-based proposals submitted to the FCC fail to consider the significant complexity at the heart of their approach", said the Alliance. "This is not a task to simply connect antennas to fibre. These proposals require a complete re‑architecting of the US media distribution landscape, including changes to broadcast distribution technology, operations, and business models", it added,
ABC of CBA
The CBA proposes to clear a 200MHz chunk of the C‑Band (3.7GHz–3.9GHz), with 20MHz acting as a guard band. The Alliance reckons if the FCC gives its plan the nod, it will be able to "safely clear spectrum" within 36 months of a final order from the agency. It argues that while FCC‑run spectrum auctions "historically have taken as long as a decade", a private auction could be able to deliver valuable spectrum to the US market "years ahead of any alternative proposal".
The CBA promises an "open and transparent market-based auction" to transfer the spectrum to wireless use. All outcomes, it added, will be subject to FCC approval. The proceeds would then be used to fund launch of satellites to replace lost capacity, cover clearing costs, and recompense "opportunity costs of the current satellite operator licensees no longer being able to sell services in the respective band". The CBA is apparently already engaged in working with their broadcaster customers on the technical, operational, and logistical issues (Deutsche Telekomwatch, #82).
The CBA has repeatedly given short shrift to TMUS proposals that involve a so‑called 'incentive' auction, largely mirroring the way low‑band 600MHz spectrum was priced and parcelled out in 2017 (Deutsche Telekomwatch, #62 and passim). It claims such an approach would create "insurmountable" legal and logistical complexity.
Backers of the 5G Plus Plan, not surprisingly, are unimpressed by the CBA's C‑Band blueprint — not only because it is much stingier on the amount of cleared spectrum, but also because they think the CBA's claims of a much faster route to freeing more 5G spectrum are wrongheaded. They believe that for most urban areas they can match CBA speed in making C‑Band frequencies available for 5G.