Sole reliance on low-band 600MHz purportedly boosts 5G coverage by 30%.
Cisco Systems, Nokia are core network suppliers.
Market research firms find NatCo leader on 5G availability, but not so good on average downlink speeds.
TMUS expands rollout of Sprint's mid-band 2.5GHz spectrum to support 5G.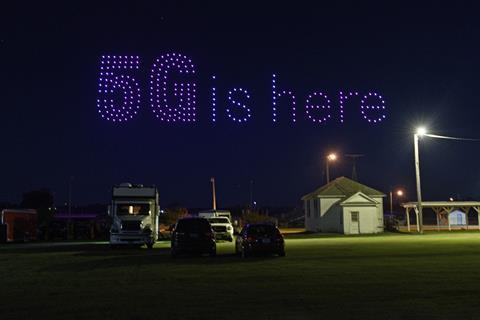 T‑Mobile US (TMUS) launched what it claimed was the world's first standalone (SA) 5G New Radio (NR) network.
At a stroke, said TMUS, it was able to increase its 5G footprint by 30%. It now covers 1.3 million square miles in more than 7,500 cities and towns across the USA.
The move sees TMUS extend beyond the non-standalone 5G NR version of 5G, which deploys LTE as an 'anchor' network, and for TMUS saw coverage apparently inhibited by LTE's mid-band spectrum.
Through SA 5G NR, those fetters are removed. TMUS can now take full advantage of the signal propagation characteristics of low-band 600MHz, which allows broader coverage and better in-building penetration. TMUS recently demonstrated that 600MHz signals can travel as far as 60 miles from the base station.
To underline its '5G for all' credentials, TMUS put on a drone display in the small town of Libon, North Dakota, which blazed out in the sky that "5G is here". The clear message from TMUS, and one no doubt intended to also have a dig at key rival Verizon Communications' less than spectacular 5G footprint (see below), was that if the NatCo could extend 5G coverage to Libon, then it could pretty much extend the next-gen tech anywhere.
In the SA 5G NR testing phase, TMUS engineers reportedly saw a 40% improvement in latency times.
Coupling lower latency with the prospect of network-slicing, Neville Ray, President of Technology at TMUS, envisaged new business opportunities from the standalone 5G version. It will, he said, "pave the way for applications that require real‑time responses and massive connectivity, such as mobile augmented and virtual reality, cloud gaming, smart-factories and meters, and even connected vehicles".
Supply and demand
TMUS has had SA 5G NR in the works for some time. In late-July 2019, TMUS said it had completed the first data session using the technology in North America at its Bellevue lab in Washington (Deutsche Telekomwatch, #86). Longstanding infrastructure suppliers Cisco Systems and Nokia provided core network capabilities, while both Nokia and Ericsson supplied radio kit. Qualcomm and Taiwanese semi-conductor provider MediaTek were also part of the SA 5G NR mix. In June 2020, Ericsson released new commercial software for SA 5G NR upgrades on its base stations.
5G bragging rights
Only days prior to the SA 5G NR launch, Ray predictably pounced on recent market research findings — based on crowdsourced data — that showed the NatCo already doing well on 5G coverage and availability. Equally predictably, he did not dwell too much on average 5G downlink speeds, which is not TMUS's strong suit.
Reports from Opensignal and Ookla revealed that TMUS, largely because of its low‑band 600MHz spectrum, is top dog on the 5G availability front. Ray approvingly referenced findings from Opensignal, showing that "Un‑carrier customers get a 5G signal more often than customers on any other network — more than twice as often as AT&T and 56 times more often than Verizon!".
According to Opensignal, the NatCo's 5G users — during June 2020 — spent 22.5% of the time connected to 5G. Sprint (still treated as a separate entity from TMUS by the market research firm) and AT&T trailed with scores of 14.1% and 10.3%, respectively. Much to the apparent pleasure of Ray, Verizon could only muster a microscopic 0.4% on this metric. "Yep, no typo here", he gloated.
Ookla was also in Ray's good books. The research provider revealed that, as at 8 July 2020, there were 6,087 commercially available 5G deployments in the USA, according to the Ookla 5G Map. TMUS had the overwhelming majority of these deployments (5,697), followed by AT&T (355), and Verizon Wireless (35).
Verizon does not do well on 5G coverage because it relies on short-range millimetre wave spectrum. 600MHz airwaves, on the other hand, as TMUS recently demonstrated, can travel by as much as 60 miles from the base station. The upside for Verizon 5G customers, when they can find a signal, is that average downlink speeds are 494.7Mbps (Opensignal). These speeds are almost ten times faster than those clocked up by TMUS, AT&T, and Sprint, although the integration of Sprint's huge amount of mid‑band 2.5GHz spectrum should increase speeds on the new‑look T‑Mobile network (Deutsche Telekomwatch, passim).
Have your cake and eat it
Ray went on to claim that the NatCo's "pioneering" 'layered‑cake' approach to 5G — deploying different 5G spectrum bands to suit different coverage and capacity requirements — is now being copied by "literally everyone, including Verizon".
TMUS, according to Ray, is now "rapidly deploying" 2.5GHz spectrum from Sprint. Tests apparently show average 5G downlink speeds of 300Mbps over mid‑band spectrum. The NatCo has launched 'live' mid‑band 5G in parts of Chicago, Houston, and Los Angeles, following an earlier debut in Philadelphia and New York.

Ken has been writing about developments in the fixed and mobile markets for over twenty years. He has been a contributor to TelcoTitans since 2015.