Ray slams Verizon 5G launch as "way too early".
Mixed feelings on DSS tech.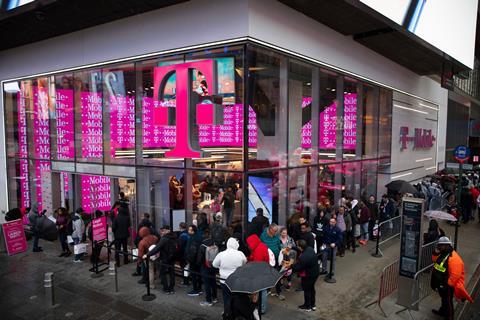 T-Mobile US (TMUS) turned out to be much keener on 24GHz than 28GHz in two recent auctions of millimetre wave (mmWave) spectrum, the results of which have only just become clear:
Auction 102, comprising the sale of Upper Microwave Flexible Use Service (UMFUS) concessions in the 24GHz band, saw TMUS commit $803.2m (€712m). Only AT&T pledged more (see table). Total net bids in Auction 102, which bakes in credit deductions for eligible smaller bidders, reached a shade over $2bn. There were 29 successful bidders in total, sharing 2,904 licences. TMUS acquired around 40% of them. UMFUS licences at 24GHz cover most regions in the USA, including major cities.
Auction 101 involved the sale of "county-based" UMFUS licences at 28GHz, for which TMUS made a relatively modest outlay of $39.3m. Winning bids in the auction totalled $703.3m. Verizon Communications and US Cellular were by far the biggest spenders here (see table). A total of 2,965 concessions were awarded.
Although Auction 101 was wrapped up in January 2019, the Federal Communications Commission (FCC) chose not to confirm the winning bidders of either sale until June 2019, after Auction 102's completion (28 May 2019).
The sums raised by the two mmWave sell-offs are a far cry from the multi-billion dollar auction bonanzas of 2015 and 2017, involving AWS-3 and 600MHz spectrum (Deutsche Telekomwatch, #41 and #62). Final payments for all UMFUS licences are due on 1 July 2019.
Auction 103, which will put concessions in the 37GHz, 39GHz, and 47GHz frequency bands under the hammer, is slated to start on 19 December 2019.
Top‑five bidders for 24GHz and 28GHz licences
Bidder
Number of licences won
Total net payment due *

Note:* Net bids refer to the total amount of winning bids adjusted for any bidding credits for eligible small businesses and rural service providers.

Source: FCC.

Auction 101 (28GHz)

Verizon Communications

1,066

$505.7m

US Cellular

408

$129.4m

TMUS

865

$39.3m

Windstream

106

$6.2m

FTCManagement Group

5

$3.8m

Auction 102 (24GHz)

AT&T

831

$982.5m

TMUS

1,346

$803.2m

US Cellular

281

$126.6m

Starry

104

$48.5m

Windstream

116

$20.4m
Waves and ripples
According to Allnet Insights & Analytics, a spectrum tracking specialist, TMUS will claim a 48% market share of 24GHz 'bandwidth' once the dust settles after the two auctions. In sharp contrast, the NatCo will have a meagre 7% share of spectrum between 28GHz and 31GHz (see table). TMUS claimed before Auction 101 that it had 200MHz of airwaves at its disposal across the 28GHz and 39GHz frequency bands, although Deutsche Telekomwatch is not entirely clear about the extent of their geographical coverage.
The 24GHz strategy contrasts (and complements) that of market leader Verizon, which missed out on a top-five placing at 24GHz, pledging just $15.3m. Big Red's mmWave priority for 5G is firmly on 28GHz. One point of note for TMUS is greater maturity within the 28GHz ecosystem, in part because of Verizon's market clout – although TMUS insists that 28GHz software for 5G is still not ready (see below). US chipset heavyweights Intel and Qualcomm have not yet provided significant detail on their 24GHz intentions, as far as Deutsche Telekomwatch is aware.
Satellite TV provider Dish Network continues to opportunistically acquire spectrum, despite not appearing in the top five in either mmWave auction. It committed $11.8m on 24GHz licences and $2.9m for 28GHz concessions. Dish's calculating approach to building up spectrum assets may be advantageous for TMUS as it seeks to find solutions for approval of its mega-merger with Sprint (see separate report).
Weighing in after Auction 101 and Auction 102

TMUS a 24GHz heavyweight, but 28GHz-31GHz lightweight.

Operator

Market share (June

2019)

Source: Allnet Insights & Analytics.

24GHz

TMUS

48%

AT&T

36%

Starry

5%

Others

5%

US Cellular

4%

Dish

1%

Verizon Communications

1%

28GHz–31GHz

Verizon Communications

65%

FCC

25%

TMUS

7%

US Cellular

2%

Dish

2%
mmWave icing on 5G cake, once software niggles sorted
The mmWave assets were billed by TMUS as a useful addition to its multi-band 5G strategy, although not seemingly a short-term boost.
Neville Ray, Chief Technology Officer (CTO) at TMUS, repeatedly pointed out mmWave spectrum's relatively weak signal propagation. "[Once] you get much more than 500, 600 feet away from a small cell, you ain't really seeing much, right?" he told analysts on the NatCo's most recent earnings call. He added that technical wrinkles with mmWave spectrum had still to be ironed out, and that Verizon had launched "way too early" with a 5G service based on 28GHz. "We're all seeing the awful propagation that comes from software and spectrum that's launched too early for real customer uptake and use", he said.
To "solve the 5G story", as Ray put it, nationwide spectrum is needed in low- and mid-band frequencies to provide broad and deep coverage. mmWave spectrum, indicated Ray, is a useful add-on but not something on which to anchor 5G. The TMUS mantra to analysts and investors is a multi-band 5G strategy: 600MHz and 700MHz to underpin nationwide rollout, and higher frequencies to increase indoor coverage and capacity. "When we get the terminals in the second half of 2019, we're going to be lighting up an enormous footprint on 5G, an enormous footprint on 600MHz, and we have a lot of spectrum I should point out", said Ray. TMUS aims to have a nationwide 5G footprint in place by 2020.
A weakness in the NatCo's arsenal of spectrum is a lack of mid-band spectrum in sub-6GHz categories. The proposed Sprint acquisition would plug that gap, owing to its sizeable 2.5GHz holdings (Deutsche Telekomwatch, #72 and passim). TMUS and other operators also continue to push for expedited re-allocation of 3.7GHz-4.2GHz, currently held by satellite operators, to support mid-band 5G rollout (Deutsche Telekomwatch, #82 and passim).
Ray disses DSS claims by Vestberg
Hans Vestberg, Chief Executive (CEO) of Verizon, and a former Ericsson CEO, appeared to raise the hackles of Ray. Speaking on the operator's latest earnings conference call, a couple of days before TMUS's event for the same quarter, Vestberg hailed the benefits of Dynamic Spectrum Sharing (DSS).
The DSS promise is that spectrum need not be rigidly restricted to one radio access technology. Airwaves assigned for LTE, for example, could be dynamically allocated to 5G as and when demand arises. While Vestberg claimed DSS will open up new opportunities to expand bandwidth, Ray countered that the technology will not tackle what he thought were serious shortcomings in Big Red' 's portfolio of low- and mid-band spectrum.
"I paid close attention to the Verizon CEO's comments on this on their call earlier in the week. But the fact of it is, it [DSS] doesn't create any new spectrum. So there's no magic capacity [that] comes out of dynamic spectrum sharing. You have the same spectrum at the end as you started with. Trying to pitch the dynamic spectrum sharing [as] how you would address the dearth of spectrum you have [in] mid- and low-band [for] 5G rollout… those two things just don't compute. And the technical folks understand that fully."

– Ray.