Latest 'Un-Carrier' move aims to fix what T-Mobile claims are entrenched issues in US broadband market.
5G FWA network set for expansion.
Consumers offered suite of deals and incentives.
Enterprise Head Callie Field adds plans for businesses.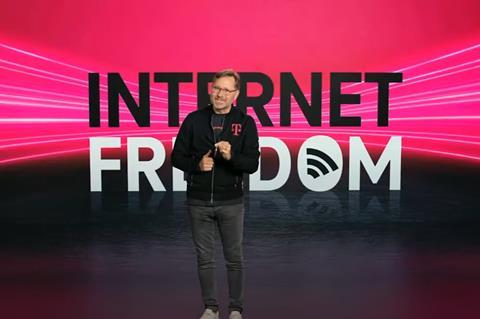 T-Mobile US' latest Un-Carrier tactic aims to bring fixed wireless access (FWA) to more homes and businesses by "smashing pain points" and addressing a "ridiculous industry", Chief Executive Mike Sievert said.
Laying it on thick during a launch event this week, Sievert issued another damning report on the state of the US cable market, and sought to position T-Mobile's disruptive wireless Home Internet service as the answer for a "stupid, broken wireless industry".
The operator haslaunched a free home trial, "locked-in" pricing, and the offer for T-Mobile to cover early termination fees for consumers that switch to the service. "Free stuff and exclusive deals" have also been added to the picture for Home Internet customers, via access to its T-Mobile Tuesdays rewards programme and discounts on TV streaming sticks and related services.
Further, enterprise division T-Mobile for Business has expanded its wireless offering. Callie Field, President of the operator's Business Group, launched new plans that allow enterprise customers to sign single service level agreements in place of multiple regional contracts. T-Mobile also launched data packages for businesses "wherever our mobile network reaches" for the same price as the consumer equivalent. Again, this was said to "smash" pain points and — as Field put it — "simplify where others complexify".
Competition for cable
In April, T-Mobile surpasses one million Home Internet subscribers, up from 646,000 at the end of 2021, a year after launch (Deutsche Telekomwatch, #104). T-Mobile says it has 'approved' 40 million premises for the service. Approval means the operator deems network availability in the area able to withstand the additional load placed on it by 5G FWA by measuring normal usage in peak times.
Sievert continued to peg Home Internet as a way to "say goodbye to Big Cable". Building a wireless last mile presents savings to both the taxpayer and T-Mobile itself, he said, comparing the infrastructure build to the "awful lot of ditch-digging" required for fibre alternatives.
He sought to present the wireless option as a direct competitor to cable providers, noting that around 40% of current sign-ups were previously on cable.
" This is a product that competes both where there's opportunity already and some choice, as well as in greenfield areas. "

Sievert.
Specific targets for premises approval rates for Home Internet have not been set, but T-Mobile remains focused on a target, set at the service's launch in 2021, to reach seven to eight million customers by 2026.
Sights set on spectrum
T-Mobile Chief Network Officer Ulf Ewaldsson noted that approximately a third of the 40 million approved premises have come from areas deemed 'rural'. Sievert added that the operator's "massive" network infrastructure build-out will support ambitions to compete in rural markets in ways "we never could in the first decade of the Un-Carrier era".
Currently, the operator has 110MHz dedicated to its 'Ultra-Capacity' mid-band 5G. Sievert outlined plans to extend this to around 200MHz "nationwide", pitching that goal as evidence that the 40 million premises currently approved for Home Internet is"just the start".
" We've talked for a long time about 10,000 additional sites, macro sites covering vast swathes of this country from low-band right up through our large mid-band holdings. And we're at the very beginning of that, and we'll continue to expand and reach places with strong signal that used to have little or no signal. "

Sievert.
He said that T-Mobile holds a large amount of spectrum that is not yet serving the 5G network, and plans are in place to "eventually" re-farm holdings currently used for LTE. He said that at 31 March 2022, 45% of T-Mobile customers had a 5G device, and more than half of network traffic is on the 5G network. Spectrum picked up in 2021's C-Band auction is expected to be deployed in the second half of 2023, Sievert said.
T-Mobile is working to sunset Sprint's 3G CDMA network to support spectrum re-farming. The service is due to be shuttered by the end of May 2022, with conditions that this date may be pushed back, according to T-Mo Report.
Asked about the prospect of utilising T-Mobile's mmWave holdings, he said there was a possibility it will be used for Home Internet, but at present "everything is predicated on our mid-band-centric strategy". "We're open to using mmWave, but haven't taken those decisions yet", he added.

Joseph Purnell is a Staff Reporter for TelcoTitans, contributing telecoms news analysis since 2019 as part of the TelcoTitans Editorial team.