Court case raises concerns deal could fall at final hurdle.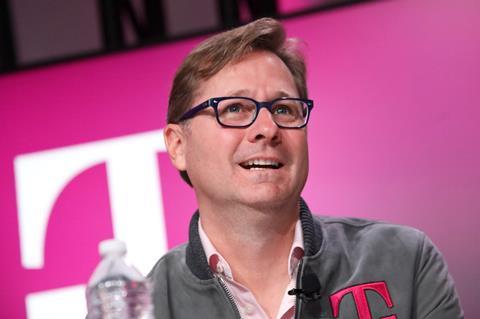 T‑Mobile US (TMUS) executives continued to express confidence in their case for a Sprint mega‑merger, although jitters over their chances of success increased.
As court proceedings over state-level opposition to the merger neared closure, Michael Sievert, President & Chief Operating Officer of TMUS (and the NatCo's incoming Chief Executive — Deutsche Telekomwatch, #89), insisted that "right is on our side". "This merger will result in a more competitive market with lower prices [and] better products", he added.
Speaking during an appearance at Citi's early-January 2020 Global TMT West Conference, Sievert continued to leave the door open for a settlement with the other side (a grouping of 13 states, plus the District of Columbia). A rapprochement is seen as possible right up to the time of verdict — although, as things goes on, a deal is seen as becoming more politically awkward for TMUS's adversaries (the remaining dissenting states are all Democrats). "All along, we've been an open book about what we'd be willing to do and that we were willing to negotiate", said the TMUS President.
Closing arguments in the case were heard on 15 January 2020, with a final ruling expected during February 2020. The case is the last major hurdle that Sprint and TMUS must clear to wrap up their merger, with the two operators having previously secured a green light from the Federal Communications Commission, the Department of Justice/DoJ (with caveats), a cross-regulator Team Telecom grouping, and the Committee on Foreign Investment in the USA (Deutsche Telekomwatch, passim). The states' opposition, and other complications — including negotiation of a convoluted package of concessions to secure DoJ approval (Deutsche Telekomwatch, #87) — has taken the two operators well past their original 30 June 2019 target date for the merger's completion.
Final stage nerves surface
There was a marked split between analysts and other observers over the chances of a court win for TMUS and Sprint.
Expectations of a knockback were evidently on the up as proceedings continued, especially as states successfully raised doubt over whether prospective wireless newcomer Dish Network can mount a realistic challenge in the space, and offset Sprint's absorption by TMUS. Weighed against this was the regulatory support Sprint and TMUS have secured for the deal, raising the bar for the states' legal team as they must persuade US District Judge Victor Marrero, who is presiding over the case, to cast those bodies' decisions aside.
There has also been a slump in Sprint's share price in the run‑up to and during the proceedings — which some have seen as a sign of heightening Wall Street concerns over the deal's chances of going through. Sprint's shares fell 24% in the three months to 10 January 2020. A collapse of the deal would be seen as far worse for Sprint than TMUS, which has been performing strongly while the approval efforts has gone on, and has already alluded to a 'plan b' in the event of failure (Deutsche Telekomwatch, #89 and passim).