Catena-X Automotive Network appears just the start for European data spaces supported by Gaia-X.
SAP is working on industry clouds for other sectors.
Catena-X seen as proof point for Europe's sovereign data and cloud initiative.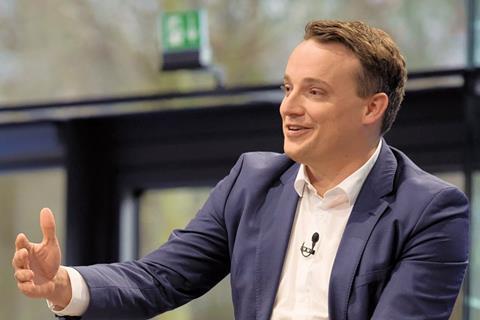 Christian Klein, Chief Executive of close Deutsche Telekom IT partner SAP, said he sees potential for Gaia-X-based cloud data networks in other sectors beyond the automotive industry.
SAP and Deutsche Telekom are among the founding organisations of the Catena-X Automotive Network (Catena-X), which is considered Europe's largest industrial "data space" effort. Catena-X aims to create a secure, standard way for sharing data among all players in the automotive supply chain (Deutsche Telekomwatch, #101 and #103). The project is based on the Gaia-X reference architecture for European cloud data infrastructure (in which SAP and Deutsche Telekom are also founding members) and the International Data Spaces (IDS) standard for data sovereignty.
Responding to questions about the Gaia-X initiative during SAP's Annual General Meeting on 12 May 2021, Klein said (via VIQ FD Disclosure) that the Catena-X project is an example of how Gaia-X proves its "added value in specific application scenarios" and that it is "highly relevant for many industries". "Of course, further industrial networks would be conceivable, such as a public sector [version] or in industries such as aerospace, health, and energy", he said.
Thomas Saueressig, Executive Board Member for SAP Product Engineering, said, also during the shareholder meeting, that SAP is working with partners to "develop solutions for an industry cloud in the various industries", and noted that these efforts should be viewed "in the European context". "Industry-specific alliances, such as Catena-X in the automotive industry, can represent a counterweight to the US dominance" in cloud infrastructure, he said.
Catena-X starts its engine
The automotive cloud project provided a progress update in March. The group agreed on the infrastructure for implementing the project and defined five "application areas" to work on: quality management; logistics; maintenance; supply chain management; and sustainability. In future, the group plans to add applications in the areas of production and development. "Before the end of this year, we intend to ship first applications in the areas of traceability, sustainability, circular economy, and quality", said Klein during the shareholder meeting.
Germany's automotive sector is the first industry to embrace the European Gaia-X cloud initiative. Along with Deutsche Telekom and SAP, Catena-X members include BMW, Bosch, Mercedes-Benz, Siemens, and ZF Friedrichshafen (Deutsche Telekomwatch, #101).
Gaia-X was officially launched in June 2020 and is now backed by more than 350 organisations (Deutsche Telekomwatch, #94). It is viewed as a European response to competition from the large US and Chinese cloud providers that dominate the market (Deutsche Telekomwatch, #89). The objective is to create a framework and federated data infrastructure that adheres to European data privacy principles.
It has recently been criticised for being slow and cumbersome and has also been the subject of media scrutiny for its purported reliance on state funding (Deutsche Telekomwatch, #97).
Deutsche Telekom is working on several offerings that it says are based on Gaia-X. The operator has partnered with Germany-based Nextcloud on a managed cloud collaboration platform for enterprise customers in Europe, which it will provide via its broader Open Telekom Cloud offering. T-Systems has also teamed with France-based cloud computing specialist OVHCloud to develop services and a platform for public sector entities (Deutsche Telekomwatch, #97).

Michelle Donegan is an experienced telecoms writer and has been contributing as a reporter and news analyst for TelcoTitans since July 2020.