Vodafone markets Romania and UK on track for 2021 auctions.
Czech auction kicks off amid operator complaints.
VfCZ jumps on DSS bandwagon.
Greek auction now underway.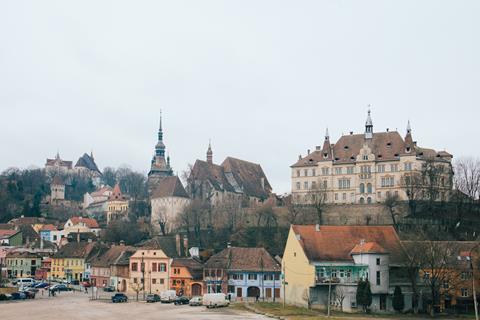 Telekom Romania (TR) could face a longer wait for 5G‑enabling spectrum after reports suggested the country's planned multi‑band auction could be pushed back to 2021.
Bogdan Chiriţoiu, President of the Romanian Competition Council, told Bursa that it was highly unlikely that the 5G licence award procedure will start in 2020. According to the report, Chiriţoiu cited a number of obstacles to the auction, including the uncertainty surrounding Deutsche Telekom's (DT) possible sale of TR (Deutsche Telekomwatch, #97 and passim) and concerns over certain (i.e. Chinese) equipment providers in relation to national security.
His comments came after Eduard Lovin, Deputy Head of regulator Autoritatea Naţională pentru Administrare şi Reglementare în Comunicaţii (ANCOM), reportedly told a conference that the auction could be delayed until 2021. Lovin said the Romanian government had yet to finalise and publish required legislation in the Official Gazette, after which ANCOM must carry out analysis and decide whether adjustments to the auction terms of reference are required. Any adjustments will be subject to a public consultation process taking up to 30 days.
The auction of frequencies — which is expected to see rights sold in the 700MHz, 800MHz, 1500MHz, 2.6GHz, and 3.4GHz–3.8GHz bands — had been scheduled for the fourth quarter of 2020.
Europe's predictably patchy progress on freeing up 5G rights
TR has not been the only NatCo waiting impatiently for much‑needed 5G‑enabling spectrum, with many auctions dragged out due to bickering among operators and with regulators over licensing conditions, and further disrupted by COVID‑19 (Deutsche Telekomwatch, passim). Some delayed auctions in DT markets are now in progress or have been carried out (as per Austria — see separate report), but some of these have not yet tied off all loose ends to 5G expansion. For example, T‑Mobile Netherlands recently acquired spectrum in the recent Dutch multi‑band auction, gaining frequencies in the 700MHz, 1400MHz, and 2.1GHz bands. It and rivals KPN and VodafoneZiggo will have to wait until 2022 to get their hands on airwaves in the 3.5GHz band, often referred to as a 5G "pioneering band".
Other auction processes remain clouded in complexity:
Croatia has delayed its auction of 5G‑enabling frequencies in the 700MHz, 3.4GHz–3.8GHz, and 26GHz bands to the first half of 2021.
In August 2020, a tender for rights in the 700MHz and 3.4GHz–3.6GHz bands was launched in the Czech Republic. However, the Czech auction is proving controversial, with T‑Mobile Czech Republic and incumbent rivals filing legal complaints at a Prague court over auction conditions, including the plan to attract a fourth entrant (Deutsche Telekomwatch, #98). On 1 October 2020, Český telekomunikační úřad (Czech Telecommunication Office/ČTÚ) said seven applicants had applied for frequency rights, although names of candidates were not revealed. The ČTÚ also said that the courts had rejected the attempts to stop the auction.
Greece's authorities, meanwhile, kicked off their 5G auction on 24 September 2020, inviting applications for licences in the 700MHz, 2GHz, 3.4GHz–3.8GHz, and 26GHz bands. The process is open until 23 October 2020. Uncertainty lingers over the country's approach to Chinese suppliers' role in 5G rollout, however (although Cosmote Greece appears somewhat protected through its selection of Ericsson for 5G radio access kit, and past use of Ericsson and Nokia for 4G — Deutsche Telekomwatch, #90 and #93). During an official visit to Greece in late‑September 2020, US Secretary of State Mike Pompeo reiterated in an address that the Greek government, under Prime Minister Kyriakos Mitsotakis, has elected to join the US‑created "Clean Network" programme — which essentially means Greece has declared an intention to eschew the use of equipment from China‑based suppliers in its 5G networks.
Reports suggest that Poland is considering delaying its auction until the first quarter of 2021.
Bands
Expected start of award procedure (tentative and prone to slippage due to factors including COVID-19)
European spectrum agenda, 2020 and 2021 (selected)
Sources: Deutsche Telekomwatch, regulator websites.
Croatia

700MHz / 3.4GHz–3.8GHz / 26GHz

H1 2021

Czech Republic

700MHz / 3.4GHz–3.6GHz

H2 2020

Greece

700MHz / 2GHz / 3.4GHz–3.8GHz / 26GHz

H2 2020

North Macedonia

700MHz / 2.1GHz (extension) / 3.4GHz–3.8GHz

H2 2020

Poland

700MHz / 2.1GHz / 800MHz / 3.6GHz–3.8GHz

H1 2021

Romania

700MHz / 800MHz / 1500MHz / 2.6GHz / 3.4GHz–3.8GHz

2021

Slovakia

700MHz / 900MHz / 1500MHz / 1800MHz

Q2 2020