New CEO and CFO team remain bullish on business growth opportunities, despite challenges of Sprint integration, COVID‑19, and change of leadership.
TMUS moots a period of commercial aggression against rivals in H2, working off economic downturn and 5G differentiation. B2B expansion also back (yet again) on agenda.
Reported surpassing of AT&T's wireless customer base adds gloss to results.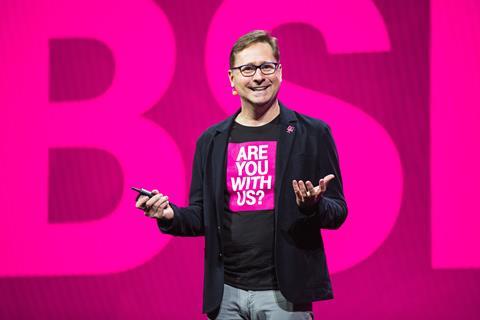 Deutsche Telekom's (DT) enlarged American powerhouse T‑Mobile US (TMUS) appeared to have quickly returned to form post-COVID‑19 lockdown, at least in terms of senior executive bravado, as it reported its results for the three months to 30 June 2020 (Q2 FY20).
Q2 was the first quarter in which TMUS' figures consolidated data from mega‑acquisition Sprint, and the combined numbers obscured pro forma comparisons with its performance before the deal's completion on 1 April 2020.
The lack of directly comparable data contributed to an even more hype-filled presentation from the Un‑Carrier than usual, with executives full of bluster regarding the NatCo's increasing scale and heft compared with the USA's traditional 'big two' of AT&T and Verizon Communications.
The bright and breezy nature of refreshed top team of Chief Executive (CEO) Mike Sievert and Chief Financial Officer (CFO) Peter Osvaldik gave the impression of a seamless transition from predecessors John Legere and Braxton Carter, despite everything going on around the US business.
TMUS ended the quarter with 98.3 million total customers, up from 68.5 million three months earlier, having absorbed the main part of Sprint's user base (but subsequently offloaded its Boost Mobile prepaid business to Dish Network, as mandated by regulators — Deutsche Telekomwatch, #95). This, TMUS claimed, had nudged it ahead of AT&T in terms of wireless users — although direct, objective comparisons were not possible because of differences in the way the two operators record customers. "We're staring down Verizon with sights set on the number-one spot", said a "fired up" Sievert.
Churn in the core 'postpaid phone' user base was just 0.8%, down from 0.86% in Q1 FY20, despite the addition of Sprint's more leaky customer base (but no doubt aided by COVID‑19 movement restrictions). Sievert — who has in recent years been seeking to up TMUS' game on user retention, and extend beyond aggressive acquisition — confirmed the quarter had seen a "lower switching environment". This fed into what he called a "blockbuster" quarter for customer retention on the "legacy T‑Mobile" side of the business.
Revenue was up 59%, to $17.7bn (€14.9bn). Oddly, TMUS did not make comparisons with AT&T's total mobility revenue of $17.1bn — perhaps being less keen to invite commentary on its stuttering move to challenge its larger rival, plus Verizon Communications and US cable operators, in broadband and TV (Deutsche Telekomwatch, passim). Interestingly, Sievert played down convergence ambitions and indicated that he was more than satisfied, for now, with TMUS' position as a pure-play wireless provider.
Adjusted EBITDA came in at $7bn.
While it remains early days in TMUS' massive post-merger integration programme, Sievert talked up the numbers as evidence the naysayers were wrong to suggest the mega‑project would throw TMUS' management off-track. This was echoed by Deutsche Telekom CEO Timotheus Höttges, in the Group's own Q2 call, where he asserted the Sprint integration effort was "going to plan".
Although light on detail, TMUS said it remained "highly confident in its ability to deliver $43bn of synergies and achieve the $6bn of annualised cost savings from the Sprint merger". Q2 was said to have seen "strong progress" in network integration, and firmed up a previously mooted acceleration of retail and organisational consolidation moves.
It appeared from commentary that management will provide a more informative update on the integration programme, and its latest financial objectives, later in the FY.
Q2 FY19
Q2 FY20
Deutsche Telekom, US area financial summary (as reported), Q2 FY20
Note: Q2 FY20 figures include one-off contribution from T‑Mobile US' April 2020 acquisition of Sprint.
Source: DT.
Total revenue

€9,826m

€17,297m

EBITDA

€3,334m

€6,548m

EBITDA margin

33.9%

37.9%

Depreciation, amortisation, impairment

-€1,870m

-€4,589m

Operating profit (EBIT)

€1,465m

€1,959m

Cash capex *

€2,272m

€2,679m
New top duo optimistic re. post-COVID‑19 competitive opportunities
The meld of numbers made it difficult to assess exactly how well the American business held up during the worst throes of COVID‑19 measures.
There was, however, less evidence of management jitters regarding post‑coronavirus economic trends than in TMUS' Q1 call (Deutsche Telekomwatch, #93), with executives striking a bullish tone and reinstating outlook for the remainder of FY20.
Looking forward, expectations appeared somewhat cautious — although the NatCo has long tended to be conservative on outlook, leaving room to pull rabbits out of the hat as FYs progress, and give the impression of over-performance.
In what it called "best effort" guidance, TMUS forecast that it will generate postpaid net customer additions of +1.7 million–1.9 million during H2 FY20, which would broadly match performance in H1 (1.9 million). It expects to be a "net share taker" in the remainder of the FY, said new Chief Financial Officer Peter Osvaldik — echoing optimism expressed during the Q1 call regarding TMUS' ability to connect with consumer needs as many experience straitened circumstances, while also aggressively marketing its 5G services.
Osvaldik confirmed the pandemic had had a knock‑on effect on "customer quality", saying TMUS had incurred $263m in bad debt expense and losses on sales from receivables during Q2. Excluding one-offs, this represented 1.23% of total revenue — broadly in line with Q1's rate of leakage, said Osvaldik. Only a "small subset" of customers will not be able to pay off liabilities, he claimed.
TMUS went on to highlight "new opportunities" had emerged for enterprise arm T‑Mobile for Business, "primarily due to COVID‑19". This was reflected in a sharp increase in TMUS' "other" postpaid customer adds line in Q2 (to +859,000, more than double the gain seen in Q1) — presumably as business and public sector customers sought to shore up connectivity with data devices during the crisis. T‑Mobile for Business had "stepped up" to help customers on remote-learning and remote-working during Q2, and accounted for most of the NatCo's "over performance" on guidance on postpaid additions, said Sievert.
TMUS has long had designs on growth in the business-to-business space, where it remains seen as a bit-part competitor to AT&T and Verizon — and has most recently claimed the Sprint acquisition will give it another chance to realise these ambitions.


Richard Agnew is Group Editor at TelcoTitans and Market Mettle.
Deutsche Telekom Q2 FY20
1

2

3

4

5

6

7

8

Currently reading

Q2 FY20: Un-Carrier quickly finds stride after H1's bumps