T-Systems' Gaia‑X partner to go public this week.
European cloud provider plans to take on US tech giants with data sovereignty credentials.
Growth plans include bulking up through acquisitions.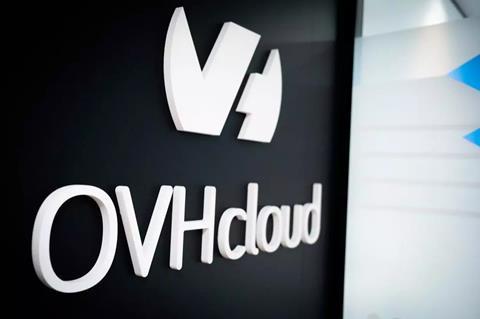 French cloud services provider OVHcloud, a key partner of Deutsche Telekom's T‑Systems, considers itself to be Europe's "cloud champion" in a market dominated by US tech giants. On Friday, the company hopes to raise at least €350m (£297m) in its initial public offering on the Euronext Paris stock exchange to fund growth in Europe and expansion in Asia and the USA.
Based on a price range set at between €18.50 and €20.00 per share, the company would be valued at €3.5bn–€3.7bn, according to Reuters.
The company also expects €50m to be raises from sale of existing shares by investors, which include KKR and TowerBrook Capital Partners.
The cloud provider's IPO has been anticipated for much of this year, but plans were delayed when a fire broke out in March at a data centre in Strasbourg, disrupting services and impacting operating results for the quarters ending 31 May and 31 August. OVHcloud noted in its IPO price announcement in early‑October that its insurers committed to pay €58m to cover the damage.
Cloud made in Europe
The company was founded in 1999 by Octave Klaba, an entrepreneur born in Poland who moved to France at the age of 16. It is now one of Europe's largest cloud service providers with 33 data centres in Asia, Europe, and the USA, hosting 400,000 servers. It has 1.6 million customers across 140 countries and 2,400 employees. Its revenue for the year to 31 December 2020 (FY20) was €632m and adjusted EBITDA was €263m. For FY21, the company is targeting revenue in the range of €655m–€665m.
OVH is the acronym for "on vous héberge", which means "we host you".
OVHcloud has three main lines of business:
Private cloud services (which accounted for just over 60% of revenue in FY20).
Public cloud services (13% of FY20 revenue).
Web hosting (25% of FY20 revenue).
While the business has expanded geographically, half of its revenue is generated from France.
The company is dwarfed by the likes of Alibaba, AWS, Google Cloud, and Microsoft. Even within public cloud services in Europe, OVHcloud reportedly has just 1% market share, while US tech firms hold 66%, according to a recent company profile in the Financial Times.
Within private cloud services, the FT reported that OVHcloud's market share a more competitive 10%-15%.
Bulking up with M&A
OVHcloud said it will use the proceeds from the IPO to strengthen its position in Europe and expand presence in Asia and North America.
The growth plan includes potential acquisitions to increase its customer base in Europe. The company flagged it is looking to acquire "mature cloud or web cloud peers with complementary customer bases". It is also targeting acquisitions to expand its platform‑as-a‑service offerings.
Differentiating with data sovereignty
OVHcloud hopes to drive growth in Europe by riding the data sovereignty wave and positioning its cloud services as differentiated from larger international rivals when it comes to data protection.
Michel Paulin, CEO of OVHcloud, said: "OVHcloud is uniquely positioned to capture the exponential growth in global cloud and surging demand for data sovereignty. The planned transaction aims to give us the necessary means to strengthen our position as the leading pure‑play European cloud champion by rolling out our ambitious strategic roadmap".
OVHcloud's IPO will undoubtedly be much celebrated this week, particularly among European politicians concerned by the region's reliance on US tech companies and eager for a homegrown alternative.
Teaming with T‑Systems in Gaia‑X
The French company is a founding member of the Gaia‑X initiative that is working to establish a federated infrastructure based on European data privacy principles. Deutsche Telekom is also a Gaia‑X founding member and the efforts are led by T‑Systems' CTO Maximilian Ahrens as Chairman of the Gaia‑X association.
In September 2020, T‑Systems partnered with OVHcloud to develop what was called a "trusted public cloud offering" that is expected to be among the first services to be based on Gaia‑X principles, but the development has been relatively quiet since the initial announcement. A T‑Systems spokesperson told TelcoTitans that the companies continue to work together within the Gaia‑X framework.
OVHcloud, along with Deutsche Telekom, Telefónica, and more than 20 other technology companies, have also offered their support to the EC's European Alliance for Industrial Data, Edge and the Cloud, a €10bn project for building federated cloud infrastructure and services.


Michelle Donegan is an experienced telecoms writer and has been contributing as a reporter and news analyst for TelcoTitans since July 2020.