Growing mix of fiscal, regulatory, and competitive difficulties looks to have made Group's sceptical towards Telekom Romania's prospects.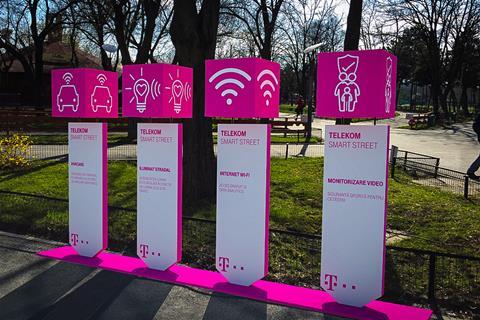 Michael Tsamaz, Chairman & Chief Executive (CEO) of OTE Group, confirmed the Greek telecoms player was considering jettisoning challenged NatCo Telekom Romania (TR).
Speaking during OTE's latest results presentation, held in May 2019, Tsamaz indicated its 54%‑stake in TR and other local interests could soon be put in play, despite claims of progress in efforts to improve its competitive fortunes.
" While we are focusing on revising our operational performance [in Romania], on the same front, we are exploring all of our options as diligently as we do with our operational excellence in order to have all options open. And at this point of time, I cannot say more things. But I can assure you we are fighting on both fronts, both operational excellence and concluding what is the best thing to do strategically with the asset. "

Tsamaz, via CQ FD Disclosure.
A subsequent report by Romanian newspaper Ziarul Financiar suggested OTE was preparing to perform an €800m capital increase in Telekom Romania Mobile Communications (TRMC), TR's mobile arm, apparently with the purpose of reducing TRMC debt and freeing the way for a sale.
Historical debt attached to TRMC is a "problem" that hindered amalgamation of the two Romanian businesses and needs tidying up for a sale to go through, the newspaper intimated. In a convoluted local ownership structure, TR is 54.01%‑owned by OTE and 45.99%-owned by the Romanian government. OTE holds 70% of TRMC shares and TR the remaining 30%.
Better out than in
Both Deutsche Telekom (DT) and OTE are evidently in tidy‑up mode when it comes to peripheral and/or under-performing NatCos in Europe, having offloaded Telekom Albania to Bulgarian‑based venture Albania Telecom Invest (ATI) earlier in 2019 (Deutsche Telekomwatch, #80). Other regional businesses have been strengthened through acquisitions, such as T‑Mobile Austria and T‑Mobile Netherlands, or mandated to extract a new range of efficiencies through in-Group soft consolidation, as in the case of Slovak Telekom–T‑Mobile Czech Republic and Crnogorski Telekom–Hrvatski Telekom (Deutsche Telekomwatch, passim).
TR was highlighted by DT as a problem NatCo during the Group's May 2018 Capital Markets Day, and Group feelings towards Romania will have been further downgraded in December 2018, with the announcement of a new special "Greed Tax" and regulatory tightening measures by the country's government (Deutsche Telekomwatch, #79 and #80).
TR saw significant drops in both revenue (‑4%) and core earnings (‑17%) during the year to 31 December 2018, and is currently bracketed in DT's "Converged Challenger" second-division of Europe segment NatCos, seen as in need of upgrade work to conform with the Group's full-service vision. The business also faces a new, convergence-focused twist in Romania's competitive story with rival Vodafone Romania's pending takeover of cable operator UPC Romania.
Funds raised from a sale of TR could potentially be used to promote the Europe area's other two Converged Challengers — T‑Mobile Czech Republic and T‑Mobile Poland — to Converged Leader status, either through organic or inorganic spend.
Table: Deutsche Telekom, Europe area revenue by territory (adjusted), FY18
| | FY17 | FY18 | Change |
| --- | --- | --- | --- |
| Total revenue | €11,589m | €11,885m | 2.6% |
| "Converged Leader" markets | | | |
| Greece | €2,846m | €2,888m | 1.5% |
| Hungary | €1,808m | €1,889m | 4.5% |
| Austria * | €900m | €1,055m | 17.2% |
| Croatia | €955m | €966m | 1.2% |
| Slovakia | €748m | €761m | 1.7% |
| "Converged Challenger" markets |   |   | |
| Poland | €1,509m | €1,526m | 1.1% |
| Czech Republic | €1,011m | €1,047m | 3.6% |
| Romania | €972m | €933m | -4.0% |
Notes: * The Austrian revenue line was boosted by the UPC Austria buyout in Q3 FY18. DT has not restated data for previous periods.
DT's "Converged Leader" bracket also includes Crnogorski Telekom and Makedonski Telekom, but DT does not detail the financial contribution of either NatCo. Telekom Albania is classed as a "Converged Challenger" but its financials are, again, not broken out (and it is pending sale by parent OTE Group).
T‑Mobile Netherlands is excluded from the table as it is managed centrally by DT.
Sources: DT, Deutsche Telekomwatch.
5G spectrum cost sensitivities heightened, post-German auction
As well as enabling DT and OTE to avoid focusing resource and cost on bringing TR up to scratch, a sale of the NatCo would allow them to dodge outlay in Romania's upcoming, multi-band 5G auction — which is due to take place later in 2019, with apparent government eagerness to inflate bidding.
It would also send another message to European regulators regarding how DT — an aggressive empire-builder across Europe, up to the regional debt crisis — has down-rated the region in its priority list, amid perpetual economic, political, and regulatory battles, and the rise of aggressive (and cash-hungry) T‑Mobile US.
Bulgarian businessman Spas Roussev, a partner in ATI, was recently mooted as a potential buyer of both TR and Makedonski Telekom, which DT controls via Magyar Telekom — another business that the Group, incidentally, has been suggested to be considering divesting (Deutsche Telekomwatch, #79 and #80). Market-leader Orange Romania and cable group RCS & RDS have also been suggested as acquirers of TR.
Table: DT "principal subsidiaries" and their affiliates
Subsidiary
DT shareholding
Major indirect investments (subsidiary shareholding)
Slovak Telekom
100%
–
Telekom Deutschland
100%
–
T Mobile Austria
100%
–
T Mobile Czech Republic
100%
–
T Mobile Netherlands
100%
–
T Mobile Poland
100%
–
T Systems
100%
• Multiple in country units across Europe and elsewhere
T Mobile US
65.41%
–
Magyar Telekom
59.23%
• Combridge (100%)
• Makedonski Telekom (51%)
• Novatel Ukraine (100%)
Hrvatski Telekom
51%
• Crnogorski Telekom (76.53%)
• HT Mostar (39.1%)
OTE
45%
• Telekom Romania (54.01%)
• Telekom Romania Mobile Communications (70%, with Telekom Romania owning the other 30%)
Sources: DT and Deutsche Telekomwatch.
Adding to the sense that DT and OTE are shoring up defences for some challenging times in Europe were further comments by Tsamaz, confirming the Greek operator is preparing a wide-scale internal restructuring exercise. Reports in April 2019 suggested OTE was set to shift nearly 4,000 staff into new dedicated subsidiaries focused on technical support and management, sales support, and retail (Deutsche Telekomwatch, #83), and the CEO appeared to suggest the reorganisation could extend further than this, with a "number of areas" in line for changes, and outsourcing deals and asset sales in the pipeline. "We're… looking to outsource legacy activities that are not central to our telecommunications and media services and spin off others in order to gain efficiency and flexibility. You can expect updates along these lines in the coming quarters. We're also continuing to streamline our personnel, both to reduce our fixed cost base and to build workforce that is better aligned to today's requirements in our field", said Tsamaz.