Operator looking to mitigate overheads after opting to permanently shift to a hybrid working model.
5,500-strong workforce largely remote since spring, bar brief return.
Sub-letting to partners on the cards.
Wider Group-level philosophy changes take effect.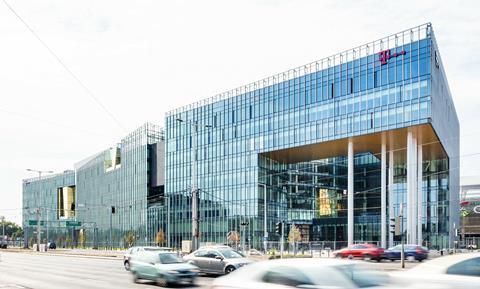 Magyar Telekom is reportedly rethinking ways of utilising its new Budapest headquarters after confirming plans to continue widespread remote-working beyond the coronavirus pandemic.
Corporate Communications Director Istvan Kutas told Reuters that 40% of its office-based workforce will permanently work from home once "normal business resumes".
The operator's head office, which ordinarily hosts 5,500 employees, could be sub-let in order to make use of the vacant space.
The report indicated that re-negotiating its long-term lease with property developer Wing is not an option.
Instead, Magyar Telekom is "looking at several options, including inviting some of our close partner companies into our headquarters, as well as moving employees in from other offices and selling those properties", Kutas was quoted as saying.
The operator started a 15-year lease in Hungary's largest office building in 2018, said to cost around €10m (£9m)–£12.5m a year.
Hybrid hits home
Kutas indicated that Magyar Telekom's management has decided to move to a new system where the "average employee" will work two days per week from home.
Like all Telekom buildings, the Budapest office closed during the first wave of the pandemic. After a short reopening in September, the majority of employees were again sent home as cases began rising once more. Currently, fewer than 200 workers are in the office, following strict social distancing and hygiene regulations.
Kutas said that these regulations, and the accompanying cleaning and preparatory work, has cost the operator €1.4m so far. These costs are expected to rise when employees return to the building — plans for which have not yet been finalised.
Virtual leadership strategy
Towards the start of the pandemic, Deutsche Telekom Chief Executive Timotheus Höttges floated the concept of a permanent "hybrid" set-up wherein employees switch between their home office and a traditional space, only travelling to the office when necessary (Deutsche Telekomwatch, #94). This appears to have been taken on, at least temporarily, across much of the Group via the introduction of a "protective measures" guide published in August.
The corporate guidelines, said to be "binding for all employees at Deutsche Telekom", lay out requirements for limited international travel, 1.5-metre social-distancing in offices, and the use of personal protective equipment when indoors. It also recommends "restraint" when it comes to travel away from home, instead urging the use of Cisco Systems' Webex platform for remote video conferencing.
Though details are scant on the future vision for the Group's working model beyond coronavirus, some aspects have been made clear:
Offices are set to become "meeting places", which will include a scaling back of traditional workstations and an expansion of "creative spaces".
Further investment in collaboration tools, with Webex and Microsoft's 365 and Teams getting a specific mention.
Less travel, thanks to heightened use of video conferencing.
A change of management style with a greater emphasis on "trust and transparency" to meet the challenges of "virtual leadership".

Joseph Purnell is a Staff Reporter for TelcoTitans, contributing telecoms news analysis since 2019 as part of the TelcoTitans Editorial team.