Austria becomes second market where offering is quietly retired.
Unclear whether or not equivalent services in Czech Republic, Poland, and the USA face a similar fate.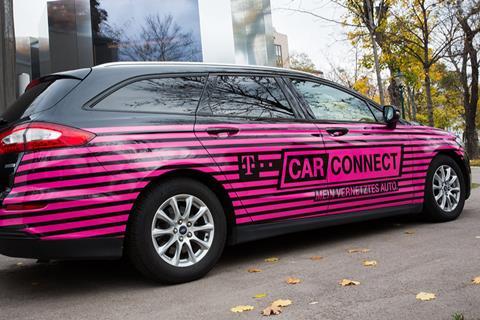 Magenta Telekom confirmed it has removed the CarConnect service from the Austrian market, at least for new subscribers, becoming the second Deutsche Telekom (DT) NatCo to effectively withdraw the vehicle telematics solution.
New registrations to the vehicle telematics solutions in Austria were ended on 28 April 2021, and it has not been confirmed how long the service will remain available for existing customers.
"There are no plans to replace it with another product. We want to focus on our converged offers of mobile services as 5G tariffs, broadband internet (with speeds up to 1 gigabit per second) and TV & Entertainment", a Magenta Telekom spokesperson said.
Telekom Deutschland removed CarConnect from the German market in 2020, only three years after the service was first introduced (Deutsche Telekomwatch, #66 and #99). Magenta Telekom began offering the service in November 2017 (Deutsche Telekomwatch, #68).
Echoing Telekom Deutschland, the Magenta Telekom spokesperson conceded that demand for the service "had not been that big". The German NatCo had said that current demand was "no longer sufficient for the successful continuation of the service".
CarConnect and equivalents have been released by DT businesses in five markets: Austria; Czech Republic; Germany; Poland; and the USA, as well as at T-Systems (Deutsche Telekomwatch, #79 and passim). DT partner and minority investment Mojio supports the applications in the different markets.
As things stand, Chytré Auto in the Czech Republic, Smart Car in Poland, and SyncUP Drive in the US are still being marketed by the respective NatCos.
In 2019, DT technology partner ZTE, which works alongside Mojio on CarConnect, flagged it had provided the Group with a "completely revised" terminal for the vehicle telematics solution, seemingly with onus on opening up new business-to-business opportunities (Deutsche Telekomwatch, #87).
The closure of CarConnect in Austria will surely come as a blow to Mojio, which is seeing its DT collaboration increasingly shrink in scope. DT has also made at least three investments in Moijo, the latest one in February 2019 following earlier funding rounds in 2015 and 2016 (Deutsche Telekomwatch, #88).

Anne Morris is a freelance journalist, editor and translator. She has been working as a reporter and news analyst for TelcoTitans since 2016.