Manager of Group's German facilities working through "long list" of restructuring measures, with aim to reach breakeven on flagship deal.
Stage one complete as key IT milestone hit.
Staff and subcontractor cutbacks coming as ISS seeks to squeeze out more costs.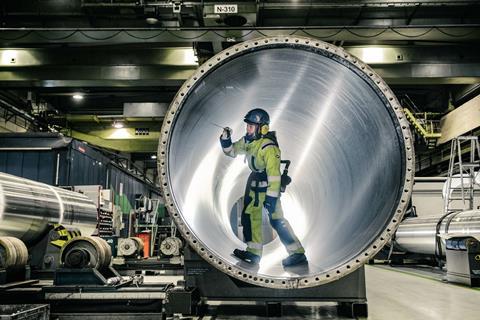 Outsourcing giant ISS said it could still be more than a year away from dragging its mega‑contract with Deutsche Telekom into the black, despite hitting a "significant" technical milestone in the deal's stabilisation programme.
The Danish provider — which has suffered a series of setbacks since becoming DT's German facilities management (FM) partner (Deutsche Telekomwatch, #67 and passim) — announced it had completed implementation of a "tailor‑made" IT system for the contract.
The new system went live in July and will "increase compliance and transparency" when it comes to delivering DT's services, ISS said. "We're satisfied with this progress, and it reduces the risk related to the ongoing turnaround", added Jacob Aarup‑Andersen, Chief Executive of ISS, in an update accompanying the group's latest results presentation for the six months to 30 June 2021 (H1 FY21).
Tech in, people and partners out
Despite the IT win, ISS Chief Financial Officer Kasper Fangel stressed (via VIQ FD Disclosure) that the DT engagement remained a "challenging contract", and that the business has a "long and complicated job in front of us" to get the deal back to profitability.
ISS is aiming to shift the DT engagement to breakeven by the end of FY22 — 42 months into its 10.5‑year deal with the operator (which formally commenced in July 2019 — Deutsche Telekomwatch, #100). Fangel said the service provider was "very confident" of hitting that target. Nonetheless, he conceded that doing so will not be a "walk in the park" and will require ISS to plough through a "long list" of further restructuring measures. "You do need to remember that this is a contract the size of a country", he said.
ISS's turnaround agenda encompasses technical work — such as "further enhancements" of the new IT system, as well as upgrades to a solution governing capital projects for DT. Beyond that are "several different strands" of operational changes — including staff cuts, with Fangel citing "broader-scale efficiency measures like FTE [full‑time employee] reductions as we become more efficient and get better processes, and there are very strong plans around that". Also in the pipeline is insourcing, or "substituting subcontractors with self‑delivery", and what Fangel described as "bread‑and‑butter" operational efficiency improvements that ISS executes across all its client projects.
No mention was made of progress in commercial work with DT, to help deliver profit by boosting ISS's top line. A few weeks before the FM contract went live, in 2019, ISS formed a "complementary" tie‑up with T‑Systems focused on smart-building services. One product of the arrangement has been Deutsche Telekom  IoT's IoT Service Button for sending out "one‑touch" operational alerts within businesses, but neither partner has provided detail on how the relationship is progressing (Deutsche Telekomwatch, #82).
Laying the groundwork for these secondary efficiency measures, the IT milestone was described by Aarup‑Andersen as a "clear step in the right direction" as it will make ISS "better able to execute on our plan to improve profitability". Bringing the new system online will "simply lead to less cost on a monthly basis in terms of running massive integration programmes", added Fangel.
" So [there is] a lot of work to be done from here, but there's no doubt that you can say the hurdle around the IT execution programme being taken away reduces the risk around it. And it's… hard operational work, which we are used to, as you know, on bigger contracts in terms of driving efficiency. And we have to be clear that that is work that has also been delayed due to all the IT execution work that we've been doing. So now we can really spend the resources and efforts on it. "

— Fangel.
DT handed ISS the FM deal back in 2017, mandating the provider to help its long‑running indirect cost-reduction push. Focused on facilities across Germany, it saw ISS supplant Austrian group STRABAG International (the acquirer, in 2008, of DT's former internal services unit DeTe Immobilien), and was said to have been ISS's largest ever contract win. While ISS has highlighted the deal as a major driver of revenue and a "lighthouse" for innovation, serving DT's vast German estate has evidently been a massive operational challenge, causing the provider to suffer a "material cost overrun" during what has proved a long startup phase. Headaches have been flagged around IT migration, lockdown disruption, and a large‑scale cyber‑attack that affected ISS's wider operations in early‑2020. ISS highlighted the DT deal as one of four key areas where it needed to address "operational challenges" when announcing a refreshed business strategy in late‑2020, alongside its businesses in France and the UK and a (since‑exited) engagement with the Danish Ministry of Defence. In another mark of the DT deal's importance, it appointed the Group's former Chief Procurement Officer Eva Wimmers as CEO of ISS Deutschland earlier this year.


Richard Agnew is Group Editor at TelcoTitans.