Deutsche Telekom's FM partner expects to record cost write-off as COVID‑19 continues to throw spanner in works of its service ramp-up for Group.
New CEO remains confident about future profitability of contract.
ISS to present 'strategy refresh' in December.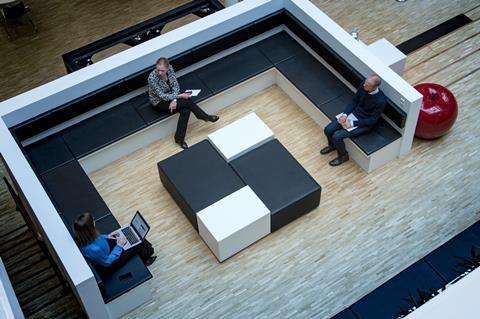 ISS, Deutsche Telekom's facilities management partner, flagged ongoing "operational challenges" in its pivotal contract with the Group in a year that continues to feature disruption from COVID‑19 restrictions and the after effects of a large‑scale cyber‑security incident (Deutsche Telekomwatch, #94).
In its results for the nine months to 30 September 2020, the Denmark‑based group said sales dropped by 8.1% to DKK 53.1bn (€7.1bn), blaming operational setbacks related to coronavirus from the second half of March 2020. Although a COVID‑19-led pickup in deep-cleaning and disinfection work at clients' premises helped drive growth in some areas, activity related to food services was significantly reduced.
In the quarter to 30 September 2020 (Q3 FY20), sales fell by 13.5% to DKK 17.1bn, again primarily owing to coronavirus. ISS said it was starting to see impacts from a second wave, which "underpinned that uncertainty remains high, including around prospects for recovery". The Finans news site noted that ISS performed better than feared in Q3, with revenue falling by 8.7% in organic terms and thus beating analyst expectations of ‑9.5%.
ISS — which employs more than 400,000 staff — secured its giant, ten-and-a-half-year FM deal with Deutsche Telekom back in 2017, as part of the operator's long-running indirect cost reduction push (Deutsche Telekomwatch, #67). Focused on facilities in Germany, it saw ISS supplant Austrian group STRABAG International (the acquirer, in 2008, of Deutsche Telekom's former internal services unit DeTe Immobilien), and was said to have been ISS' largest ever contract win. Beyond focusing on internal efficiencies within Deutsche Telekom, the relationship also extends into a commercial partnership (Deutsche Telekomwatch, #82). The tie‑up, billed as "complementary" to its FM deal, focuses on smart-building services and is behind Deutsche Telekom IoT's IoT Service Button for sending out "one-touch" operational alerts within businesses.
Write offs‑ahead
Although ISS saw revenue growth in Germany following the launch of the Deutsche Telekom contract on 1 July 2019, it said (via CQ FD Disclosure) it expects to incur one‑off costs partly owing to write‑downs and provisions "related to delayed mobilisation and operational challenges" on the contract.
"Firstly, despite progress made in Q3, it is clear that we will not complete the transition before summer 2021. Due to the delay and significant cost overrun, we expect to write off capitalised transition costs of approximately DKK 600m in Q4 [FY20]. Secondly, we have identified certain contract‑related risks that we are assessing and expect to provide for in Q4 [FY20]."

— ISS.
Commenting on the Deutsche Telekom contract during an analyst conference call, Jacob Aarup‑Andersen, ISS' new Chief Executive, said the provider had made "significant progress" in upgrading its technology systems for the engagement, "even if we are slightly behind for some of the milestones". "You know that it has been a pain point, and has been for a long time, and albeit that we are not out of the woods, it is a very important step in the right direction", he said.
Aarup‑Andersen admitted that ISS is late in implementing some operational improvements and some of the efficiency measures, partly because of COVID‑19, "but also because we don't want to jeopardise the quality of the delivery to our customers and we don't want to lose control".
"It is also fair to say that we are encountering some delays with the works council, with the unions, and we take that very seriously. We believe that it is worth [it] to invest the time we need to make sure that we align our stakeholders. This is a long‑term contract. We are building a long‑standing partnership with the customer, but also with key stakeholders, including the unions and works council. I think it is important that these things are well done."

— Aarup‑Andersen.
Aarup‑Andersen, who replaced former CEO Jeff Olsen Gravenhorst on 1 September 2020, summarised four key issues experienced in its relationship with the Group:
The run rate is not where it was expected to be and significant transition costs are still being incurred. The run rate is still expected to be negative in Q4 FY20;
Significant restructuring costs are expected to be booked at year‑end, linked to "progress in systems";
The longer transition period led to the DKK 600m write‑off because of cost overrun;
Some provisions are expected to be booked on certain contract‑related risks.
Planning a reset
Despite the setbacks and ongoing challenges, Aarup‑Andersen said he remained confident that ISS "can deliver a sustainable great service to our customer in a profitable way".
However, a report by Danish news site Økonomisk Ugebrev said it is "certainly not satisfactory" that the Deutsche Telekom contract — which is said to account for about 4% of ISS' consolidated revenue — is still not profitable 15 months after launch, and is also driving up costs.
Meanwhile, on 16 December, ISS plans to present a "strategy refresh" for the group. Aarup‑Andersen said the provider is not satisfied with its operational performance in the past year, and intends to focus on "ensuring that all growth comes with the right profitability and cash flow", among other aspects.

Anne Morris is a freelance journalist, editor and translator. She has been working as a reporter and news analyst for TelcoTitans since 2016.