Tech incubator closes 5G Consumer Entertainment Program with trifecta investment.
XR identified as key consumer use‑case.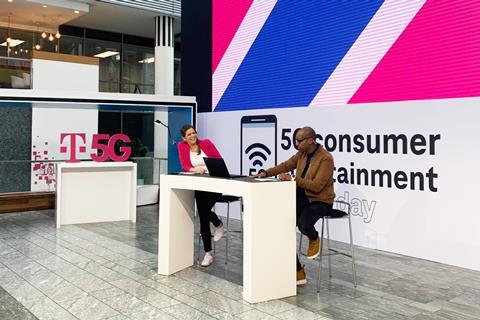 Deutsche Telekom's hubraum tech incubator confirmed investments in three augmented reality startups — MojiLaLa, tagSpace, and Virtual Arts.
The trio were enrolled in the 5G Consumer Entertainment Program — hosted by hubraum in partnership with German media group Mediengruppe RTL and seed‑stage venture capital fund Quake Capital. This offered discretionary investments of "up to €250k" to graduates, although exact investment sums have not been revealed.
Four other startups were enrolled in the programme (360 Stories, Marble AR, Open Sesame, and Proxy42), which opened for applications in March 2020. Artificial, virtual, and mixed reality (AR/VR, or XR) solutions were highlighted as appealing, alongside eSports, music and video, and mobile gaming. All seven participants, however, leverage XR technology.
The three‑month accelerator course offered access to Deutsche Telekom's 5G network and infrastructure in Bonn, although a 'Demo Day' in early‑October was held virtually, with the startups participating from "seven time zones", according to hubraum.
The favoured three
US‑based developer MojiLaLa created the LEO AR app, which allows users to augment video with 3D characters and objects. In a seed funding round in 2017, it raised $1.5m (€1.3m), with Betaworks and Great Oaks Venture Capital as lead investors.
Australia‑based tagSpace offers location‑based AR experiences for smart cities, tourism, and large events. It describes Techstars as a partner, having received investment from the seed accelerator in 2019.
DanceFight, a virtual dance competition app, was developed by US‑based Virtual Arts. It raised $0.4m in a pre‑seed funding round in 2018.
hubraum investment portfolio, December 2020
Portfolio company (country of origin)
Year of initial investment
Proposition/ focus
Sources: Companies; Deutsche Telekomwatch, hubraum.

Blinkist (Germany)

2012

Mobile reading app

ciValue (Israel)

2015

Personalisation

CloudStorm (Hungary)

2018

Robotic process automation

Contiamo (Germany)

2014

Analytics

eParkomat (Czech Republic)

2017

Parking spot availability predictor

Excalibur (Poland)

2014

Authentication service

Flexperto (Germany)

2015

Customer communications platform

HypeLabs (Portugal)

2019

Mesh networking

JustTAG (Poland)

2019

Advertising analytics

M2MGo (Germany)

2015

Internet of Things (IoT) enabler

MojiLaLa (USA)

2020

AR developer

Reparando (Germany)

2017

Device repair

tagSpace (Australia)

2020

AR experiences

Teraki (Germany)

2017

IoT enabler

Texel (Israel)

2018

VR software

Twyla (Germany)

2017

Machine learning‑based chatbots

UBIRCH (Germany)

2020

Blockchain data security

Unigluko (Croatia)

2015

Digital health

Vigour (Netherlands)

2013

App middleware

Virtual Arts (USA)

2020

Virtual dance app
Making XR a reality
Deutsche Telekom has over the past several years positioned XR as a key use‑case, and not just for 5G. There has been a particularly heavy focus on offering 5G testing capabilities to AR/VR startups (Deutsche Telekomwatch, #85, #92, and #98).
Sources: Deutsche Telekom; Deutsche Telekomwatch.
AR FieldAdvisor

An AR headset prototype designed for field service engineers.
Developed with Qualcomm, 6D.ai, and Nreal (Deutsche Telekomwatch, #90).

Low Latency Prototyping Program

hubraum development of an AR viewing and gaming app for the Telekom Baskets Bonn basketball team stadium.
Led by partners Deutsche Telekom, forwARdgame, and Smart Mobile Labs.

Mixed Reality Program

hubraum-led accelerator initiative to commercialise XR solutions.
Partnership with Qualcomm and Nreal (Deutsche Telekomwatch, #97).

MobiledgeX

Involved in numerous 5G network initiatives, including online gaming.
Deutsche Telekom edge‑computing spin‑off and Telekom Innovation Pool investment.

T‑Labs Experience group

Research dedicated to immersive XR entertainment features, human‑machine interfaces, XR technologies, and XR‑based applications for collaboration, entertainment, education, and training.

tooz technologies

Smart‑glasses startup is a 50:50 joint venture between Deutsche Telekom and Zeiss (Deutsche Telekomwatch, #75).
Telekom Innovation Pool investment.

Joseph Purnell is a Staff Reporter for TelcoTitans, contributing telecoms news analysis since 2019 as part of the TelcoTitans Editorial team.