Former Deutsche Telekom chief René Obermann recalls how John Legere's unusual footwear played its part in his appointment as T-Mobile US CEO.
Convinced he had the right man, Obermann avoided exposing Legere too early to conservative types at head office in case it scared him off.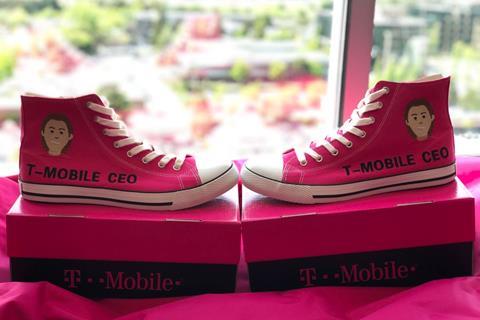 Picture the scene. It's 2012 and Deutsche Telekom Chief Executive (CEO) René Obermann is waiting at San Francisco airport. He has an appointment with John Legere who is running late.
Obermann is eager to meet him. After all, Legere is a proven turnaround specialist. Under his stewardship Global Crossing went from filing for bankruptcy protection in 2002 to being sold for $1.9bn (€1.6bn) the previous year. Maybe he could do a similar transformation job at Deutsche Telekom's troubled US business?
Then, at last, Legere comes into view.
Speaking on a Digital Decoding podcast hosted by AppDirect, with the theme of 'driving change', Obermann — who is now Managing Director at Warburg Pincus, as well as Chairman of Airbus — takes up the story.
"He looked like a very smart and very conservative business person", recalled the former Deutsche Telekom CEO. "He wore the dark suit and he had short hair".
The typical businessman appearance was not entirely head-to-toe, however.
"The one thing which I noticed with John, which was slightly different, was that he had purple or magenta shoelaces in his very elegant shoes", continued Obermann. Given that magenta was (and is) Deutsche Telekom's brand colour, he thought it was an encouraging sign of "creativity".
Shoelaces aside, Legere had done his homework before the meeting at San Francisco airport. "We discussed the situation of the company and he got it immediately", added Obermann. "He saw the opportunity. He was very well prepared for that discussion".
Not a shoo-in
While Obermann was keen on appointing Legere, he thought it necessary to take some precautionary steps to try and prevent him from being put off by the German behemoth, which, by his own admission, had more than its fair share of conservative thinking, particularly at Bonn headquarters.
So he brought Legere first to the Berlin offices, a more innovative part of the Group, "in order not to expose him to the head office of Deutsche Telekom". It was there he tried to "enchant" and "charm" him to join. After that he took Legere to Bonn.
"Of course, he would not immediately be an appealing guy to all the more conservative characters at the company at the time, but we won him", said a triumphant Obermann.
"The result", he added with some satisfaction, "is well known".
Legere stepped down as CEO of T-Mobile US last year, having moved the once-unwanted NatCo into a position where it delivers 60% of Deutsche Telekom revenue and 64% of Group earnings.

Ken has been writing about developments in the fixed and mobile markets for over twenty years. He has been a contributor to TelcoTitans since 2015.