Deutsche Telekom-EWE joint venture launches Glasfaser Nordwest Connect subsidiary to complete the last metres of FTTH builds.
Brings formerly outsourced operations in-house, leaving the bulk of the work to "expansion partners".
FTTH network nearing launch in select areas.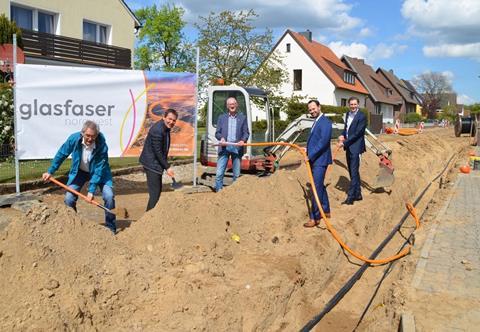 Glasfaser Nordwest, Telekom Deutschland and EWE's fibre-building joint venture, launched Glasfaser Nordwest Connect. The new subsidiary will play a supporting role in its parent's fibre-to-the-home (FTTH) expansion, undertaking the final metres of the network build in "selected regions", bringing otherwise outsourced work in-house.
Its initial scope is limited to the south of Glasfaser Nordwest's network, before "quickly" expanding its area of operation to support the parent's "flexibility and efficiency". Co-Chief Executive (CEO) Oliver Prostak claimed the new subsidiary would being work "with immediate effect".
Glasfaser Nordwest Connect will begin with twelve employees, drawing two Managing Directors from the parent company: Christian Fingerhut, Head of Business Management; and Sebastian Kummer, Head of Legal & Regulatory Affairs. These will report into Glasfaser Nordwest co-Chief Executives Christoph Meurer and Oliver Prostak.
Connecting the dots
The new subsidiary will build only the final metres of Glasfaser Nordwest's FTTH builds, breaking ground on private land between the property line and the premise itself. Fibre laid on public land, and therefore the bulk of the work, will continue to be carried out by the company's expansion partners.
Given the expense of FTTH rollouts, Glasfaser Nordwest has looked to increase efficiencies and reduce costs since its inauguration. Thus far, it has established regional tie-ups with local utilities suppliers in a bid to "avoid additional civil engineering work", enabling the use of existing infrastructure to expand its network (Deutsche Telekomwatch, #100). Though Deutsche Telekom Technik and EWE NETZ — the JV parents' own infrastructure units — are the named expansion partners for the majority of projects, others include Circet (Nordhorn), nvb (Nordhorn), and swb (Bremen).
Glasfaser Nordwest was established in January 2020 between Telekom Deutschland and energy, IT, and telecoms group EWE as a vehicle to expand FTTH infrastructure across the north-west of Germany, covering Bremen, Lower Saxony, and North Rhine-Westphalia. It has set ambitious targets described by Deutsche Telekom Chief Financial Officer Christian Illek as "quite a challenge" (Deutsche Telekomwatch, #92): 300,000 homes passed by 2023, stretching to 1.5 million by 2030. In October 2020 it began marketing its first wholesale FTTH network, which at the time was said to be "on schedule". As of January 2021, Glasfaser Nordwest has begun marketing its network in 20 locations, with final metre connections initiated in two areas — south Belm (1,200 premises) and Cloppenburg centre (1,500 premises).

Joseph Purnell is a Staff Reporter for TelcoTitans, contributing telecoms news analysis since 2019 as part of the TelcoTitans Editorial team.