Capital offset plan looks to be going ahead, boosting TDE's fibre long-game.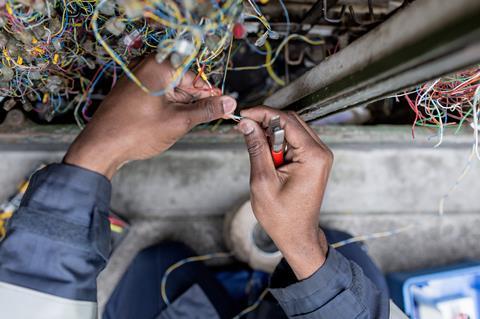 Away from regulatory shenanigans around 5G, Telekom Deutschland (TDE) received a public affairs boost after seemingly being freed to wrap up the creation of its long-gestated fibre-to-the-premises (FTTP)-focused joint venture (JV) with energy, IT, and telecoms group EWE.
Firming plans first announced back in late‑2017 (Deutsche Telekomwatch, #69), the NatCo's Chief Executive Dirk Wössner and EWE counterpart Stefan Dohler signed a contract regarding the JV's establishment in March 2019, and said they had formally notified Germany's Bundeskartellamt (Federal Cartel Office) that it was being brought into operation. They indicated they will register the JV once approval is gained from the watchdog, and said nothing to suggest this was more than a formality.
A helping hand for multi-pressured TDE
Once these loose ends are tied off, the entity is expected to begin operations in summer 2019, based in Oldenburg, Lower Saxony, where EWE is headquartered. It will be called Glasfaser NordWest (North West Optical Fibre), and aims to deploy FTTP connections to 1.5 million households and business locations within EWE's footprint (Lower Saxony, plus the neighbouring states of Bremen and North Rhine‑Westphalia). The first lines are expected to become available to customers in 2020.
Glasfaser NordWest will act as "general contractor" on line deployment — initially employing EWE and TDE to carry out upgrades in a tightly planned geographical two-year expansion programme, before opening up to bids for involvement by third parties. Those cleared to participate will gain a discount across Glasfaser NordWest's wholesale service in return.
The investment involved in the rollout — pegged at "up to €2bn" — will be split evenly between the two parents and spread over a ten‑year period. This implies a €100m‑per‑year spend load on TDE (considerable, but not huge, given its current, ex‑spectrum annual capital expenditure level sits at around €4.2bn).
The inferred 150,000 premises‑per‑year rollout is a helpful boost to TDE as it ramps towards a targeted annual FTTP expansion rate of two million household connections by 2021, but it remains under a variety of spend pressures from shareholders, politicians, regulators, suppliers, and citizens (Deutsche Telekomwatch, #74).
TDE confirmed Glasfaser NordWest will offer wholesale (Layer 2 and Layer 3 bitstream) access to its network on "usual commercial terms", having previously received a helpful ruling from Germany's Bundesnetzagentur (Federal Networks Agency/BNetzA) that enabled the JV to avoid tighter pricing obligations shackling TDE (Deutsche Telekomwatch, #75). Deutsche Telekom (DT) has repeatedly described this as a "central prerequisite" for the joint project to go ahead. TDE and EWETEL, the provider's communications arm, will also use the network to expand their own retail offerings.
Announcing the completed tie‑up, Wössner boasted that TDE — which he called "Germany's digitalisation engine" — is now "shifting into high gear" with the JV's creation. "Glasfaser NordWest will capture enormous synergy effects because we will plan and build the fibre-optic infrastructure together. This means we'll have greater capacity utilisation in the operating phase. It also means we'll be able to connect households that would have been uneconomical otherwise", he added. He also indicated TDE's openness to extend the relationship with EWE beyond the ten-year rollout timeframe, saying the NatCo's goal is a "long-term partnership".
Over to you, Vodafone
The EWE JV is a potentially highly strategic wedge in the next-generation broadband market for TDE, which has hopes to form many such regional tie-ups to enable it to spread fibre expansion costs, but it evidently had a tough job bringing competitors and regulators on side (ostensibly prompting a change in 'Broadband Cooperation' management during 2018 — Deutsche Telekomwatch, #74 and #75).
Rivals such as United Internet and Vodafone Germany had objected to the BNetzA's decision on wholesale pricing, and critics continue to denounce Glasfaser NordWest-style fibre JVs as an opportunity for incumbents to 'have their cake and eat it', thus reducing capital load associated with fibre rollout while gaining a "regulatory holiday" to help commercialise their networks.
Timing-wise, progress with the JV is another positive for TDE, giving it a strategic offset against Vodafone's pending takeover of number-two cableco Unitymedia, which is seemingly on course to receive European Commission approval. As well as likely being galled by seeing its former cable assets fall into the hands of a key rival, Deutsche Telekom has long billed the Unitymedia–Vodafone deal as an anti-competitive blow to it and other industry players in the broadband and TV markets (Deutsche Telekomwatch, #71 and #72).
With TDE in need of new friendships, it will be interesting to see how many of Germany's larger players are now willing to back TDE's collaborative model — either by signing up for involvement in the Glasfaser NordWest network rollout, or through forming their own JVs with the NatCo. Alliance-building negotiations have been held with the likes of United Internet over the past year or more, and may well be picked up once the outcome and implications of Germany's 5G auction become clear (Deutsche Telekomwatch, #69 and passim).
DT's line regarding openness to further FTTP relationships was echoed by Wössner and Dido Blankenburg, Head of Broadband Cooperation at TDE, upon Glasfaser NordWest's creation. Wössner stressed that, "ultimately, we are still convinced that we have to team up with other companies to digitalise Germany" — but TDE's objectives could only be achieved "without any regulatory intervention". Blankenburg said that TDE was "interested in many different forms of collaboration", noting the NatCo's parallel FTTP rollout tie‑ups with regional authorities (such as in Stuttgart), subsidised deployments in white spots, and joint expansion of fibre transmission infrastructure with Telefónica Deutschland (Deutsche Telekomwatch, passim).