5G NR backwards compatibility with existing Evolved Packet Core main attraction over standalone variant.
Allows EAN to simultaneously support existing aircraft fleets using 4G, and 5G fleets when onboard equipment becomes available.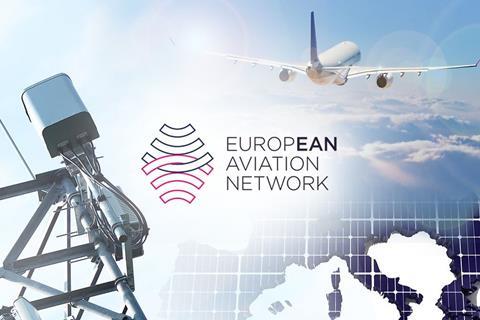 Deutsche Telekom (DT) confirmed it is enacting plans to adopt 5G non-standalone (NSA) technology for the European Aviation Network (EAN), its joint in‑flight broadband system with Inmarsat.
The latest EAN Tech Update, posted on the Group's website, flagged that "we have been working on a roadmap towards 5G, which will enhance capacity, performance and the overall user experience for our customers, whilst also ensuring backwards compatibility for 4G services". "For us, the obvious choice was the NSA approach", it added.
It is not the first time that DT has trailered a 5G roadmap for EAN (Deutsche Telekomwatch, #105), which uses 4G‑based tech from Nokia spinout SkyFive, and nor is it a surprise that DT prefers 5G NSA over 5G standalone technology. The former ensures 5G New Radio (NR) backwards compatibility with an existing Evolved Packet Core (which necessarily supports legacy LTE equipment) while the latter does not.
" The airline industry traditionally has life cycles of ten years or more, while the telco business sees major upgrades every five years. With the NSA approach, we can continue to support existing aircraft fleets with a 4G configuration, while carefully deploying a fully 5G compatible system. The same approach will also allow us to make an offer to potential airline customers at any stage of our rollout phase. In other words, all adopters of our EAN service can rest assured that they will receive a strong performing connectivity service throughout the aircraft lifetime. "

— DT.
By adopting 5G NSA as a "hybrid 4G/5G step", EAN is hopeful of "phasing in" 5G for its airline customers once onboard equipment supporting the tech becomes available. Moreover, when future aircraft fleet rollouts are kitted out solely with 5G equipment, EAN anticipates readiness. DT gave no timeframes as to when it expected 5G NR onboard equipment to become available, however.
EAN, used by British Airways, Iberia, and Vueling, is based on a hybrid network combining Inmarsat satellite capacity and a DT‑run LTE network, enabled by about 300 base stations. Connectivity is provided across all 27 member states of the European Union, as well as Norway, Switzerland, and the UK. Its parents claim the system delivers 100Mbps bandwidth to planes and latency "ten times lower than satcom‑only solutions".
On a 5G promise
With the arrival of 5G, DT expects "even longer distances" between ground antennas and aircraft. The EAN Tech Update pointedly noted that today's "upper limit is not necessarily a response to signal path loss over distance", but rather due to constraints within 4G protocols. More capacity, helped by multi‑user multi-input, multi-output antenna configurations, is another expectation. DT thinks this will allow the scheduling of multiple aircrafts in the same resource grid simultaneously.
DT did not provide any quantitative data comparing 5G and 4G performance, although it did highlight preparation of "several" proof-of-concept exercises, including flight tests.
5G takes flight in China, USA
While DT and Inmarsat have yet to make any concrete moves towards a 5G EAN upgrade, tech partner SkyFive is working on a 5G‑equipped offering for the Chinese market, alongside Airbus and China Mobile. They formed a strategic technology partnership in 2020, focused on development of a "5G air‑to-ground connectivity solution for the Chinese market", and the Munich‑based vendor followed this up with the creation of a distinct Chinese sister business in May 2021.
The system being gestated is currently only China-focused because of a "huge drive" for improved in‑flight connectivity in the country, said Ammar Khan, Chief Operating Officer of SkyFive, recently. At the same time, it is "not bespoke just for China. The solution can be tailored in other places, but it is all about timing", he added.
In America, in‑flight data provider Gogo Business Aviation is working towards the launch of a ten‑site 5G test network by the end of 2021, and a "full", "coast‑to-coast" launch in the second half of 2022. Initially, the business is focusing on the USA but ultimately plans to reach into Canadian and Mexican airspace too.


Ken has been writing about developments in the fixed and mobile markets for over twenty years. He has been a contributor to Market Mettle and TelcoTitans since 2015.