Deutsche Telekom's new Head of Europe indicates that the bloc's fragmented market is ripe for change.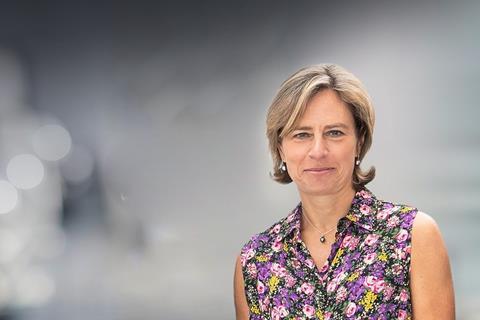 Dominique Leroy is flexing her muscles in her relatively new position as Head of Europe at Deutsche Telekom, signalling interest in heightened levels of collaboration on fibre network construction in the ten European NatCos within her remit, and suggesting potential interest in further consolidation measures.
In interviews with German media to mark her first 100 days in office, Leroy made a number of significant comments. For example, noting that there are around 100 mobile operators in 27 European countries compared to only three national mobile operators in the United States, she said any economist would see that a European market consolidation is required given its fragmented state.
"In the ten countries that I deal with, we still have purely national or regional companies in mobile and landline networks. So we could still achieve some consolidation without major mergers", she told the General‑Anzeiger in Bonn, although Leroy would not be drawn on potential target markets nor how consolidation might be achieved.
Given her previous experience, including a term as Chief Executive of Proximus in Belgium, Leroy is certainly expected to help Deutsche Telekom achieve its desire for a helpful policy and regulation shift in Europe. How open the European Commission would be to further market consolidation, even if it did not involve "major mergers", remains to be seen.
Leroy also opined that Deutsche Telekom's presence in Central and Southern Europe is often underestimated. She said the Europe unit is similar in size to many other telecoms operators in Western Europe and half the size of Deutsche Telekom's domestic operations, with 45 million mobile customers, nine million wireline customers, and revenue of about €11bn (£9.49bn).
Pivotal moment
Leroy took over as Europe Head at the Group on 1 November 2020, when incumbent Srini Gopalan moved into the top job at Telekom Deutschland (Deutsche Telekomwatch, #95 and #97). She joined at a pivotal time as the Group was turning its attention from the revamp of its US business to its long‑festering European challenges.
Leroy oversees Deutsche Telekom's markets in Central and Southern Europe, including Austria, Croatia, Czech Republic, Greece, Hungary, North Macedonia, Montenegro, Poland, Romania, and Slovakia. During the first few weeks of her tenure, she has been meeting the various NatCo heads during a "virtual tour of Europe", noting somewhat ruefully that she has been unable to leave her new home in Bonn during the coronavirus pandemic.
Just before she moved into her office in Bonn, Deutsche Telekom managed to resolve one of its lingering challenges: OTE Group — in which it holds a controlling 45% stake — agreed a deal to sell its 54% stake in Telekom Romania's fixed‑line business Telekom Romania Communications to Orange Romania, for €268m.
However, this transaction does mean that OTE now operates a mobile-only business in Romania, which does not align with Deutsche Telekom's convergence‑focused strategy, nor its goal of being number one or two in all markets where it operates. As things stand, OTE said it has no immediate plans to complete a full exit from Romania, although some form of M&A action appears likely for Telekom Romania Mobile Communication.

Anne Morris is a freelance journalist, editor and translator. She has been working as a reporter and news analyst for TelcoTitans since 2016.