Höttges floated the prospect of a hybrid office setup for WFH employees, potentially reducing DT footprint beyond just its retail presence.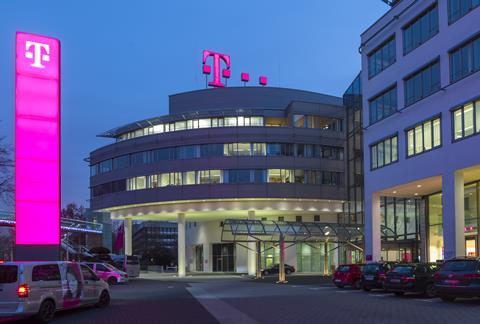 Deutsche Telekom (DT) Chief Executive Timotheus Höttges hinted at the long-term impact of COVID-19 being less travel, less physical office space, and a reduced consumer-facing high-street presence.
During the Group's Q1 FY20 investor conference call, Höttges said DT's senior management was discussing implementation of a "hybrid office" structure. He floated the idea of more employees working from home, some remaining in offices, and others rotating between the two environments depending on what was required on any given day. Currently, there are more than 14,000 employees based at DT's Bonn head office alone.
There appears to be a real estate optimisation angle to the new model, too. "There will be changes coming [where] we might not need all the office spaces that we have today", said Höttges.
Lockdown closures a trial run for 99 TDE stores
Earlier in 2020, Telekom Deutschland announced it was shrinking its retail footprint by nearly a fifth, closing 99 Telekom Shops by the end of the year. The decision, which had a cost-reduction bent coupled with the ability to give remaining outlets a facelift, came before coronavirus forced all stores to close for five weeks. In late-April 2020, TDE shop doors began to open again with necessary precautions (plexiglass, disinfectant, and gloves). Höttges flagged that the decision to "reduce our shop floor" will go ahead, but no update has been given on a time-scale for this since the coronavirus outbreak. TDE had 504 stores at the start of 2020, and 150 have re-opened since April, with the remainder slated to open by mid-May subject to slippage.
Digital X goes digital
Virtual conferences are another area being looked at by DT, as per the Accelerate Digital Now event run by T-Systems during April 2020 (Deutsche Telekomwatch, #93).
DT's Digital X summit is going ahead fully digitally, ostensibly replacing all regional Digital X events. The Digital Edition (scheduled for 19 May 2020) will go ahead with five stages, a Marketplace, and keynotes from Höttges, TDE Business Director Hagen Rickmann, and whistle blower Edward Snowden.
Höttges claimed that the switch to all virtual events has not caused any issues and that in planning the virtual conference "they have actually had higher productivity". Digital X 2020, scheduled for mid-November in Cologne, is still available for pre-registration.
Höttges also took time to encourage more video-conferencing even after lockdown restrictions are lifted, namechecking Cisco's Webex platform as a preferred option over "being stressed by travel to London". "I'll tell you one thing: I will travel less", he added, noting specifically that conferences and question and answer sessions need not return to 'normal'.