Deutsche Funkturm subsidiary playing key role in Hamburg's 'go green' initiative.
Zukunftstaxi programme bags broader DT involvement.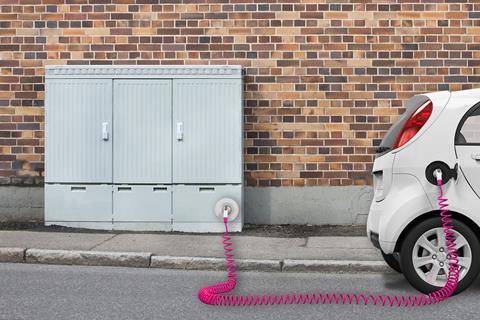 Deutsche Telekom (DT) flagged participation in Zukunftstaxi, an e-mobility project in Hamburg and the brainchild of the city's Authority for Transport & Mobility Turnaround (ATMT).
DT is a leading member in the project, alongside "30 public and private partners". Comfortcharge, a vehicle-charging subsidiary of the Group's tower unit Deutsche Funkturm, will deploy nine direct current (DC) charging stations as part of the initiative.
The charging points will be made available exclusively to 'e-taxi' drivers, with price discounts and "more attractive tariffs" in the pipeline.
DT claimed the DC stations, which piggyback on the Group's street furniture, have a charging power that provides enough electricity to fuel a 100km journey in "just ten minutes". The number deployed in Hamburg will depend "on the needs of the industry", it added. Comfortcharge has so far rolled out 160 DC stations across Germany, up from 140 in November 2020 (Deutsche Telekomwatch, #100).
The operator is also implementing a number of digital services in the city as part of Zukunftstaxi (a means, it said, of future-proofing public services and part of an effort to "reduce CO2 emissions"). Services include a sensor-based smart-parking solution (which it plans to deploy at about "1,000 parking spaces" in Hamburg by the end of 2021) and a traffic flow monitoring service leveraging 5G and GPS technology to ease inner-city congestion.
DT also highlighted its Taxi Bell proposition, which debuted in 2019 and enables restaurants, retailers, and other businesses to order taxis "at the push of a button". The solution is underpinned by DT's Cloud of Things management and monitoring platform.
Zukunftstaxi ("Future taxi") launched in late-March 2021 and aims to gradually transition Hamburg's entire taxi fleet to run on electric and alternative fuels by 2025. In a ramp up of the programme, ATMT launched the first of two funding rounds for the production of e-taxis in early-April 2021. The first round, now closed, was said to have offered Hamburg taxi companies and associates enough capital to build a collective fleet of 200 e-taxis, worth between €10,000 and €20,000 apiece. The second round opens for applicants in October 2021. ATMT said there would be "further funding opportunities" from the federal government, as well as from car-makers and dealers within the Zukunftstaxi partner ecosystem.

Sam Patterson is a Staff Reporter for TelcoTitans, contributing telecoms news analysis since September 2020 as part of the TelcoTitans Editorial team.