Group will shutter 50% of its German real estate in the period to December 2024.
Expected net savings could reach €200m.
Reflective of a "new way of working" at T‑Systems and TDE.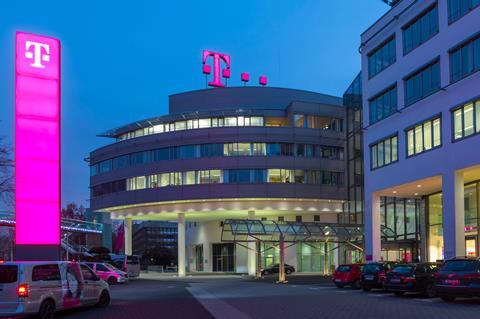 Deutsche Telekom is to let go of 300,000 square metres of real estate in Germany by the end of 2024 as part of its next phase of digitalisation and cost savings.
The reduction, which represents 50% of the Group's current German footprint, was flagged by top executives at Deutsche Telekom's Capital Markets Day last week during discussions on broader plans to drive down costs.
Lost property
Overall, across the current and coming three fiscal years (FY21–FY24), Deutsche Telekom is seeking to shave a further €1.2bn off its indirect cost base — an area where it has long battled to become leaner. Within this, property rationalisation is expected to contribute €100m–€200m, including via "rightsizing" of office space and "new optimisation opportunities".
The Group's German operations remain the primary target for efficiency improvement, with Telekom Deutschland Chief Executive Srini Gopalan mandated to deliver indirect cost savings of €700m.
Challenged IT services division T‑Systems is being asked to produce €200m in net cost cuts.
Another plank of the cost reduction and digitalisation initiative is a previously-flagged reduction of Telekom Deutschland's bricks‑and‑mortar retail footprint. In early‑2020, the NatCo announced plans to shutter nearly a fifth of its 504 Telekom Shops by the end of FY21 (Deutsche Telekomwatch, #91). No updates on this endeavour have been made since.
Incremental savings, excl. US
Deutsche Telekom indirect cost reduction ambitions, FY21–FY24
Source: Deutsche Telekom.

Real estate

€100m–200m

IT

€100m–200m

Procurement

€100m–200m

Lean & agile structure

€500m–600m

Other efficiencies

€100m–200m

Total

€1.2bn
The changing face of office space
Group Chief Financial Officer Christian Illek said that a change in office space utilisation will be key to enabling the savings drive. "Reduced space requirements" and "rightsizing office space" will underpin the change, he said.
Discussion on office real estate would not be complete without mention of the impact of coronavirus over the past twelve to 18 months, and estimates about what elements of the 'new normal' will be carried over on a more permanent basis, post‑COVID. Al‑Saleh was clear on the long‑term ramifications for his T‑Systems team, saying outright that "we are not going back to work in the way we once did".
" We're going into a very different, new way of working, where we have collaboration areas and development areas in big buildings where people come in and work together, and we tell them if you don't have things to do with your teams, you can work from wherever you want. "

— Al‑Saleh.
At T‑Systems, Al‑Saleh pointed to the unit's we.work.new transformation initiative — which aims to migrate T‑Systems towards hybrid working, offering fluidity between working from home and from offices. Group CEO Timotheus Höttges flagged wider interest in hybrid working at Deutsche Telekom in the first months of the pandemic.


Joseph Purnell is a Staff Reporter for TelcoTitans, contributing telecoms news analysis since 2019 as part of the TelcoTitans and Market Mettle Editorial team.