Homegrown and open-source tech underpin consumer services strategy.
New Home OS and Router OS in the spotlight.
DT goes big on cloudification, voic-ification, and orchestration.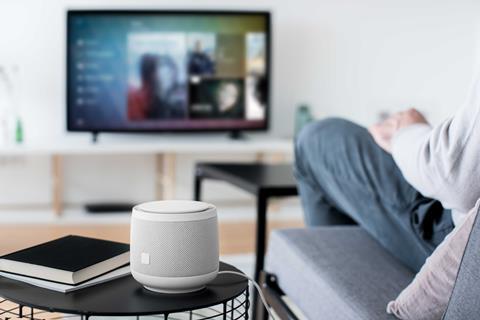 Deutsche Telekom paraded several new technology developments for home services at its virtual Telekom Tech Grounds during Mobile World Congress, showing the latest moves in the Group's next-gen strategy for broadband consumer offerings.
Head of Technology & Innovation Claudia Nemat officially unveiled and shared more details about the cloud-based Home Operating System (OS) that is designed to manage the services and devices that customers use at home. Developed in-house, the Home OS concept was first flagged in 2019 by Chief Executive Timotheus Höttges as part his vision for "true convergence" beyond bundling fixed and mobile services, but the project has been relatively quiet since then (Deutsche Telekomwatch, #89).
Schooled by the likes of Apple and Google on how easy it is for different devices with the same OS to work together, DT customers expect "simple, super-intuitive onboarding, activation, and usage of devices — everything working seamlessly with each other", said Nemat.
The idea behind Home OS is that it works like "a glue" between different services and devices in the home from DT and from third parties, including TV, Wi-Fi, and smart home applications. A more technical description is "an API [application programming interface]-first orchestration layer that exists between the different services and devices", as Nemat explained it during the Group's recent Capital Markets Day (CMD). Examples of what it does include displaying incoming call notifications on the TV and QR codes for guests to access the Wi-Fi.
DT aims to have 90% of German and European customers enabled with Home OS by the end of 2024, according to presentations from CMD. Home OS was rolled out this year to 200,000 smart home customers in a pilot and a full commercial launch is expected by the end of 2021.
Voice-activated home
DT indicated it has bigger ambitions for its voice user interface, building on the Smart Speaker and Hallo Magenta voice assistant launched in 2019 (Deutsche Telekomwatch, #71, #87 and passim). Nemat said the Group's goal is to "voic-ify" all home services by 2024, such as voice search for content on Magenta TV, for example.
DT also plans to use its voice platform for use cases outside the home and has started developing services for businesses. In September 2021, DT will launch a voice-activated appointment booking service for doctors' offices in partnership with German online booking startup Cituro.
Routers get a DIY make-over
DT has taken some technology and platform development into its own hands when it comes to next-gen home broadband services, improving customer experience, and reinforcing its convergence strategy in its home market and across its European footprint.
The operator has developed its own routers, which will be deployed in the second half of 2021, and these will run the same open-source Reference Design Kit (RDK) software platform as the OS, along with certain eligible existing routers. DT expects to enable 75% of its router base with Router OS by the end of 2024.
DT's Router OS strategy encompasses the RDK platform, routers with decoupled hardware and software, and OEM routers equipped with remote management that enables automated provisioning and bulk data collection. It allows DT to analyse real-time connectivity data to provide better service quality. "Router OS supports fully automated self-instalment, automated switching of Wi-Fi in case of interferences with neighbours, parental controls, and predictive or remote service support", said Nemat.
DT is a vocal advocate of RDK and an active contributor to the open-source community. RDK is an open-source software platform for video set-top boxes (i.e. RDK-V), broadband devices (i.e. RDK-B), as well as connected home Internet of Things (IoT) devices. It is deployed on 80 million devices, according to the latest update from RDK Management, the consortium that hosts RDK development. The advantages of RDK for cable operators and telcos is that it can run on multiple access technologies and offers more control over their services, device management, and overall customer experience, rather than having features and capabilities set by the latest models of customer premise equipment. New features and services can be deployed at once to millions of video or broadband devices. Alternatives to RDK include Google's Android TV and Amazon's Fire TV.

Michelle Donegan is an experienced telecoms writer and has been contributing as a reporter and news analyst for TelcoTitans since July 2020.