Cross-border solution developed in partnership with 4smartlogistics, SLOC.
Potentially available in 18 countries across Europe.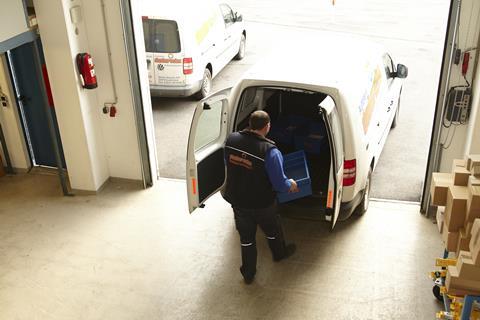 Deutsche Telekom IoT (DT IoT) unveiled a tracking and logistics solution using Narrowband IoT (NB-IoT) technology.
The 'end-to-end' service tracks the position and status of goods within truck-delivered insulated containers. It is not clear if the service is available across all the 18 European countries in which DT has an NB‑IoT presence.
In April 2020, DT signed NB-IoT roaming agreements with Swisscom, Telia Company, and Vodafone (Deutsche Telekomwatch, #93). The upshot was that the Group added nine new European countries to the nine-market NB-IoT footprint it already had in place through European subsidiaries. DT said at the time it was expecting additional NB‑IoT roaming agreements with new operator partners in the "coming months". Any new NB‑IoT agreements that might be in the pipeline have still to be announced, however. T‑Mobile US, another DT subsidiary, also supports NB‑IoT.
Working the IoT ecosystem
DT IoT, which appears to be refreshing its portfolio after a spin-off from T‑Systems, worked in partnership with German vendor 4smartlogistics and SLOC, an Austrian player, to get the tracking and logistics solution up and running.
'Smart tracker' tech developed by 4smartlogistics allows monitoring of various types of goods withing the containers — checking, say, if different foodstuffs within the same truck waver from their appropriate temperatures — and aims to ensure that the 'cold chain' remains unbroken "from loading to delivery".
Through the upload of data to the "4smartlogistics cloud", via DT's NB‑IoT footprint, the service purports to optimise inventory management of the containers, as well as cut fuel and fleet costs through more efficient logistics.
SLOC, an existing DT partner, supplies tracking-device hardware and software, which has been adapted to meet the needs of 4smartlogistics. The software can also be "customised to meet individual requirements".
The solution developed by DT IoT and its partners apparently allows more than 10,000 trackers-per-cell. Each tracker has its own power supply (lasting up to three years) and interfaces that enable connection to existing customer systems, including enterprise resource planning.

Ken has been writing about developments in the fixed and mobile markets for over twenty years. He has been a contributor to TelcoTitans since 2015.