Multi-territory debut is in pipeline, as DT seeks to extend into mid-territory beyond basic and industrial IoT applications. Move was originally planned for 2019.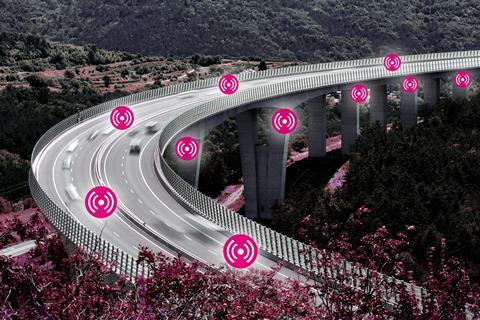 Deutsche Telekom is preparing a multi-territory rollout of LTE-for-Machines (LTE-M) technology in the coming months, as it builds out its Internet of Things 'layer cake'.
Speaking during a webinar hosted by IoTerop yesterday, Jens Olejak, Head of New Access Technologies at DT, said the operator was "working on launching LTE-M [in] the first countries soon".
Olejak did not name the specific markets it is targeting, but suggested the system will add a new layer of capabilities within DT's Narrowband IoT footprint, which covers nine European markets and the USA.
T-Mobile US has previously flagged interest in LTE-M, and T-Mobile Netherlands has mooted it as one of the enablers it plans to offer to oil and maritime businesses via its 4G/5G network in the North Sea (Deutsche Telekomwatch, #88 and passim). Beyond these two markets, DT's NB-IoT footprint includes Austria, Croatia, Czech Republic, Germany, Greece, Hungary, Poland, and Slovakia.
While NB-IoT was launched to fill a gap in DT's services, around low-touch use-cases such as metering, 'smart-buttons', and remote monitoring, LTE-M will "gradually take over" IoT deployments that are currently supported by 2G/3G-based modules, Olejak said. This is why DT chose to debut NB-IoT before LTE-M.
LTE-M will "bridge the gap between massive and critical IoT", with applications in healthcare, smart-home, consumer electronics, and wearables, he stated. It will sit in the middle of "really simple NB-IoT use-cases with very little data and high-performance use-cases with loads of data, [via] LTE and 5G".
When looking at low power access technologies around five years ago, the Group evaluated unlicensed spectrum-based IoT enablers but wanted to "re-use existing network infrastructure" and be "future-proof", said Olejak.
DT has been flagging preparations for LTE-M rollout since at least 2018, when T-Systems and incubation and innovation arm hub:raum teamed on an LTE-M Prototyping programme for partners and customers (Deutsche Telekomwatch, #79). Initially, a launch of the technology was planned for mid-2019 across "several" European markets.
In parallel with the LTE-M deployment, DT is working to build out its European IoT footprint to support the growth targets of Deutsche Telekom IoT, its newly-independent division.
Olejak indicated the Group has more NB-IoT roaming agreements in the pipeline, after enabling "inter-NatCo" integration in 2019 and announcing a set of deals with Swisscom, Telia Company, and Vodafone in April 2020. These are the "starting point for more seamless roaming across Europe and hopefully across the rest of the world, too", he said, adding that "new agreements are also in preparation".
Chipsets and modules for nuSIM, an integrated SIM-based ecosystem play through which DT is seeking to cut IoT device costs (Deutsche Telekomwatch, #81), are also due to be released in the second half of year.
Prices plummeting
Generally, the session focused on promoting the idea that NB-IoT is "truly" ready for the "mass market", with falls in module and connectivity pricing.
Jamie Moss, Research Director for Enabling Platforms at ABI Research, told watchers that there were now 111 NB-IoT networks live, internationally, with a further 22 in planning or trials. He said there were 40 LTE-M networks in operation, with 14 in the pipeline.
Moss predicted that by the end of 2020, the average selling price for NB-IoT modules will have fallen to around $4 (£3.20/€3.54), with the potential to come down to $2 by 2024. It will therefore have got into a sub-$2.50 "sweet spot", he added.