Sky Drone tie-up adds to new JV's "command and control" product suite.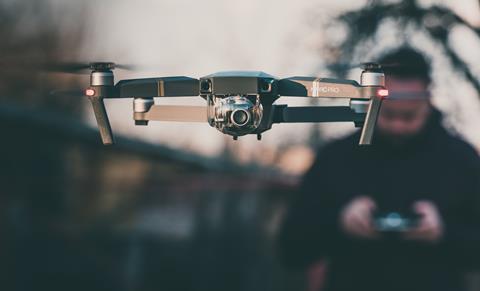 Droniq, Deutsche Telekom's fledgling drone management joint venture, claimed to be ready to enable remote control of "unlimited"-range flights through a tie-up with Hong Kong technology player Sky Drone.
The partners' distribution relationship will see Droniq market Sky Drone's mobile network-based device for controlling — and drawing sensor, video, and other data from — unmanned aerial vehicles on Beyond Visual Line of Sight (BVLOS) flights.
Sky Drone claimed the product, which will run on DT's LTE network, enables piloting of drones "in real-time and without any limitation in range", while Ralph Schepp, Chief Operating Officer of Droniq, called it an "essential building block for making BVLOS flights reality".
It has been integrated with Droniq's Unmanned Aircraft Systems Traffic Management (UTM) system, through which the JV hopes to win round the aviation sector to assimilation of drones into airspace.
The two partners claimed the device was already in use by "several" customers, including an unnamed pharmaceutical client that is purportedly using it for drone-based logistics. In a webinar held by DFS today, the JV showed tracks of a remotely-controlled flight covering "around 180km" in Germany.
Sky Drone's product will be marketed by Droniq via two plans offering varying data allowances, branded as HOD4command and HOD4stream.
The JV previously debuted a more lightweight, LTE-based "hook-on" device for tracking mass-market drones, branded HOD4track — although has not revealed its technology partner on this product. This also speaks with the UTM platform, as well as broadcasting its position to alert other aircraft in its vicinity.
DT key rival Vodafone is also said to be a customer of Sky Drone but Droniq indicated its relationship with the vendor was "exclusive" in the German market.
Droniq, founded in mid-2019 and based in Frankfurt, is majority-owned by DFS Deutsche Flugsicherung, the German air traffic control operator, with DT holding 49% of its equity via its Telekom Innovation Pool family of "strategic" investments.