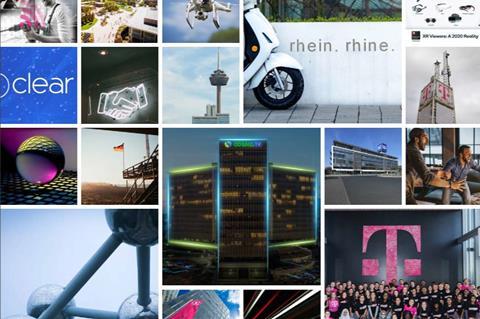 Group
Partnerships
MobiledgeX, Deutsche Telekom's edge computing platform spin‑out, unveiled what it called a "demand‑side" initiative, branded Seamster. The aim, said MobiledgeX, was to capture and model enterprise use‑cases surrounding 5G and edge computing, and accelerate their adoption. Jason Hoffman, Chief Executive of MobiledgeX, described Seamster's launch participants as an "eclectic array of players", spanning an "end‑to‑end edge value chain" (although notable absentees include Amazon Web Services, Google, Microsoft, and the broader app developer community). MobiledgeX has worked with some of Seamster's participants before — including Dell EMC, VMware, and World Wide Technology (Deutsche Telekomwatch, #71 and passim) — but on a more bi‑lateral basis, rather than as part of a coordinated industry attempt to stimulate edge computing demand. Other Seamster launch members include Accedian, Infosys, Quanta Cloud Technology, Topio Networks, and Wind River.
Network security and intelligence specialist WatchGuard Technologies partnered with Deutsche Telekom (DT) to launch Business Network Protect Complete, a security solution for small‑ and medium‑size businesses. It appears to be positioned as managed security service for the current remote working masses, with WatchGuard flagging its capability as a tool to "simplify" critical security for home office environments. Business Network Protect Complete combines a DSL modem and Wi‑Fi router within a proprietary Firebox T35‑DW appliance, and is suitable for up to 20 employees with support for speeds up to a maximum of 200Mbps. Christian Cronjäger, Security Product & Portfolio Manager at DT, described the firewall as "a moat to protect sensitive data". DT provides Exchange Web Services as part of the offering. US‑based WatchGuard has a large number of technology integration partnerships in place, including with: Amazon Web Services, Cisco Systems, Google, IBM, Intel, Microsoft, Salesforce, and SAP.
Deutsche Telekom (DT) embarked on a second Wave at its TIP Ecosystem Acceleration Centre (TEAC) in Germany. The focus of Wave 2 is mobile edge computing and incorporating work of the O‑RAN Alliance, with which DT has had a lengthy association (Deutsche Telekomwatch, #76 and passim). Winners were yet to be announced as Deutsche Telekomwatch went to press. The chosen few will co‑work at the Berlin facilities of hub:raum, DT's tech incubator. Part of the wider Telecom Infra Project (TIP), of which DT is a co‑founding member, TEACs are aimed at giving a helping hand to startups focused on network infrastructure innovation. DT's Wave 1, initiated in April 2018, saw three startups take advantage of TEAC facilities in Berlin and Bonn (Deutsche Telekomwatch, #72). In February 2020, TIP and the O‑RAN Alliance formed a partnership to "ensure alignment" in the shared focus area of developing interoperable 5G RAN solutions (Deutsche Telekomwatch, #92). Other TEACs are based in the UK (led by BT Group) and South Korea (SK Telecom), with the latter accepting Wave 3 applications during June 2020, centred on 5G and mobile edge computing service applications and network solutions.
FP InovoLabs, a subsidiary of postal technology provider Francotyp‑Postalia, flagged a partnership with Deutsche Telekom (DT) in the field of secure communications for the industrial Internet of Things (IoT). It seems that the provider's FP Secure Gateways hardware has now been certified to supplement DT's IoT gateway portfolio in Germany, with the aim of securely connecting IoT solutions to DT's Cloud of Things platform. FP InovoLabs described itself as an official partner of DT, and said the cooperation agreement was for an "indefinite period of time". The press release added that both parties will conduct joint marketing and sales activities to promote the partnership in the German market. DT has collaborated with Francotyp‑Postalia in the past, notably on the creation of the encrypted De‑Mail service. De‑Mail was established in 2012 by a consortium involving Telekom Deutschland, Francotyp‑Postalia, and broadband provider United Internet (Deutsche Telekomwatch, #42 and #48).
The Wunderlist app, a productivity tool that at one time received Deutsche Telekom (DT) investment, was discontinued by owner Microsoft, and is being superseded by the software giant's Microsoft To Do application. Wunderlist was acquired by Microsoft, reportedly for between $100m (€91m) and $200m, in June 2015. T‑Venture, DT's erstwhile venture capital unit, was an early investor in Wunderlist, and DT in late‑2014 agreed a partnership with Wunderlist for its customers in Albania, Greece, the Netherlands, and Slovakia to receive the Wunderlist Pro task management app for free for a twelve-month period. This was extended to Germany in February 2015.
USA & Corporate Development
Deutsche Funkturm revealed a tie‑up with local utility Stadtwerke Münster to give the north-western city's mobile infrastructure a spruce-up. The deal will see Stadtwerke Münster offer up its properties and other "urban infrastructure", such as lampposts and digital bus stops, as locations on which DFMG can roll out new macro‑ and small‑cells. The city-owned utility will also provide "precise geodata" to aid network planning and management. The partners called the tie‑up a "foundation stone for innovative technologies and applications" and Sebastian Jurczyk, Managing Director of Stadtwerke Münster, indicated the relationship could end up supporting "applications such as autonomous driving". DFMG framed the deal as a platform on which it can accelerate network expansion, having long complained that it can take up to two years to get a new cell site into operation in Germany. It also recently tied with authorities in the city of Dresden on a deal focused around 5G infrastructure and prospective smart-city services.
Germany
Network
Telekom Deutschland (TDE) put its weight behind Leitstand (German for "control centre"), a nascent open source community aimed at streamlining the operation of disaggregated telecoms networks, to improve efficiency and cut costs. Among the other initial founding contributors are Reply Technology and Rtbrick, which work on TDE's Access 4.0 disaggregation network programme (which is similarly geared towards stripping significant cost out of wireline platforms — Deutsche Telekomwatch, #81 and passim). EWE Tel, the communications arm of German utility group EWE — with which TDE has a joint venture arrangement to share fibre‑to-the‑premise rollout costs (Deutsche Telekomwatch, #90 and passim) — is another Leitstand supporter. Leitstand, as far as Deutsche Telekomwatch can determine, appears designed to feed into 'Access 4.0' as a way to encourage openness (TDE still uses the Access 4.0 term). The Leitstand open source model, "freely available to any operator, equipment vendor, and systems integrator", aims to develop various management tools to operate the "underlying infrastructure" in a disaggregated telecoms network. These include alarm monitoring, fault diagnosis, inventory management, operational visibility of network elements, software version management, and zero‑touch provisioning.
US equipment vendor Adtran flagged that Telekom Deutschland (TDE) had plumped for some of its disaggregated software-defined fibre access solutions, which centre around its SDX product family and Mosaic Cloud Platform. Specifically, TDE chose Adtran's SDX optical line terminal (OLT) solutions for deployment in its Access 4.0 platform (Deutsche Telekomwatch, #81 and passim), as well as within its existing architectures. Alongside the OLTs, TDE will use Adtran's Mosaic Cloud Platform, a software-defined networking (SDN) management system, "to enhance its current GPON [gigabit passive optical network] capabilities, as well as pave the way for future deployment of 10Gbps XGS‑PON". In keeping with the Access 4.0 philosophy of openness, Adtran's SDX OLTs are capable of integrating with third‑party platforms, including optical network terminals. The US supplier pointedly added that it helped contribute to the Open Networking Foundation's SDN‑Enabled Broadband Access reference architecture, on which Access 4.0 is apparently based. Adtran has a close relationship with TDE through the supply of enterprise communications systems and broadband kit (Deutsche Telekomwatch, #46, #66, and #85).
Partnerships
The Walt Disney Company confirmed its Disney+ streaming service had surpassed 50 million subscribers worldwide by early‑May 2020, fuelled by launches in Europe — including in Germany, where it is partnering with Telekom Deutschland (TDE) on an exclusive basis (Deutsche Telekomwatch, #92). Disney added seven million Disney+ subscribers in the three months to 28 March 2020, a few days after the European launch, but saw this spike from 33.5 million to 54.5 million in the period to its latest results presentation, on 5 May 2020. However, the media giant did not break out figures by market. The streaming service went live in eight European countries on 24 March 2020 (also including Austria, France, Ireland, Italy, Spain, Switzerland, and the UK), and has also recently seen a "highly successful" launch in India, according to Disney.
Europe
Deutsche Telekom Global Carrier
Deutsche Telekom Global Carrier (DTGC) "tuned up" part of its infrastructure with what it claimed was the "first 800G network in Europe", working in collaboration with equipment partner Ciena. DTGC said it had implemented a solution enabling the transport of 2×400 Gigabit Ethernet across a single 800G wavelength, running between two data centres in Vienna, Austria, based on Ciena's WaveLogic 5Extreme (WL5e) technology. The international wholesale carrier said it plans to install WL5e with the 6500 and Waveserver 5 platforms, managed by Ciena's Manage, Control and Plan domain controller. In February 2020, US rival Verizon Communications, working with Ciena and Juniper Networks, also completed a test that pushed 800Gbps of data across a single fibre wavelength. Ciena unveiled WL5e in February 2019, and said it would enable network providers to achieve 800G for single‑span data centre interconnect applications, 600G for regional distances, and at least 400G for long‑haul and transoceanic applications. DT is in the process of transferring DTGC to Telekom Deutschland (see separate report).
Poland
T‑Mobile Poland (TMPL) sought to highlight its adoption of Agile methodology for internal software development processes, claiming to be the first telecoms operator in the country to implement the approach. Speaking to Polish business daily Puls Biznesu, TMPL Chief Executive Andreas Maierhofer stated that "many key areas" of the operator had had to be "remodelled" in order to successfully adopt the approach, and the change had involved "employee training, hours of discussion, and planning", as well as a "change in thinking about the entire organisational culture of the company". The methodology was said to have substantially sped up projects, including creation of the NatCo's Happy Fridays promotional campaign, and the deployment of a digital communication system with one of the operator's partners.
Systems Solutions
Operations
Deutsche Telekom (DT) undertook a reorganisation of its Spain‑based businesses, according to local reports, with the integration of T‑Systems Iberia (T‑Sys Ib) with DT's other global business solutions interests to create a unified approach to corporate customers operating in Portugal and Spain. Under a revised structure, end‑to‑end responsibility for solution development, production, distribution, service, and sales is being consolidated into a company registered as Deutsche Telekom Global Business Solutions Iberia. It is hoped that the merged unit will help improve efficiency for DT interests in the country, and offer a smoothed out portfolio to clients. While T‑Sys Ib was centred in Barcelona, the headquarters for the united operations will be in Madrid.
T‑Systems upgraded its Security Operations Centre (SOC) in South Africa (SA) to a 'Cyber Defence Centre' (CDC). The new CDC, operational since January 2020 and to be officially launched to the market "soon", is said to be the "culmination of ten years of diligent investment in security operations", leveraging artificial intelligence, advanced threat hunting capabilities, and security orchestration, automation, and response technologies. It is part of Deutsche Telekom's international network of cybersecurity centres, which now comprises 17 interconnected facilities in 13 countries, after the opening of a new Cyber Defence andSecurity Operations Centre in Singapore during December 2019 (Deutsche Telekomwatch, #90). The Group's "master" CDC is located in Bonn, with a further four SOCs situated in Bad Kreuznach, Darmstadt, Kiel, and Leipzig, alongside facilities in: Brazil, the Czech Republic, Greece, Hungary, Mexico, Poland, SA, Singapore, Slovakia, Spain, Switzerland (run in partnership with SIX, with a focus on financial services — Deutsche Telekomwatch, #87), and the USA.
Partnerships
T‑Systems (T‑Sys) was among tier‑one partners of auto‑maker Volkswagen to showcase technological developments at the Future Technology for Car Design event, organised by T‑Systems for Volkswagen. In a demonstration of the car design process taking advantage of several new technologies, praise was directed at T‑Sys' "incredibly intelligent software architecture based on [3D modelling software] Rhinoceros". The event, put on exclusively for Volkswagen in April 2020 to highlight recent advancements car design technology, featured selected tier‑one partners including real‑time software developer Vection Technologies (and its recently acquired virtual reality subsidiary Mindesk), Logitech, McNeel & Associates (which developed Rhinoceros), and extended reality hardware manufacturer Varjo. T‑Sys was also grouped in this crowd, a nod to the rich history of partnerships Volkswagen has had across Deutsche Telekom. Former Volkswagen Senior Marketing Associate Ulrich Klenke was in April 2020 appointed Chief Brand Officer at the Group (Deutsche Telekomwatch, #90).
Further details emerged about T‑Systems' German Blockchain Ecosystem and its plan to release a procurement‑oriented "blockchain‑as‑a‑service‑marketplace" for German enterprise clients in 2020. T‑Sys had previously said the service will feature a validation‑as‑a‑service solution at launch (Deutsche Telekomwatch, #88). According to Ledger Insights, the initial product is to provide staking services for public blockchain Polkadot, which was launched by the Web3 Foundation on 26 May 2020. According to Ledger.com, staking is a "way of being rewarded for participating in the network ecosystem", and could be compared with interest savings in a traditional bank. Gleb Dudka, Blockchain Analyst at the Blockchain Solutions Center of T‑Systems Multimedia Solutions, indicated that interoperability was a key reason behind the choice of Polkadot.
Contracts
T‑Systems (T‑Sys) secured a €1.5m deal to implement the ServiceNow cloud platform at ECKD KIGST, the IT service provider for Catholic and Protestant churches in Germany. Under the three‑year contract, T‑Sys will operate the platform‑as-a‑service offering from its data centre in Frankfurt, and enable ECKD KIGST to handle all order processing electronically and simplify its delivery processes. T‑Sys is currently introducing ServiceNow into its own workflows, enabling it to offer customers an end‑to-end solution, from consulting, to implementation and operations. T‑Sys already has framework contracts in place with the ECKD for fixed network and fixed‑line telecommunications in Germany, while Telekom Deutschland has agreed a mobile communication framework with WGKD, the purchasing arm of ECKD. Deutsche Telekom is described as one of ServiceNow's biggest clients in Europe, having used the provider's software to help harmonise internal business processes. Building on this Group engagement, T‑Sys is a ServiceNow Elite Partner and pitching ServiceNow to public sector and enterprise clients.
T‑Systems Switzerland (T‑Sys CH) won a €170m application development and operation services contract with long‑standing customer Swiss Federal Railways (SBB), also involving Detecon and T‑Systems Multimedia Solutions (T‑Sys MMS). The ten‑year deal will see T‑Sys MMS develop and operate cloud, mobile, and web applications, as well as geographical systems, for the SBB. To support the contract, T‑Sys MMS is said to be setting up a new department in Dresden with about 100 employees, focused on managing applications. T‑Sys's local consulting unit Detecon Switzerland will provide onsite support for the project in Bern, "from a strategic perspective". The SBB last extended its relationship with T‑Sys CH in November 2015, agreeing a 60‑month framework agreement focused on migration of SBB's databases and SAP applications to the cloud. T‑Sys appears to have been working with the SBB for at least 22 years (Deutsche Telekomwatch, #21 and #48).
Products and services
T‑Systems (T‑Sys) flagged a service that aims to help large enterprise customers migrate data from any obsolete legacy system onto a secure, cloud‑based T‑Sys platform. The Managed Application Retirement Services (M.A.R.S.) solution is designed to analyse and 'historise' data, enabling customers to access, delete, and switch off legacy systems when required. It seems that T‑Sys is gearing up to help enterprises make the "inevitable switch" from traditional SAP ERP to SAP S/4HANA applications by 2025. T‑Sys's webpage on content migration and 'historisation' also makes reference to a subsidiary called Vamosa Technologies, which specialises in content migration to the cloud, on‑premise, or hybrid cloud environments. Vamosa works with partners including Accenture, intelligent workplace specialist Beezy, Binary Tree, DigitasLBi, and IBM.
T‑Systems Iberia (T-Sys Ib) launched a new suite of solutions, called TASK, to help enterprises implement safety measures in the post‑pandemic workplace. The portfolio includes four modules, based on artificial intelligence (AI), big data, blockchain, and the Internet of Things (IoT). It comprises: Triage, an AI-equipped mapping and employee-tracking tool; Access, an app for managing office and teleworking shifts and use of common areas, making use of Telegram Messenger and WhatsApp Business; Supply, which tracks the delivery of PPE to employees; and Keep, which uses big data analytics and IoT to monitor social distancing and workers' temperature and create occupancy maps. T‑Sys Ib was said to have indicated that TASK is particularly targeted at the banking and insurance sectors. It also suggested the offering was Google Cloud-based, but did not go into further detail on its enabler partners, or whether the solution will be rolled out in other T‑Sys markets.
USA
Legal and regulatory
T‑Mobile US (TMUS) was unsuccessful in a challenge to the bid process that specified AT&T FirstNet as the standard to meet when the District of Colombia's (DC) parole agency solicited bids for mobile services. TMUS argued that the requirement was "unduly restrictive of competition", and objected to the AT&T FirstNet brand being identified as the standard in request for quotations issued by the Court Services and Offender Supervision Agency in DC. The US Government Accountability Office (GAO) rejected TMUS' protest, saying TMUS had failed to address the agency's key requirement for pre‑emptive and priority cellular services to work with its public safety agency partners — thereby ensuring communications capabilities were available during national emergencies. TMUS rival AT&T won a contract with the First Responder Network Authority (FirstNet) in 2017, focused on construction and management of a network dedicated to America's police, firefighters, and emergency medical services.
Social responsibility
T‑Mobile US (TMUS) formally launched its Connecting Heroes initiative, a ten‑year commitment to provide free 5G access to every first responder in the country, after initially unveiling the proposal in November 2019 as a sweetener for its merger with Sprint (Deutsche Telekomwatch, #89). The offer provides free 'unlimited' calls, text messages, and data, with the "highest network priority", to all public and non‑profit state and local police, fire, and emergency medical agencies across the country. According to TMUS, the scheme — part of the New T‑Mobile's first Un‑Carrier initiative, #5GforGood — could save first responder agencies up to $7.7bn (€7bn) over ten years. TMUS's announcement of the Connecting Heroes initiative in November 2019 was accompanied by two other proposals, clearly designed to press sensitive political buttons through the promise of greater digital inclusion for low‑income groups, comprising: Project 10Million, a $10bn commitment to help eradicate the "homework gap" for ten million households; and T‑Mobile Connect, a prepaid solution for "everyone", at "half the price of the lowest offer today", for $15 per month with a monthly 2GB allowance.