DT expands backing for initiative with new trials and funding schemes.
Clauberg warns against unnecessary proliferation of open source industry groups, though DT is behind many of them.
Closer collaboration between DT-backed ORAN and TIP's OpenRAN on the cards.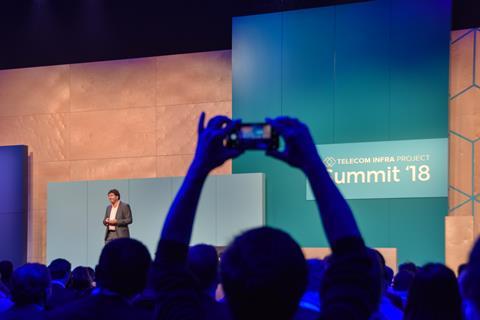 Axel Clauberg, Vice‑President of IP End-to-End & Infrastructure Cloud at Deutsche Telekom (DT), lauded progress made by the Telecom Infra Project (TIP) — the open source network infrastructure project he oversees as Chairman. In a blog post published to coincide with the third annual TIP Summit, Clauberg claimed that many of the technologies being worked on by TIP were now "closer to maturity".
As part of a wider TIP update, he flagged five project groups as having technology trials taking place with operators:
mmWave Networks.
Open Optical Packet Transport.
OpenCellular.
OpenRAN.
vRAN Fronthaul.
"In addition to these trials, three leading operators — Deutsche Telekom, Telefónica, and Vodafone — have demonstrated the potential for flexible tech to improve network speeds, capacity, and efficiency by announcing that they have started request for information [RFI] processes to investigate how they can adopt TIP technologies, which are supported by a growing ecosystem of vendors and manufacturers. "

— Clauberg.
In his keynote at the TIP Summit '18, Clauberg's message was that output from TIP's various project groups had increased considerably since the previous event, and that more technologies were moving beyond the "concept stage". He told attendees that, if all goes to plan, the industry should see the first commercial deployments of TIP‑developed technology during 2019. Mass-market rollouts are slated for 2020.
Perhaps not unrelatedly, there was a hint in Clauberg's speech of a less combative stance towards established vendors in the way TIP's operator backers are seeking to develop new technologies — something that has also been evident in the tone of some other DT executive comments over the course of the last year (Deutsche Telekomwatch, #71).
"Our industry is actually desperate for more innovation. We definitely need to accelerate the pace of innovation. I [am not saying] that traditional vendors don't do enough on innovation. However, as a community, we can be much, much better — bringing people from the established vendors, from startups, from systems integrators, from internet companies, and from the telcos, together to collaboratively work on the telecoms infrastructure. That's what we do within TIP. "

— Clauberg.
DT tightening TIP ties
Alongside the prospect of greater go-to-market activity around TIP technology, it is evident that working ties between DT and TIP are becoming closer.
For all Clauberg's enthusiasm about TIP's progress, only one of the five project groups he mentioned — mmWave Networks— sees DT as playing a prominent role (see table). DT has often followed different paths to upend traditional supply chains through 'disaggregation' of software and hardware — the same aim of TIP — most notably in RAN virtualisation.
One avenue of closer collaboration is DT's involvement with a new TIP project group called Edge Application Developer, which includes participation of MobiledgeX, the Group's Silicon Valley‑based edge computing platform spinout (see separate report).
Further, according to Light Reading, a closer partnership between TIP's OpenRAN Project Group and the DT‑backed ORAN Alliance is on the cards. Clauberg explained that Telefónica Group and Vodafone Group, two operators heavily involved with OpenRAN, have an incentive to pool efforts and base their work on the xRAN specification developed within ORAN.
"[Telefónica and Vodafone] have not done any specs from the ground up. They have not built architecture, but are looking at how the architecture specified by the ORAN Alliance could be built and deployed in a commercial way. In this area, TIP would do solutions integration and prove it is possible to build such an open RAN in real life. "

— Clauberg.
There already appears scope for cross-fertilisation between the two groups. Altiostar and Mavenir, original supplier members of the xRAN Forum (which was recently folded into ORAN — Deutsche Telekomwatch, #71), have emerged as leading candidates within OpenRAN to produce interoperable RAN solutions.
The xRAN Forum was founded on the desire to shake up operators' RAN supply chain, and spurred on by possibilities opened up by technologists at Stanford University. Its mission is to develop an "open alternative to the traditionally closed, hardware‑based RAN architecture" (Deutsche Telekomwatch, #65 and passim). To achieve this, it aimed to: untether the RAN control plane from the user plane; "modularise" the two systems; and introduce open interfaces to enable faster and wider applications development for both elements. In short, the goal was to boot out from the RAN, wherever possible, "static and highly proprietary" kit.
The ORAN Alliance was unveiled at the 2018 edition of Mobile World Congress in Barcelona, and continues on this disruptive path. A merger of the DT-backed xRAN Forum and China Telecom-supported C‑RAN Alliance, ORAN aims to turn radio units into 'white boxes' running open software. By using common, off‑the-shelf hardware and merchant silicon, the idea is to minimise the use of proprietary hardware. Artificial intelligence and real-time analytics were also flagged as important, suggesting that ORAN has a much broader remit than its xRAN and C‑RAN predecessors. Although the ORAN Alliance is open to all operators, not all industry big-hitters are on board. Notable absentees include Verizon Communications and Vodafone.
'Control the fun'
Clauberg no doubt welcomes consolidation of the sort seen in the "open RAN" space. Prior to the TIP Summit, he warned against the time‑wasting risk of duplicating research efforts through too many industry groups.
This may seem a bit like the pot calling the kettle black, with DT having helped drive growth of the tangled web of initiatives that has emerged over recent years — as well as perhaps reflecting how the Group is now seeking to direct how these various schemes evolve in the future. DT has thrown its weight behind various open source initiatives in recent years, including FD.io, Open Central Office Re-architected as a Datacentre, Open Daylight, Open Network Automation Platform, Open Networking Foundation, and OpenStack (Deutsche Telekomwatch, #58 and passim).
Neither is DT averse to striking out on open source and 'cloud-native' projects that do not command, at least initially, broad industry support. In September 2018, DT and US‑based Aricent announced the creation of an Open Source Edge software framework. It is designed especially for developers in the sphere of cloud‑native multi-access edge computing technologies. The goal is to intersect with the deployment of 5G‑enabled network edge facilities targeted at delivering ultra-low latency network applications (Deutsche Telekomwatch, #76).
Some industry‑watchers saw a parallel between DT's tie‑up with Aricent and a recent launch of the Akraino Edge Stack, a Linux Foundation Project, of which DT is now closely aligned. The goals of Akraino, namely to build an "open source software stack that supports high-availability cloud services optimised for edge computing systems and applications", seem similar to the ones espoused by DT and Aricent.
TIP top-ups at a glance: patchy participation from DT

TIP Project Group

Focus

October 2018 updates

Key players (inc. DT

involvement/interest)

Sources: Deutsche Telekomwatch and TIP.

Artificial Intelligence and Applied
Machine Learning

The project aims to apply "machine-based decisioning and auto-remediation" to network operations, as well as to accelerate deployment of new services based on technologies such as autonomous vehicles and drones.

–

DT and Telefónica co‑chair the project.

CrowdCell

CrowdCell is described as a 4G relay concept in which an intermediate crowd-enabled device relays traffic between customer user equipment and the macro network. Its purported main benefit is rapid and low-cost 'plug‑and-play' small-cell deployment, using available 4G coverage.

Alpha Networks and Lime Microsystems were selected to provide an "end‑to-end" Crowdcell platform. The selection followed two sets of RFIs, issued by Telefónica and Vodafone.

BT Group, Vodafone, and Intel are the initial project champions, with the chair held by Vodafone. DT does not appear to be an active participant.

T-Mobile US is arguably the Group frontrunner on small-cell deployment, although some European NatCos are picking up speed. TIP has gained little operator traction in the USA, however.

Edge
Application Developer

This new group focuses on developing public application programming interfaces and software tools to help developers build next‑generation mobile apps on operators' edge infrastructure.

Formation of group.

DT and MobiledgeX, a DT‑backed startup, are the initial project champions. Intel provides project support.

Edge
Computing

The project is focused on leveraging existing open architecture, libraries, software stacks, and mobile edge computing standards.

New trials in the BT Community Lab are testing two edge computing use‑cases: mission‑critical drone control; and high-bandwidth content caching. The project group continues with Telefónica lab trials with the goal of sharing findings by end‑2018.

Telefónica and Intel co‑chair the group.

End-to-End
Network Slicing

This group is working on helping operators to overcome "many of the key challenges of employing network slicing to support their 5G services".

Publication of a whitepaper entitled "Creating a Network Slicing Ecosystem through TIP". Defines various applications for 4G and 5G network slicing.

The initial project champions include operators BT, NTT, and Orange. The group is co‑chaired by BT and Hewlett Packard Enterprise. DT has no direct involvement.

5G network slicing is still a keen DT interest, particularly on establishing industry standards, use‑cases, and business models. In February 2018, DT co‑founded the 5G Slicing Association, for example. The Association works closely with the GSM Association's Network Slicing Taskforce as part of standardisation efforts. DT's 5G:haus initiative is another hub of research into network slicing.

mmWave
Networks

The project aims to progress 60GHz wireless networking solutions, to address "growing demand for bandwidth in dense, highly populated cities".

Magyar Telekom (MT) published a case study on a trial deployment of Facebook's Terragraph technology in Budapest, first flagged earlier in 2018 (Deutsche Telekomwatch, #71). MT and DT collaborated on the rollout.

DT announced its intention to publish an RFI for 60GHz fixed wireless technology to provide gigabit connectivity.

DT is co-chair with Facebook.

DT provides an mmWave Networks Community Lab and test network in Berlin.

The community lab facilities are available to project group members.

Open Optical
Packet Transport

The overall project aim is to define an open packet transport architecture for dense wavelength division multiplexing (DWDM) networks. Enabling new innovation and avoiding vendor lock‑ins are priorities. Open DWDM systems encompass: open line system and control; transponder and network management; and packet switch and router technologies.

TIP announced "general availability" of Voyager from supplier ADVA Optical Networking, running software from Cumulus Networks. Facebook bills Voyager as an "industry-first" open and disaggregated, converged packet/optical transponder.

A new sub‑group, led by Facebook and Vodafone, apparently emerged from the Voyager collaboration, called Disaggregated Cell Site Gateways (DSCG).

Within the sub-group, Vodafone, Telefónica, Orange, and TIM Brasil have defined technical needs for 5G cell‑site routers. ADVA Optical and Edgecore Networks, initial partners of the new sub‑group, committed to produce Odyssey‑DCSG to meet the four operators' technical requirements.

It is not clear from the TIP website who is lead on the project, although Facebook and Vodafone look strong candidates.

DT does not get a mention in project dispatches.

On the vendor side, in addition to Acacia, ADVA, Cumulus, and Edgecore, several suppliers are contributing to the project group in some capacity. These include Ciena, Cisco Systems, Coriant, Infinera, Lumentum, and Juniper.

Open Cellular

The project group is developing low-cost wireless access platforms and related technologies. The goal is to innovate on technology, engage with software projects developing solutions running on the Open Cellular platform, and support an ecosystem of original equipment manufacturers, distributors and system integrators.

Nokia and Accelleran are running project work in TIP Community Labs. Accelleran is combining the Open Cellular standard platform with its "carrier-grade" LTE software and support services, which integrate with Nokia's Kuha Community Management System. The resulting solution will be incorporated into the UK's 5G RuralFirst initiative. The immediate aim is to move from lab tests to field trial deployments.

The initial project champions are Amarisoft, BT, and Horizon Computing. Facebook is chair.

DT is not directly involved.

OpenRAN

The group's main objective is the development of "fully programmable" RAN solutions based on general purpose processing platforms and disaggregated software. The aim, in keeping with the TIP ethos, is to speed up the pace of innovation and avoid vendor lock‑ins.

Altiostar, Mavenir, and Parallel Wireless emerged as lead candidates to produce interoperable RAN solutions. Their selection followed a joint RFI by Telefónica and Vodafone. Field trials are planned by Vodafone in Turkey and Africa, and Telefónica in Latin America.

Vodafone and Intel are co‑chairs.

RAN virtualisation and upending traditional supply chains is a major DT focus, but the Group is not involved in OpenRAN. Group efforts here lie primarily within the ORAN Alliance, whose aim, similar to OpenRAN, is to develop an "open alternative to the traditionally closed, hardware‑based RAN architecture".

People and Process

The goal of this group is to share "cultural and process transformation practices that can materially improve operators' key metrics".

–

Bell Canada and Facebook co‑chair the initiative. Operators involved include Telefónica and Telstra.

Power and Connectivity

The initiative focuses on development of power systems that could reduce the operations and deployment expenses of remote connectivity infrastructure.

–

Facebook and Telefónica co-chair the initiative. Other participants include Bharti Airtel, Orange, MTN Group, and Vodafone.

Solutions Integration

The project — another focused on 'opening up' RAN hardware — aims to help develop an "open RAN architecture by defining open interfaces between internal components and focusing on the lab activity with various companies for multi-vendor interoperability".

–

The grouping is chaired by SK Telecom and counts Aricent, BaiCells, and Radisys as "project champions".

Systems Integration and Site Optimisation

The initiative focuses on "cost analysis, cost-effective site engineering, connectivity systems, automated maintenance and optimisation, system integration, and business/revenue models".

–

Deloitte and Facebook co‑chair the initiative.

vRAN Fronthaul

The group's aim is to build an ecosystem providing low-cost remote radio units that can be managed and dynamically reconfigured by a centralised infrastructure over "non‑ideal" transport (which does not include the common public radio interface).

Airtel, BT, CableLabs, and Telecom Italia (TI) are testing vRAN Fronthaul solutions within TIP Community Labs. They include DOCSIS (CableLabs), Ethernet (TI), G.fast (BT), and microwave (Airtel).

BT, CableLabs, Phluido, TI, and Vodafone are the project's initial champions. BT is chair. The project boasts direct support from more than ten operators, although DT is not one of them.

Disrupting RAN fronthaul, despite absence from TIP efforts, is a DT focus. Through involvement with the xRAN Forum (precursor of ORAN), DT helped develop an "open"' and "interoperable" Fronthaul Specification Version 1.0. Alex Jin‑Sung Choi, Senior Vice-President of Research & Technology Innovation at DT, described the specification as a "foundational component in the xRAN architectural vision".
Terragraph gets airing in Hungary, RFI in pipeline
Working within TIP's mmWave Networks Project Group, DT subsidiary Magyar Telekom (MT) published a case study about trial deployments of Terragraph technology. Developed by Facebook, Terragraph is pitched as a fixed wireless access alternative to fibre, and was flagged as being on DT and MT's radar earlier in 2018 (Deutsche Telekomwatch, #71).
Both DT and MT also partnered with Facebook on rollout in two trial locations in Hungary: the town of Mikebuda was selected for the first pre-commercial trial, and the town of Marko as the second location. The Mikebuda pilot began in May 2018, and the Marko trial in October 2018. Clauberg said DT plans to issue an RFI on the technology "in the next months".
Naturally, the case study presented Terragraph technology as holding much promise. Using Terragraph radios operating in the unlicensed 60GHz V‑Band, the trials have purportedly recorded downlink speeds of up‑to‑650Mbps.
There are two working groups within the mmWave Networks Project Group: the Channel Modelling working group; and the Customer Premises Equipment and Service Integration working group. At a recent three-day 'networks' workshop held in Berlin, Clauberg said the former was working on propagation characteristics in different environments and weather conditions. The aim is to share findings to enable industry to design "more robust and higher performing" mmWave networks (Deutsche Telekomwatch, #76).
On the customer premises equipment (CPE) front, the aim is to publish draft requirements and prototype designs of future CPE hardware, covering design aspects such as dimensions, installation, and placement.
DTCP joins TIP as ecosystem warrior
TIP further reported that a group of German investors, including Deutsche Telekom Capital Partners (DTCP), the investment management arm of DT, had joined what it called a "global network" of TIP Ecosystem Acceleration Centre (TEAC) investors in France, South Korea, and the UK. Together with Capnamic Ventures, Cinco Capital, Coparion, Freigeist, and High-Tech Gründerfonds, DTCP has "soft circled" €100m in funding for TEAC‑related activities. This may be an evolution of a €100m, TEAC-oriented facility also referenced back in 2017.
The move builds on DT's existing support for ecosystem-building activity at TIP. It is one of several operators worldwide that provide TIP Community Lab facilities (collaborative working environments) for operators and startups. DT set up one in Berlin during 2017 (Deutsche Telekomwatch, #66).
DT also runs a TEAC in Germany, comprising testing facilities in Berlin and at the Group's headquarters in Bonn (Deutsche Telekomwatch, #72). The opening of DT's TEAC came on the heels of other similar centres established by BT (London), Orange (Paris), and SK Telecom (Seoul). TEACs are aimed at giving a helping hand to startups focused on network infrastructure innovation.
Three startups initially joined DT's TEAC, after making successful pitches to a panel of experts from DT, TIP, and Facebook. These comprised: Airrays, a Dresden-based startup focused on smart antennae with beamforming and tracing capabilities; the Berlin Institute for Software-Defined Networks, which has developed generic acceleration architecture for cost-effective scaling of virtualised infrastructure; and an offshoot from R&D at Imec, a Belgium-based innovation hub, which concentrates on interoperable 60GHz active phased-array antenna technology to enable carrier-grade outdoor links with off‑the-shelf WiGig transceiver chips.