Massive €50bn pot set aside for 'future' technologies, including 6G, open RAN, AI, and quantum computing.
New, €5bn mobile infrastructure company appears to take heat off mobile operators.
Thinly veiled threat issued to network suppliers over 'openness' and interoperability.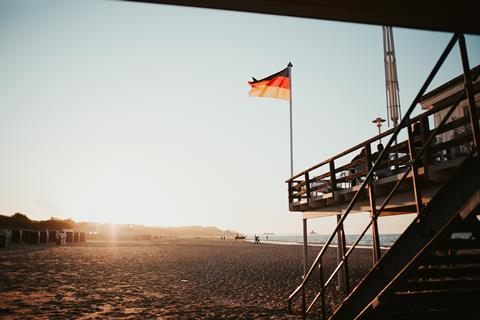 Deutsche Telekom (DT) and Vodafone have welcomed the enormous €130bn (£116bn) economic stimulus and technology investment package presented last week by Chancellor Angela Merkel, leader of Germany's coalition government. The ambitious programme is designed to kick‑start the economy as lockdown measures to tackle the coronavirus pandemic begin to ease.
Of direct interest to network operators is Zukunftspaket, or package for the future, aimed at climate change mitigation and the promotion of technologies deemed important in the medium- and long-term. More than €50bn has been set aside for Zukunftspaket over the "next few years".
Zukunftspaket includes tax breaks for research and development in the fields of quantum computing and artificial intelligence (AI), as well as the creation of a sizeable, €5bn pot for the establishment of a new and presumably state-owned mobile infrastructure company. This element of the plan — previously trailered in 2019, as operators and regulators wrestled over ways to extend mobile data access, following the country's runaway 5G rights auction — has not yet been laid out in detail, but the aim is to take 5G into hard‑to‑reach and 'uneconomic' areas that private operators typically shy away from.
To encourage consumer spending — also of interest to network operators and other retail sectors — the coalition announced a cut in value‑added tax, from 19% to 16%, between 1 July 2020 and 31 December 2020.
Positive signals
"We welcome the package and its various components", Hannes Wittig, Head of Investor Relations at DT, told Deutsche Telekomwatch. He highlighted pledges to accelerate mobile tower deployments and simplify administration of fibre subsidies — along with enabling a "modest reduction in energy costs" — as helpful directions of travel from the government.
In a prepared statement, Hannes Ametsreiter, Chief Executive (CEO) of Vodafone Germany, thought the federal government's growth package will "help Germany come out of the corona crisis stronger". He said that the support for 'future' technologies — including open RAN and 6G — as well as expansion of mobile radio reception on railroads, will improve the country's networks. "What counts now is smooth cooperation and quick implementation", added Ametsreiter.
Telefónica Deutschland had not published a statement on the stimulus package, or responded to questions, at the time of going to press.
State-led mobile solution is sign of the times
While the plan to create a new, alternative mobile infrastructure company does not reflect particularly well on Germany's incumbent mobile network operators (MNO), or policy-makers, it is not that surprising that the operators welcomed that particular development.
Rural coverage has long been a clear area of industry failure in Europe, and with cash pressures continuing to stifle progress, and post-COVID‑19 uncertainty and supply chain geopolitics now thrown into the mix, it was evident something had to give. Even the once-buccaneering, free market advocate Vodafone has been calling for a closer relationship with state, based around a new 'social contract' between operators and authorities. Financial backing from government — albeit not on the same scale — is also underpinning the Shared Rural Network recently announced in the UK.
Strategically, there appears little downside for DT and rivals. Assuming the new entity remains rural-focused, it will not eat into the areas they care about most, while also lancing some of the pressures they face to spend more on improving coverage elsewhere. Their long-running return-on-investment pain has been intensified by major (but arguably unavoidable) overspend in the 2019 5G auction — labelled "catastrophic" by Ametsreiter (Deutsche Telekomwatch, #94) — and they have since then only really been able to cobble together a partial solution in talks over how to spread the 5G cost burden. In 2019, they agreed, with input from Germany's Bundesnetzagentur (BNetzA), a tripartite deal covering collaborative construction of 6,000 new sites in 'white spots', and updated coverage commitments, in return for a longer payment plan for 5G licences. There has also been a relatively limited, bilateral tie‑up between Telekom Deutschland and Vodafone, covering 4,000 sites in 'grey spots', and apparent scant progress in national roaming negotiations between the incumbents and potential fourth MNO 1&1 Drillisch (Deutsche Telekomwatch, #91 and passim).
At the same time, it is evident political frustrations have been building and the new infrastructure company — originally mooted when the operators and BNetzA announced their 'pact' in 2019 — is now being pushed forward. All three MNOs were called out by the regulator earlier in 2020, for missing many of their regional- and transport-focused LTE coverage obligations, and face fines if they do not remedy shortfalls in the coming months. Group CEO Timotheus Höttges appeared stung, during DT's last earnings call, by the operator's detractors in Germany, saying that its critics had been "very, very quiet" in the wake of the COVID‑19 crisis and the role DT had played in supporting German businesses' move to remote-working.
Adding to this sense of a 'win', through delegation, is that other telecoms industry players feel MNOs have been let off the hook by the €5bn venture. Bundesverband Breitbandkommunikation (BREKO), which represents the majority of alternative fixed‑line broadband network operators in Germany, thought that too much money had been set aside for the new infrastructure company. "It should not be the case that the mobile phone companies are now able to fulfil their coverage requirements and commitments through the back door with taxpayer money", said Stephan Albers, Managing Director of BREKO. He ruefully added that the federal government had previously budgeted €1.1bn for the establishment of up-to-5000 mobile sites to cover remaining white spots — so well short of the touted €5bn that is needed for the task. Albers argued that more state funding should be allocated to support fibre rollout in under-served areas.
Open the RAN, or else
Wittig further welcomed federal government support for open RAN and its associated principles of interoperability between hardware and software suppliers.
In a stance likely to be met with approval from Höttges, the coalition said it was willing to explore regulatory measures, at a national and European level, to improve interoperability of network components. "We want to facilitate market entry for innovative network technologies", said the coalition in its paper detailing Zukunftspaket and the wider economic stimulus package.
DT nears open RAN tipping point
In early-May 2020, Höttges said DT was prepared to "heavily support" any legal enforcement of open RAN. "[Open RAN] is something which we are highly lobbying and which we are committing to", he asserted. The CEO has an ambition, similar to Vodafone's, of disaggregating the "entire RAN infrastructure" across different generations of cellular technologies (not just 5G). Höttges argued that opening up 5G RAN networks should be the first step, followed by disaggregation of the "entire RAN infrastructure". Höttges now seems to be closer to pushing the button on open RAN rollout within DT, although timelines and the geographical extent of DT's intended deployment are fuzzy.
Höttges' greater enthusiasm for open RAN deployment seems to stem from a recent tie-up between the O‑RAN Alliance, with which DT has had a lengthy association, and the Telecom Infra Project's (TIP) OpenRAN initiative. While TIP has mainly focused on developing next-generation infrastructure use‑cases, O‑RAN Alliance work revolves around the development of open and standardised interfaces. Höttges appeared to welcome the coming together of the two open RAN industry efforts as some sort of breakthrough. Because of this "alignment", he indicated, "all the big telcos are working on these initiatives going forward". The GSM Association also recently tied with the O‑RAN Alliance to help firm up open RAN deployments.
Merkel still murky on Huawei
Merkel has still to give a clear lead on the possible role (or non-role) of Huawei Technologies in Germany's 5G infrastructure. In a press conference to announce the €130bn stimulus package, Merkel talked on the one hand of "digital sovereignty" — hinting, perhaps, at a desired distancing from the Chinese supplier — and working with China (and the USA) as partners on the other.
Höttges noted recently that a decision from Berlin on Huawei as a 5G RAN supplier — DT is already working towards a "Chinese-free" network core in Germany — had been delayed because of COVID‑19. His apparent expectation that a decision will be made soon has yet to be realised.
Germany's Zukunftspaket (selected areas)
Area
Details
Funding
Sources: German Federal Government, Deutsche Telekomwatch.

5G coverage

Ambitious plan to set up new "mobile communications infrastructure company". Aim is to fill remaining 5G 'white spots' thought uneconomic to cover by private mobile network operators. Government currently waiting for incumbents to define expansion commitments to meet coverage obligations. Once done, government intends to release funds, via the new company, to cover remaining 'white spots' and "massively accelerate 5G expansion". Aim is for nationwide 5G coverage by 2025.

€5bn

AI

Increase in existing budget, from €3bn to €5bn, to encourage AI product innovation in the period until 2025. Extra funds allocated to purchase of additional supercomputers, to "enable systematic digital provision of data from previously inaccessible data pools, possibly in real time, for AI applications". Longer term goal of Germany (and Europe) attracting top researchers and young talent with the "latest AI and computer infrastructure".

€2bn

6G / open RAN

Growing importance of software, both in 5G and future 6G technologies, acknowledged. Government specifically wants to support innovative German companies in developing/testing software‑controlled network technologies. Seen as a way of "strengthening digital sovereignty". Government indicates willingness to force 'openness' in supply chains, saying "we want to facilitate market entry for innovative network technologies". To this end, regulatory measures are to be examined at national and European level — to improve interoperability of network components, for example. Coalition supports "rapid development and implementation" of open standards, including open RAN, at European level.

€2bn

Quantum technology

Government sees area as "next fundamental digital leap in technology". Partially by funding startups, aim is to propel Germany into vanguard of quantum tech research, particular in fields of computing, communication, sensors, and cryptography. Federal government willing to help fund "suitable consortia" to build at least two quantum computers.

€2bn

Digital empowerment

Coronavirus pandemic highlights importance, in coalition government's eyes, of digital empowerment among municipalities (alongside sustainable energy consumption). Another aim is establishment of a support programme to accelerate digital transformation among small- and medium-size enterprises.

€1bn

Digital research

Intention to set up a centre for digitisation and technology research in the Bundeswehr (German army). Will provide public and private sectors access to digital and tech tools in order to "conduct innovative and interdisciplinary research in a secure environment".

€500m

Smart cities

New funding for government's smart-city programme. Projects in cities and municipalities, not yet implemented, can apply.

€500m

Railway connectivity

Additional funds, through 2020 and 2021, to improve mobile signal reception along 39,000km of rail routes in Germany, using GSM-R standard.

€150m

Fibre rollout

Aim to speed up fibre broadband expansion in "non-economic areas" by removing red tape surrounding subsidy grants.

"Necessary funds" to be made available.

Subtotal

€13.15bn