Further signal that NatCo is gearing up for long-awaited densification push.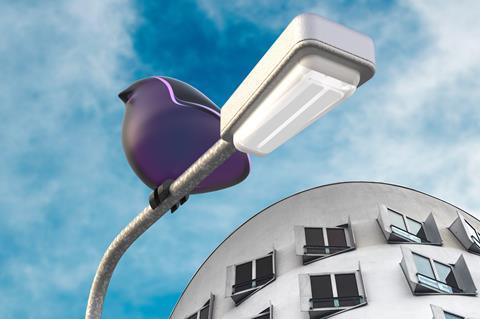 Deutsche Telekom Technik (DTT), Telekom Deutschland's (TDE) network deployment and management unit, made another hint of coming network densification plans at the NatCo by highlighting a pilot project covering "creative designs" for 5G small‑cells.
The division collaborated on the project with German plastics specialist Covestro and Sweden's Umeå Institute of Design, and came up with two "initial" antenna housing designs in the shape of a bird and a clock. Dubbed "The Bird" and "24h5G", the "pimped" antenna designs were displayed at October 2019's K trade show for plastics and rubber, held in Düsseldorf.
Soft sell: operator eager to stress sensitivity
DTT noted the importance of small‑cell rollout for 5G, and with site planning restrictions always to the fore in German network rollout, sought to stress its enthusiasm for designs that "fit in with the urban landscape, either by standing out with a decorative design, or by harmoniously blending in to their surroundings". It also flagged plans to install antennae in "stoplights, lanterns, or facades", when deploying small‑cells.
The unit did not, however, give out details of any concrete commercial rollout plans for The Bird and 24h5G — i.e. whether the design initiative extended beyond optics.
2020 vision for small-cells
Perhaps aware of the industry's multiple false starts with small‑cell rollout, TDE has given away little regarding its latest roadmap for network densification — seen as key to enabling the true vision of 5G in high-traffic areas and private 'campus' networks.
However, recent weeks have seen the NatCo flag a further, small‑cell-focused development project with Swiss network equipment vendor Huber+Suhner, and hint at plans to begin more concerted extension of its 5G network beyond macro‑cells later in 2019 (Deutsche Telekomwatch, #87).
During May 2018's Capital Markets Day, Deutsche Telekom's management indicated significant small‑cell rollout was planned in both Germany and the Europe segment over the period to 31 December 2021 — suggesting the coming two calendar years will see a major step‑up in the pace of spend and installation. While the Group did not give out specific numbers, its presentation could be interpreted as suggesting it has plans to lay down as many as around 7,000 sites in Germany and 4,000 in Europe by that date.
Aided by rebooting of tower arm Deutsche Funkturm, DT is also envisaging the annual addition of an extra 2,000 macro-cells in Germany and 1,000 in Europe over the period, bringing its total site footprint (excluding small‑cells) to 36,000 and 47,000, respectively.