Agreement on wage increases reached after third round of talks.
Trade union ver.di said thousands of DT employees went on strike over pay.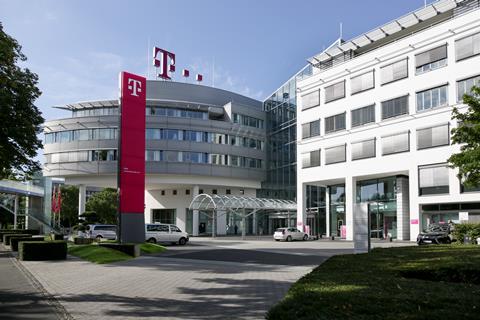 Deutsche Telekom averted further strike action in Germany by reaching a wage agreement with trade union ver.di for about 55,000 employees, apprentices, and students, employed at Group headquarters, Telekom Deutschland, and Deutsche Telekom IT, following a third round of negotiations.
DT and ver.di both announced that employee salaries will rise by between 2.7% and 3.1% on 1 August, and by a further 2.1% in June 2023. The agreement is still apparently subject to approval from ver.di's collective bargaining committee. DT noted that salaries will increase overall by between 4.8% and 5.2% depending on the pay group.
One-off payments will also be made to "alleviate the impacts of inflation". Depending on their pay group, employees will receive two payments of €500 (£427): one in July 2022 and another in February 2023. Apprentices and students will receive a pay rise of 3.1% in August, a monthly increase of €35 from June 2023, and two payments of €100.
Protection against compulsory redundancy has also been extended until the end of 2024, although this does not apply to internal IT unit Deutsche Telekom IT. Furthermore, DT said it will maintain high levels of training and employ more apprentices and students on work placements.
Sigrid Heudorf, Senior Vice-President, HR Management at DT, described the deal as a "viable agreement for both parties".
" The two-year term gives everybody security in terms of planning. Not only that, we will alleviate the impacts of increased inflation, especially for employees in the lower and middle pay groups. "

Heudorf.
Industrial action
Talks on the 2022 collective wage agreement, Tarifrunde Telekom 2022, began on 8 April but continued into May as management and unions were unable to agree on key terms. For example, the union initially called for wage increases of about 6%, while DT offered up to 2.2%.
According to ver.di, DT cited high debt levels, the fact that T-Mobile US is mostly driving Group growth, competition and regulatory pressures in Germany, high network investment costs, delivery bottlenecks, rising prices, and risks attached to recent changes in Germany's Telecommunications Act as reasons for its lower wage offer.
Although the union accepted the existence of external pressures, it claimed that DT had not made a suitable offer on which agreement could be reached. It therefore called for strike action after the first and second rounds of negotiations ended without any kind of deal being struck.
According to ver.di, about 10,000 employees took part in strikes following the second round of talks on 27 April. The union said thousands more took to the streets to put pressure on DT ahead of the third negotiation round.
DT pushed ahead last year with various in-house initiatives to upskill sections of its workforce. Among the schemes was the introduction of Global Job Architecture, which is complemented by "specific Group works agreements" on strategic qualitative personnel planning and skill management with ver.di and the Group Works Council. Others included a continuation of "explorer journeys"; further roll out of Percipio, an intelligent learning platform; and extension of the levelUP! programme to a broader base of managers, rather than restricting access to executives.

Anne Morris is a freelance journalist, editor and translator. She has been working as a reporter and news analyst for TelcoTitans since 2016.