Leadership love-bombs Nadella, seeking a replenished, "forward-looking" relationship after German cloud tie-up demise.
Mix of opportunities seen in old ground (cloud and IoT) and new (voice interfaces).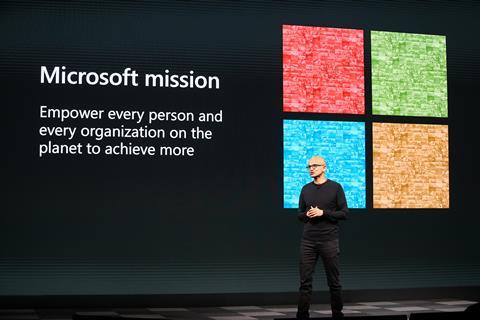 Deutsche Telekom (DT) Chief Executive (CEO) Timotheus Höttges said he had discussed ways to "intensify our cooperation" with Microsoft counterpart Satya Nadella, with areas of opportunity said to include cloud computing, Internet of Things (IoT), and voice services.
In early-September 2019, Höttges made a visit to the software vendor's headquarters in Redmond, Washington, after attending the Group's Annual Strategy Meeting at T‑Mobile US' nearby Bellevue campus. Following the meetup, he (diplomatically) used LinkedIn to report that he had been "particularly impressed" with Nadella's focus on collaboration. The Microsoft boss "made it clear how important forward-looking partnerships are to him", wrote Höttges.
The meeting was also attended by Adel Al‑Saleh, CEO of T‑Systems (T‑Sys), and DT Technology & Innovation Head Claudia Nemat, among others, and highlighted "potential for increased cooperation in IoT, voic‑ification solutions, and cloud services", said Höttges. Nadella did not reciprocate with his own LinkedIn post on the meetup.
Repairing Things
The reference to cloud (and being "forward-looking", perhaps) suggests DT's leadership is keen to replenish relations with Microsoft after the ending of T‑Sys' role as 'data trustee' for the software provider's German cloud services during 2018. There have been recent efforts to build their relationship back up, with a "cloud acceleration" initiative, focused on pitching Microsoft Azure-based public cloud services to European businesses, and an expanded IoT link‑up melding Azure with DT's Cloud of Things platform (Deutsche Telekomwatch, #72 and #84) — but Höttges' comments suggest eagerness for a fuller rework.
One opening for this could be T‑Sys' newest restructuring plans — which look set to drastically reduce the division's size and distil its focus onto Microsoft's core realm of IT services and software, while seeking to light a fire under growth plans in IoT and security (Deutsche Telekomwatch, #86). The proposals, which were set to be discussed by DT's Supervisory Board at the Annual Strategy Meeting, envisage the transfer of IoT go‑to-market activity outside of T‑Sys' remit and to the Group's centre (with Thorsten Langheim's USA & Corporate Development division a likely new parent).
In parallel, there have been signs of an expanded focus on the USA from both the IoT unit and other enterprise-focused businesses within DT, which could create new opportunities for ties with Microsoft (or its "major hyper-scaler" rivals, which DT has emphasised focus on, and may also have been messaging through the Microsoft meeting — see below). DT did not mention any drop-in at Amazon, despite its proximity — suggesting less warmth in the nuanced relationship that it has with DT in cloud, voice, and elsewhere.
Courting Cortana
The meeting's 'voic‑ification' agenda is likely to have been pushed by Nemat, with the Group's long-awaited Smart Speaker voice assistant product having now finally emerged from her Technology & Innovation department and been launched in Germany by Telekom Deutschland (see separate report).
In a LinkedIn post, published a few days before the Microsoft meeting, Nemat called voice-based interaction with devices and services "one of the great trends of our time", and held it up as an example of the increasingly software-based nature of telecoms. "We as Deutsche Telekom have begun to redesign the 'DNA' of our company. The goal is to become a software company with the human being in the centre", she wrote.
If, as inferred, the Microsoft meeting touched on widening of DT's voice ecosystem and product range, it may be relevant that Nemat has sought to stress the platform underlying Smart Speaker as the basis for a new business-to-business-to-consumer play by DT (Deutsche Telekomwatch, #71). Smart Speaker was developed via a partnership between DT and Orange, announced back in 2017, and is pitched as a privacy-focused "supplement" to Amazon's Alexa offering, tailored to German customers. Other partners involved included DSP Group, Fraunhofer-Institut für Digitale Medientechnologie, and Nuance Communications (which has also been working with DT on voice authentication).
Supervisory Board gets political
In a separate LinkedIn post, following up on the Supervisory Board meeting, Höttges outlined a brief (but notably geopolitically-flavoured and US-geared) list of "key challenges facing Deutsche Telekom". These comprised:
"Climate-friendly business practices".
Augmented and virtual reality gaming "with cloud support".
"Rapid growth of the major hyper‑scalers".
"Trade war between the United States and China".
"War for talent".