DT's Plasma energy-reduction initiative expected to save more than 90GWh with upgrade of rectifier systems.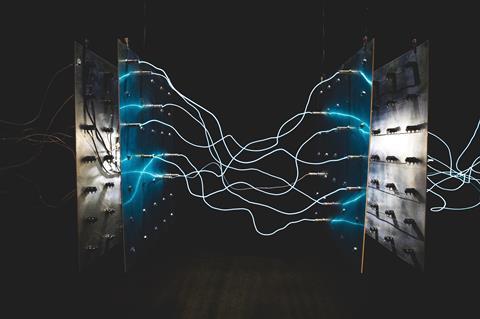 Deutsche Telekom highlighted work on an energy-saving project called Plasma as one of the steps it is taking to achieve a 95% reduction of carbon emissions by 2025.
The operator is in the process of replacing legacy rectifier systems — electrical devices that convert alternating current (AC) to direct current (DC) electricity and supply telecoms networks with power around the clock — with slim racks that can be inserted into server shelves. The rectifier systems previously needed two large cooling fans with high-power consumption requirements.
Traditionally, AC systems have been used in favour of DC because the former can be used to transport electricity over long distances with minimal losses. However, DT noted that as electricity is increasingly being produced locally, for example in solar or wind power plants, this advantage has become less relevant. The operator added that its system of choice is DC as it ensures high reliability and good signal quality, and, in the event of an electricity outage, supplies uninterrupted power to cellular and landline networks through battery storage systems.
Peter Fleischmann, Co-Project Manager of Plasma at DT, explained the relevance of rectifiers for telecoms networks. "Without rectifiers, neither cellular nor landline [connections] work. We have 10,000 of these systems in the operating locations and 30,000 systems at mobile radio stations. In the grey boxes on the roadside… there are another 130,000 rectifier systems".
DT said it has replaced 10% of the systems, adding that, when the upgrade is complete, it will save more than 90 gigawatt hours of electricity.
DT is, like other operators, making significant noise over reworked carbon reduction and collective net-zero targets, with the Group committed to net-zero in-house emissions by 2025 and completely eliminating its carbon footprint by 2040. The former target requires a 95% reduction in carbon emissions, compared with a 2017 baseline. At DT's Capital Markets Day event in May 2021, Group Technology & Innovation lead Claudia Nemat described the heightened "emphasis" being placed on carbon footprints within DT's supply chain and vendor pool (Deutsche Telekomwatch, #105). DT Chief Financial Officer Christian Illek added that the Group had implemented a "strict supplier code of conduct" that places an enhanced priority on environmental, social, and corporate governance.