Group appears cold on possibility of buying out junior partner in T‑Mobile Netherlands when options open up in January 2022.
New tie-up or sale flagged as likelier outcomes.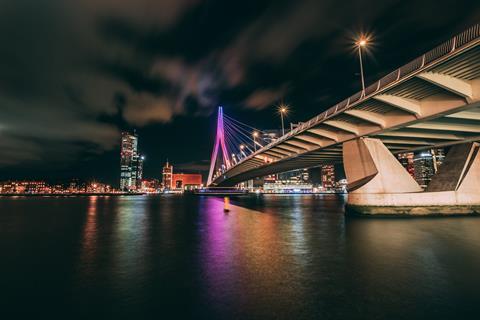 Deutsche Telekom confirmed that T‑Mobile Netherlands could be set for an ownership rejig in the not too distant future as the Group and co‑parent Tele2 near the end of their lock‑up period.
Chief Executive Timotheus Höttges told the media this morning that the Group will consider looking for a new Dutch partner or undertaking a "divestiture" of the business ahead of January 2022, when a three‑year clause blocking DT and Tele2 from selling the business expires.
Tele2, which merged its Dutch operations with DT's in 2019, has repeatedly indicated it will sell its 25%‑stake in T‑Mobile when permitted, and Höttges' comments suggested DT leans more towards reducing its own holding than increasing it when the Swedish group departs (Deutsche Telekomwatch, #69, #101 and passim).
A step removed
Speaking during a press conference previewing the Group's Capital Markets Day, which starts today, he again highlighted how T‑Mobile had benefited through Tele2 transaction (and accompanying management changes), noting its promotion from number-three to number-one in the Dutch mobile market.
However, the NatCo — which is partitioned from the rest of DT's Europe businesses, within its M&A‑focused Group Development division — remained "mobile centred" and up against "two, big convergent players" in VodafoneZiggo and KPN, Höttges said.
He stressed DT felt no "pressure" or "urgency" to firm up any deal. "We won't do any bad deals and we don't have to sell. This is a diamond in our crown in the Netherlands, but it's not a fixed convergent player", he said, via the event's translator.
Prepping for private time
Höttges did not touch on the possibility of a flotation of T‑Mobile, despite this being mentioned as a possibility in the past. Earlier this year, local reports suggested DT and Tele2 were considering a sale to private equity investors in a deal expected to be worth north of €4bn.
In the meantime, DT has been moving the NatCo to a more asset-light footing, firming up the transfer of its tower assets to Cellnex Netherlands, in return for a minority stake in the infrastructure business. KKR — not, so far, one of the private equity players rumoured to be pursuing T‑Mobile — tied with Deutsche Telekom Capital Partners on a Dutch wholesale fibre venture in April, with T‑Mobile signing on as anchor tenant.
DT's slightly odd position of wanting to sell one of its better performing European businesses always gives rise to thoughts of an ulterior motive, and the rumours of a Group move for KPN that surfaced back in the mid‑2010s (Deutsche Telekomwatch, #39). KPN — potentially a much better strategic fit with DT's regional mega-network of incumbent telco interests — announced earlier this month that it had rejected "unsolicited approaches" from KKR and investment group EQT. DT missed out on an opportunity to more aggressively challenge KPN in 2016, when Liberty Global chose to merge its local Ziggo business with Vodafone Netherlands rather than T‑Mobile, and DT's leadership has never appeared fully committed to its Dutch position since, despite T‑Mobile's resurgence (Deutsche Telekomwatch, #50).


Richard Agnew is Group Editor at TelcoTitans and Market Mettle.